large/small seed planter or drill
07-19-2011, 03:30 AM
Typical Buck
Join Date: Feb 2003
Location: Wichita Kansas USA
Posts: 699
large/small seed planter or drill
---
i have an old grain drill that works fine for milo or wheat type planting but would like to get something for planting larger seeds such as soybeans, sunflowers or corn. i have planted the larger seeds via broadcast and drag with mixed results. i wouldn't mind buying a new piece of equipment but not sure which ones are as good as advertised. i have a 53 hp tractor with 3 point and the areas i have to plant are relatively small-anywhere from 1/4 acre to 4 acres in 8 locations.
07-19-2011, 04:31 PM
---
No complaints with either of my great plains. I have a 1006nt (heavy 10' trailer type) and a 3p605nt (3pt 6'er). Both have a regular seed box large seed like beans, milo, wheat, oats, etc. and a small seed box for brassicas, chicory, clover, etc. Here are some pics of the 3p605nt that I normally use for food plots. Make sure your tractor has the lift capacity (weighs 2300lbs empty), your hp seems to be about right.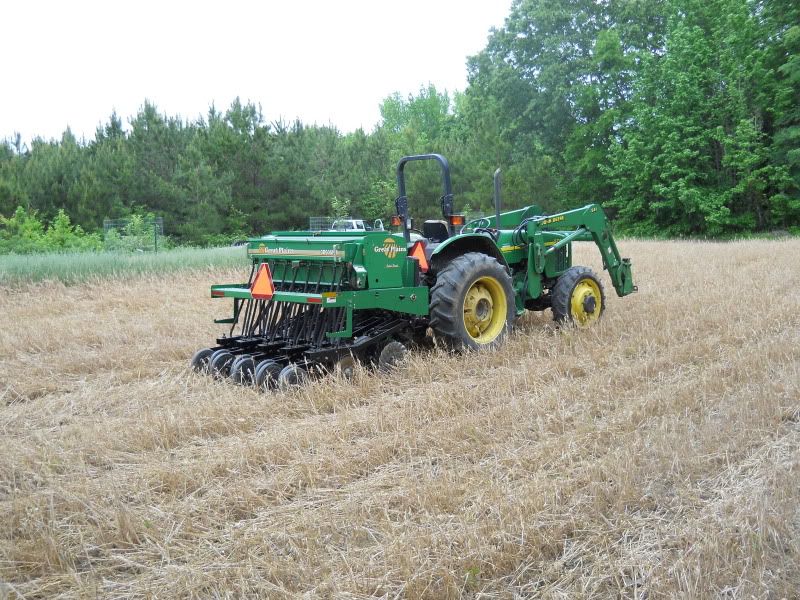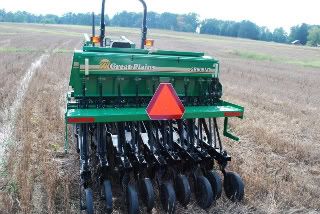 07-20-2011, 01:47 PM
Typical Buck
Join Date: Feb 2003
Location: Wichita Kansas USA
Posts: 699
---
Falcon-it looks like you stole my trailor. i have one almost exactly like that.

Hoss-your tractor looks like mine. i have a 5203. its 2 wheel drive other wise i think they are the same. i have been looking at the great plains equipment but wasn't sure if the equipment would live up to the hype. i am not sure i really need to or want to lift it with my 3 point. i would probably settle for the drag along type. if you have time i wouldn't mind hearing more of what you think of your machines. plus and minus. thanks.
07-20-2011, 03:01 PM
---
Plus, it will plant anything properly equipped (maybe not chufa, not tried it). It will even drill corn good enough for food plots with some tweaking. There is an optional small seed box which is common, and a optional fluffy seed (native warm season grass) box which is not so common.

The only potential negative is that the 60x nt's are not quite as heavy as the 70x nt or the 100x nt drills, meaning that getting larger seeds to the needed depth in dry soil conditions is more difficult. Realistically, if you want to carry a 60x on a 3pt hitch, it could not possibly be any heavier. That tractor is a 5210 4wd with loader, and the front is still light when carrying the drill. I plan on upgrading to a m7040 kubota next year.

I'd go with a trailer type over the three point, requires less hp and takes curves slightly better, and coulter depth adjustment is easier. The only reason I purchased the three point is because I do custom food plot planting. It is much easier to load a 3pt on a trailer and drive half way across the state.

Far as great plains goes, they have great products across the board. The only other manufacturers to look at are tye, truax, and maybe sunflower. Most others are toys.
05-13-2012, 07:12 AM
Spike
Join Date: May 2012
Posts: 6
planter and equipment
---
We are using a kubota 7040 with 3p606NT drill behind it. We are having excellent results and i absolutely love it. We use it to plant everything even corn. the spacing on the corn isn't perfect but it is good enough for food plots. i'm trying some different options for the drill to get better spacing. we went the great plains because we heard they are the cadillac of the drill industry, and i can see why.
05-18-2012, 03:43 PM
Spike
Join Date: Apr 2012
Posts: 44
---
http://www.youtube.com/watch?v=uiUKe...1&feature=plcp
get you a old planter and good selection of plates, i have bought usable planters for as little a $75, that needed freeing up which is not a big deal, and sold the ones in the video from $400-450 and you can plant anything that will fit in the plate cell, works great for corn, beans, chufa, ect
i plant corn food plots with the planter set on 36" rows and if planting beans i just bust the middles and end up with soybeans in 18" rows, i can do the same with corn
these will plant any and everything you can fit in a seed cell, i have planted milo, sorgum, corn beans of all types, pumpkins, watermelons and chufas, its is like the post office boxes if it fits the cell it will plant it
---
Last edited by ky wonder; 05-18-2012 at

03:50 PM

.
Posting Rules
You may not post new threads
You may not post replies
You may not post attachments
You may not edit your posts
---
HTML code is Off
---