Will deer travel on a peninsula?
08-31-2018, 10:36 AM
Spike
Join Date: Aug 2018
Posts: 2
Will deer travel on a peninsula?
---
So I am hunting public land this year because I cant afford a lease. I am trying to avoid the other hunters and found a spot on a fairly large peninsula that would be very difficult to access except by boat. My question is: Will the deer venture on to a peninsula or do they avoid them because of the limited escape route?
08-31-2018, 11:19 AM
Super Moderator
Join Date: Dec 2017
Location: texas
Posts: 1,188
---
deer will love a secluded peninsula or any other area that has very limited human traffic as long as it has feed and cover,
here in florida much of the hunting management areas consist of swamp, if you pull a topo map,
many are endless small peninsulas extending into shallow drainage ponds, and islands in the swamp.
deer are not phased with crossing chest deep water, or even swimming a canal to gain access to decent feed and cover
Ive used a cannoe for decades to allow easy transport of equipment and downed game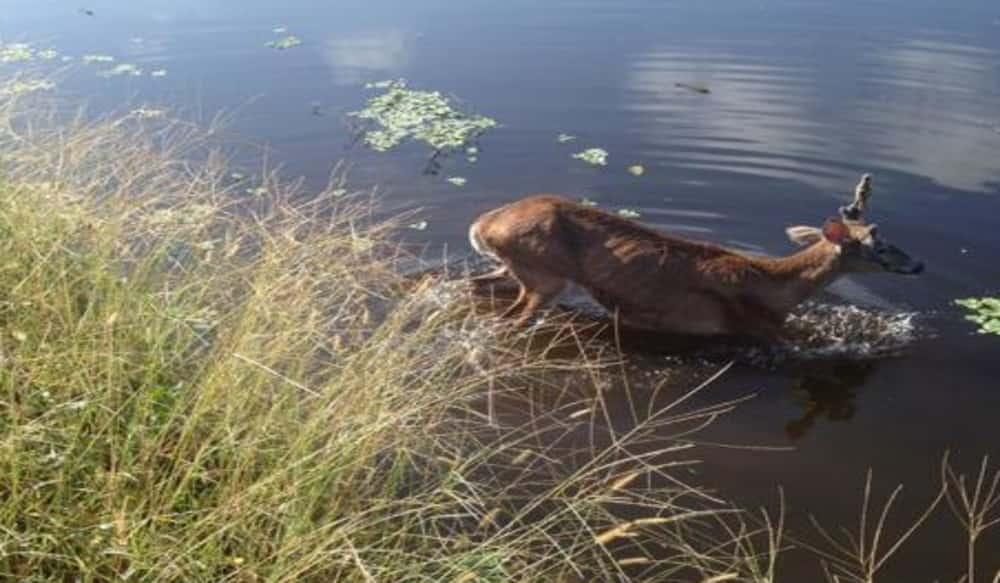 ---
Last edited by hardcastonly; 08-31-2018 at

11:41 AM

.
08-31-2018, 01:13 PM
---
Deer certainly are not afraid of water, I have seen several swimming in the Susquehanna river. All you have to do is scout and find deer sign and answer your question, if you think you found a spot, I would think the first thing you would be looking for is deer sign, it is the first thing I look for.
08-31-2018, 02:21 PM
Super Moderator
Join Date: Dec 2017
Location: texas
Posts: 1,188
---
I once had a new guy in the hunt club suggest we get 4-5 member's to form a rough line across a large island to drive a seclude island in one management area while he stood at the far end,
where the deer would be trapped like fish in a barrel.......
guys were rolling on the floor laughing at that suggestion,
florida deer prefer dry areas to bed and feed, but won,t hesitate a second to run through the cypress swamp to escape hunters encroaching on their perceived, safety barrier zone,
Florida Whitetail Experience
---
Last edited by hardcastonly; 08-31-2018 at

02:29 PM

.
09-02-2018, 07:17 AM
Nontypical Buck
Join Date: Oct 2013
Location: Marriottsville, Maryland
Posts: 1,058
---
It depends on the food sources, doe populations and influx of hunters. Though you can rattle and grunt tube both does an bucks from across the lake or river and bring them right to your stand; from October 22 (here in Maryland} on.
09-03-2018, 01:00 AM
---
No real reason for Deer to move around much unless they run out of browse or need necessary trace elements they aren't getting in the local diet. Or they are motivated during the rut.

I have one spot where the Creek/small river makes a loop with a cliff on the open end of the loop, basically a peninsula. It is Moor with one strip of brush running down the middle. Or in other words not a lot of cover. One to three Doe hang out there all year. Bucks swim the Creek/river during the rut. They rub on the opposite side of the Creek, outside the peninsula when the Rut is near and swim across when the scent of love gets strong enough. That scent carries a long ways. I've seen Bucks making a Bee line to a Doe in Estrus from over a mile away.

If you hunt during the rut it might be a good place to try some Doe in Estrus scent and/or a Doe bleat. The Doe sometimes bleat when they come in Estrus calling to any Buck in the neighborhood.

In fact if it were me and there was a Doe on that peninsula I'd avoid shooting her and you may have multiple tries on a Buck or three.

A mineral lick might also be a good idea. One reason Deer move around is they need minerals and few places have everything they need in the local browse.

Just some ideas.