How do you honor a lost hunting buddy?
02-12-2017, 08:15 AM
Giant Nontypical
Join Date: Oct 2013
Posts: 9,227
How do you honor a lost hunting buddy?
---
I'm just curious if anybody here does anything special to honor a lost hunting buddy? My father, who I always called Pop was not only my hunting and fishing buddy but also the buddy of his other son, 3 grandsons, 4 nephews and about 30 friends. Everyone wanted to go into the fields with him. He was by my side when I shot my first mule deer buck at the age of 9. He was at my side when I shot my first bull elk at the age of 15. he was with me when I got my first antelope, my first black bear, my first duck, my first goose, my first pheasant etc... He was my hunting buddy and the best all around hunter and fisherman I ever met.
I lost him in 2013 to lung cancer. I was on a combat deployment to the Middle East and when I got word he was failing fast I tried to get back stateside. I didn't make it. He died while I was in London waiting for a connecting flight to NYC and then to Denver. That was a heart breaker far from home. When I got to my mother's house there was a sealed envelope addressed to me in my father's handwriting. Call it a voice from the grave.
In the envelope was my father's last request of me, his younger son. Pop knew he would be cremated and he asked that I take a portion of his ashes and place them in locations where he hunted, fished and that were important to him. If my memory serves me correctly there were 11 locations and he wanted a 12th portion tossed into the wind out on the prairies of Eastern CO so he could go where nature wanted him. Since I was still active duty it took some time but I placed him where he wanted to be.
My father rests in his favorite duck slough, his favorite trout steam, his favorite spot for pass shooting geese, in good deer country, on a crossing he liked to wait for pronghorn to come by, at elk camp, on the African Plains, in the Gulf of Mexico and a few secret places like where he asked my mother to marry him and in the landscaping of the hospital where all 3 of his kids were born. As hard as it was to sift through his ashes, I honored his request.
Then I did something for myself, my brother and his grandsons. Pop always shot a 7mm Rem Mag he got the year I was born, 1963. I now have the rifle and it is fully retired. As a handloader he always kept brass and I found a box of brass he hadn't worked on. I took some of the brass and had his initials engraved in the casings and when I got them back I set up his loading press and neck sized them. Then I filled the primer pockets with epoxy and let it dry. When it was dry I filled the casing with some of Pop's ashes and seated a Nosler Partion (Pop's favorite bullet) in the case. I put a small eye bolt in the hardened epoxy and strung them on a leather thong I cut from a deer skin Pop had had tanned into leather. I kept 2 for myself and gave 2 to my brother and 1 each to the grandsons.
I placed one of the casings in each of the trucks I drive on a consistent basis. When I go hunting or fishing I slip it around my neck and take Pop with me. He was with me when I took my first deer and he will be with me on the day I take my last. Two days ago Pop and I took a limit of rainbow trout from a pond down the road from where I now live. That, my internet friends, is how I chose to honor him and I honor him again here by introducing you all to the best hunter I ever knew.
This is Pop with his last deer, taken with me at his side right at sunset in Okaloosa County FL in 2009 just 3 months before he first got diagnosed with cancer. Happy Trails Pop, someday we'll hunt together again.
---
Last edited by flags; 02-12-2017 at

08:35 AM

. Reason: typo
02-12-2017, 08:28 AM
---
Great story and a great way to honor your dad. There is not a day that I hunt that I don't think about my dad and the sacrifices he made to raise three sons. Of course he didn't consider them sacrifices. He was instrumental in why I had the career I had. I read a story once in a duck hunting magazine where a man had in his will that he wanted the two guys he hunted ducks with for most of his life to load a box of shotgun shells with some of his ashes along with the shot. He requested the first shot by both each year was one of those shells. I kinda liked that idea.
02-12-2017, 08:35 AM
Giant Nontypical
Join Date: Jan 2011
Location: Allegan, MI
Posts: 8,019
---
That is really cool flags! I lost my Dad on 9/11/11 while I was out in AZ on the start of my yearly lengthy western trip like I take every Fall. His ashes went in the ground at the Fort Custer National Cemetery 40 miles from here on the outskirts of Battle Creek and it's only a couple hundred yards from where he shot the last two deer in 1967 that he killed out there. I have several mementos of his that I see all the time in my man cave, as well as two safes full of rifles, shotguns, and several handguns that he passed on to me. He's always on my mind since he's the one that got me started when I was five and I've never looked back. Some day we'll go on more hunts together!
---
Last edited by Topgun 3006; 02-12-2017 at

05:32 PM

. Reason: Add On
02-12-2017, 01:30 PM
---
I too lost my father and hunting buddy many years ago. He passed early at age 59 due to a heart attack. I honor him by showing good sportsmanship and thinking of him when i am hunting and fishing. The day he died I took Dad and my old Uncle Tony fishing for lakers on Lake Champlain. It was a cold windy day and we went out caught a few lake trout and then went and had lunch. I could tell he wasn't feeling well and decided to head in since it was a cold day. He died suddenly around 11 that night. Every time I harvest game he is with me. Nice picture of your Dad Flags. I am sure he is proud of you.
02-12-2017, 02:22 PM
---
I think one of the better ways to honor them is to pass on the lessons learned, the stuff they taught you.

My Dad once taught me to learn from other peoples mistakes, he said it was often the least painful way to learn a lesson.

The youngsters now on days aren't much for listening. I guess some lesson have to be learned the hard way, but stupid shouldn't be fatal. You can tell them, but you can't make them listen. If you teach them, you've done your part.
02-12-2017, 03:34 PM
Nontypical Buck
Join Date: Aug 2014
Location: gilbert az
Posts: 1,168
---
Great story and sorry to hear about your loss he looks like someone I would like to meet and talk with. I lost my mom in november and I have some of her ashes that I keep in a special box above my computer desk so I can keep a eye on her, but I am having a new turkey call and striker made and I'm going to have some of her ashes sealed in the striker handle and she used to wear a turquoise ring that I'm gojng to have the stone inlaid on the striker handle. just one more thing she can be along with me for !
02-12-2017, 07:59 PM
Nontypical Buck
Join Date: Jan 2008
Location:
Posts: 2,186
---
I could get quite long here on this topic but ..... to answer your question .directly, I honor those before me with my memories of them and the lessons learned. And will pass that on down the line as best I can.
02-13-2017, 04:19 AM
---
My dad requested all his sons[2] and daughters [3] to come to his home on a weekend in March 2003. At that time he handed out all his hunting and fishing equipment to sons daughters nieces [2] and nephew [1]
I was given back the Ruger 77-243 I had given him for his 60th birthday. I took it up to my deer camp that year to hunt with. Finally on the second to last day of the season I shot a nice buck with it on the beach of Big Bay DeNoc.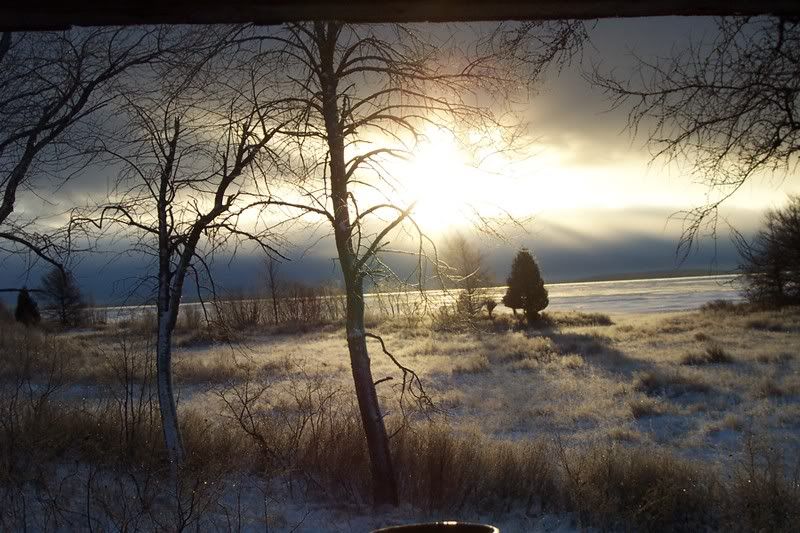 I think dad had only shot a couple spikes with that rifle with hand loads I loaded for him. I had stopped deer hunting with him Nov. 1991
I wrote a story about that sent it to Michigan Out of Doors magazine. They bought the story and did publish it after dad had passed. He passed away June 2004, Story was in the Nov 2004 issue to late for him to read Like I had wanted so he didn't get to read it.
Moral of that is to do it today don't wait because you never know when you ride is over.
Had 6 special friends who hunted the UP with me. I am the last remaining one. As they passed we always toasted them the night before opening day and told stories about them while they were with us. Now I have no one to tell the stories to but can still do the toast every Nov 14th.
Al
---
Last edited by alleyyooper; 02-13-2017 at

04:22 AM

.