Senior Hunter's
02-21-2015, 05:11 PM
Spike
Join Date: Feb 2015
Posts: 91
---
We due own the farm and we've had the tractors stuck in the field .even in the dryest of summers
Our one field has about 4 springs in it that make it very tuff to mow or work.
---
Last edited by newcomb; 02-21-2015 at

05:16 PM

.
02-22-2015, 12:18 PM
---
I am 68 years old. I had a bunch of hunting partners over the years who came to our UPPER Michigan deer camp so there was always help getting deer from way back where the day lite started to the camp where day lite ended.
My last partner passed in 2005 so I no longer had help did take 3 young guys one year and they were so lazy I don't think they could drag a gut pile let alone a whole buck.
I picked up one of those roll up flat plastic sheet sleds for kids, Installed grommets (2) in the front and a few down the sides for bungee cords. Field dress the deer and lay him on the sled use the bungee cords to tie him on as the sled will sort of roll around the body. Tie the draw rope to the body harness and go. Stop to rest so I don't have a heart attack. Did that till 2011.
Now I shoot them close to home.
This one I got just 300 yards from my pole barn.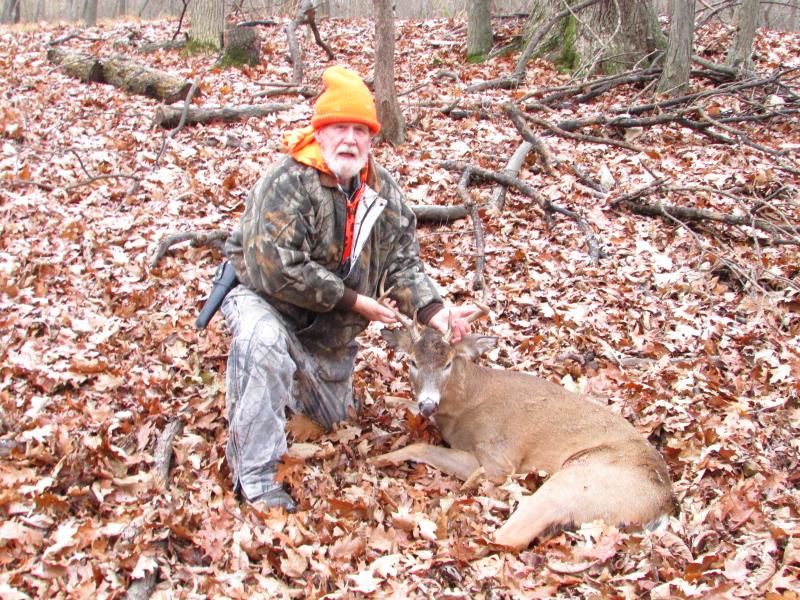 this one during ML season so close to the house I used the flood lites to field dress him.
This one fell just 60 yards from the pole barn. I have a choice of a ATV or tractor with a front loader to get them to the pole barn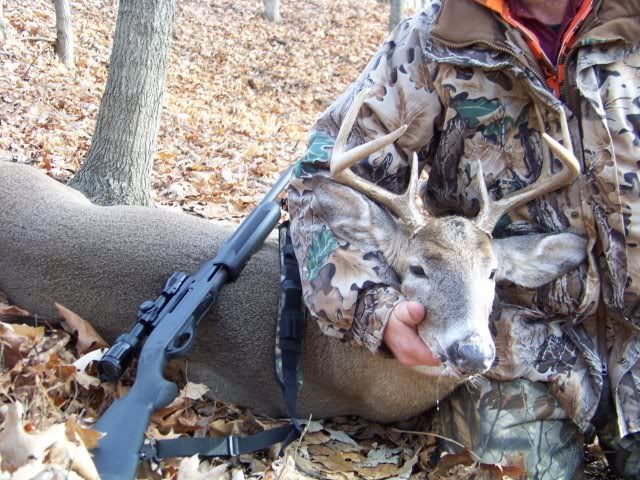 Al
02-22-2015, 03:58 PM
Spike
Join Date: Feb 2015
Posts: 91
---
Nice going that's some good eating there.
I love venison chili.
02-22-2015, 04:23 PM
Spike
Join Date: Feb 2015
Posts: 91
---
Thanks for the post Alleyyooper.
I use to have a blue roll up type sled of some kind, that I Planed
On using for a deer drag. But never did use it. And I am sure
It got tossed out yr.s. ago. Now I have to come up with
Some thing like it.
To tell the truth I am a very independent type dude. And rather
Due things myself.. thanks again for your post.
02-23-2015, 11:22 AM
Nontypical Buck
Join Date: Feb 2003
Posts: 2,278
---
I raised two sons, both are 6 feet tall now, thought I had it all figured out, just hunt with them! That worked great, until they got out of college and got lives of their own. Now they are 1+ hour away and I"d have to hope they are available.

I will be getting one of the Herters carts shown previous. Also will work for bringing in climbing sticks and stands to set and clear on the front and back end of the season. On of my favorite stands is about 30 minute walk slightly down hill at a good pace from the truck, wife thinks I will give her a ride in the cart when we hunt it together......NOT
02-23-2015, 02:23 PM
---
Oh geeze, do I have to comment on the old farts topic? Hahaha

Most of the places I hunt are easy access to the road, but I do have access to 4 wheelers or buggies if I need them. My personal hunting is baldies for meat, so I have a place that is 100 yds from the road. I do have a discarded cart I put back together but haven't used. If I am working and have to drag I'll get some of the younger kids to help.

As for de-boning a deer. It is a simple process and takes very little time. Have someone that knows how show you, and check youtube videos. Many limb saws come with a bone blade and are easy to carry with you.

I can't believe no one has mentioned the push button shift on the dash, like I had in my 63 dodge dart. I also had a 61 Plymouth wagon, 3 spd on the column, with the infamous 225 slant 6. The dart had the same motor but was auto. Then was my favorite, 65 C10 stepside lwb, the 230 and column shift were replaced before me with a 235 and granny 4 spd. That olé truck would go anywhere.

And I'll have you know 55 IS NOT OLD. Hahaha
---
Last edited by deerdust; 02-23-2015 at

02:25 PM

.
02-23-2015, 02:32 PM
Nontypical Buck
Join Date: Feb 2003
Location: Eastern wv
Posts: 2,540
---
its the miles Dave, it takes a lot longer to get old if ya never do nothing
RR
02-23-2015, 02:41 PM
Spike
Join Date: Feb 2015
Posts: 91
---
Bob I love NH. Some day I will tell ya about my big trip
To mount Washington on motorcycles.
Thanks for the post.
I had a 1959 rambler. With the push buttons on the dash
I use to drag it. At the local drag strip. Got my but whipped.
Every week. Didn't have that car very long.
Nobody said 50 something was old.
Didn't have it long enuf to hall any deer out of a field.
---
Last edited by newcomb; 02-23-2015 at

02:44 PM

.
02-23-2015, 03:23 PM
---
Lol In that case RR I was old before my time.
Newcomb, I know I'm getting there from the aches and pains that only coffee and time will heal each morning.
lol
02-25-2015, 09:58 PM
Spike
Join Date: Feb 2015
Posts: 91
---
Well you know your getting up there when your getting read for a hunt / hunting trip
And your double checking your gear to make sure you have.everything
And then you realized you forgot your meds.