Homemade tree stand box blind
01-01-2014, 03:06 PM
Homemade tree stand box blind
---
I am considering building a 4X4 or maybe 4X6 platform. I think 8ft would be too much. Just in case I would have to move it I am thinking a 4X4. It will be strapped to a tree just like a smaller stand with 45 deg braces from back to front, and 18-20ft uprights for support. Has anyone ever did this? I want to put sides on when needed. How high sides would you go. I also am thinking about using a small charcoal grill for heat source. Will the smell of charcoal bother the deer. Any other suggestions would be welcomed.
Thanks.
01-01-2014, 06:18 PM
Typical Buck
Join Date: Apr 2011
Location: Northern WI
Posts: 853
---
I built one something like this last year, although the shooting height was about 15 ft. But it was safe to build and use - no ladders needed when I built it and I built it myself. No top on it, but sides up to about 41" or so to cut the wind. See
http://www.freedeerstandplans.com/de...ox-stands.html
---
Last edited by MZS; 01-02-2014 at

05:34 AM

.
01-06-2014, 05:43 AM
Nontypical Buck
Join Date: Jul 2007
Location: Southeast Missouri
Posts: 2,178
---
I would completely box the Blind in,put a Roof on it and simply cut out some shooting windows and incorporate some plexi-glass windows to shut out the wind when needed.I don't think a charcoal type heater would be a good idea in an enclosed area,it could take out the oxygen in that small an area causing carbon dioxide poisoning?
01-06-2014, 04:08 PM
---
Personally, I'd get those steal supports for the platform that they sell on Sportsmans guide for $80 then build a box around that. They hold 4x4s and are on a slight angle for more stability. Personally, if its got walls and a ceiling and you are using it for bow hunting I wouldn't go smaller than 4 feet by 6 feet. It will get snug in there at 4 feet by 4 feet. Also, be careful getting that high up. I hunt pretty high with my hang on stands (18 to 25 feet) but when it comes to enclosed box blinds, 12 feet is a lot higher than you think. Plus, trying to get a box blind up that high is not fun unless you have some good farm equipment. Good luck and let us know what you decide to build!
01-12-2014, 08:21 PM
Box Blind
---
[QUOTE=fastetti;4113993][/SIZE]Personally, I'd get those steal supports for the platform that they sell on Sportsmans guide for $80 then build a box around that.
--------------------------------------------------------------------------------------------
I am not sure I would have to have those if I angle the uprights.
What size would you recommend? 4x6 4x8 6x6 or 6x8
I plan to use it for bow and gun hunting. I will probably only make the platform first so I can use a pop up if needed. I will put the sides on later because mostly of 'time' and money. I was thinking of strapping it to a tree shaped like your first three fingers. Strapped to center branch and uprights in the front with 45 deg braces from the back to front uprights. After straps are tight bolts will be screwed through frame to tree to tighten tighter. Do you think this will work or should I have four uprights? Originally it was for just the extreme cold to be able to sit all day with a heater.
---
Last edited by jrfrmn; 01-12-2014 at

08:26 PM

.
01-13-2014, 05:41 AM
---
I built this one with OSB and OOP's stain and paint selling for about $5.00 a gallon. The main plat form is 5x8 so the blind is 5x4 by 6.5 high at the low end. It is on a skid so I can move it around with an ATV. I used 4x4x8 treated timbers on the 4 corners and 2 landscape timbers in the center. Windows are recycled 6 pane window taken apart and a home made frame to hold the 2 panes used to make a good sized window to shoot from.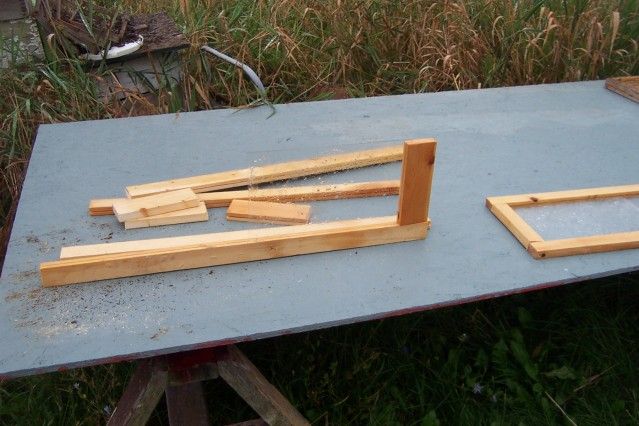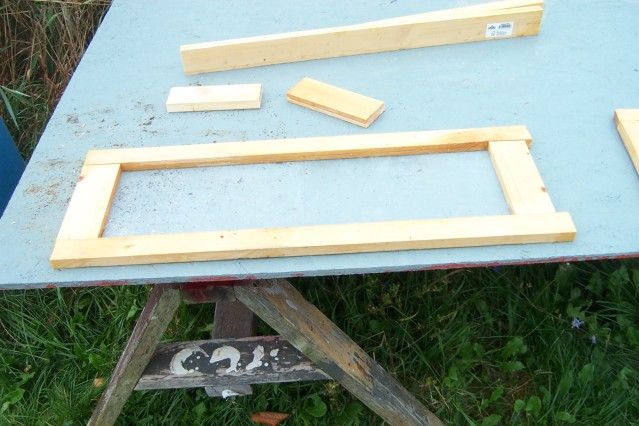 They hinge up inside so I need not worry about them freezing so they won't open like slider seem to do in the winter.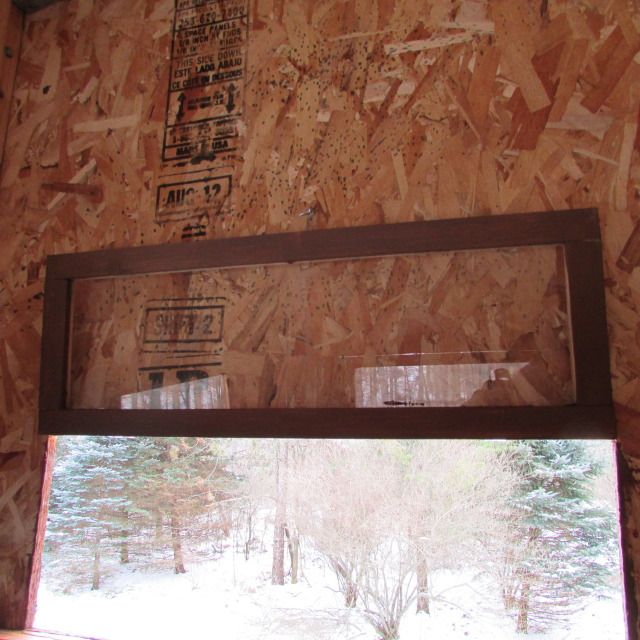 Al
---
Last edited by alleyyooper; 01-13-2014 at

05:43 AM

.
01-13-2014, 07:46 AM
---
01-13-2014, 08:10 AM
Giant Nontypical
Join Date: Jan 2011
Location: Allegan, MI
Posts: 8,019
---
I would not attach anything like it appears the OP is contemplating to a tree and definitely not use a charcoal burner! It would either be a freestanding one like people put on the ground or on a platform. As Rockport stated about tree movement not being good for the stand, it would also not be good to rest a gun on to shoot if it's moving. Here's a picture of one I made and hauled back in the boonies in pieces 1/2 mile from my northern MI cabin and put it together. It's 4'x4' made of OSB with 2x2 supports for the walls, 1" plywood floor on 2x6s (2 pieces of 1/2" running opposite each other), an aluminum roof that was a leftover piece from other blinds made years ago, covered with steel from scrap being tossed out in a project over at our Fairgrounds on a new 4H building, and single pane windows that hinge down so they will drop easily and not need excessive movement like if they hinged up. It sits on two 8' treated 4x4s that I cut into 4' lengths. The cost for the glass, 4x4s, sheets of OSB, the 2x2s, and several cans of paint was under $100. All the rest was scraps from projects I bummed that would have gone in a dumpster. It is so solid that you can almost heat it with a cigarette lighter and it will last for decades. I have about ten ladder stands that I use most of the time that are in areas where longer shots are presented. This enclosed blind is for bad weather and is positioned on the edge of one of the better bedding areas where I hunt.
---
Last edited by Topgun 3006; 06-09-2015 at

07:28 PM

.