What do you thing about a 28 gauge slug gun
05-02-2013, 10:39 PM
Spike
Join Date: Mar 2013
Posts: 16
---
Hmmm. Idk why I never thought of that, I did just win an in line ML at a banquet. Havent had a chance to shoot it to see the kick. Good idea
05-02-2013, 10:41 PM
Spike
Join Date: Mar 2013
Posts: 16
---
Haha, suppose so. Been together for years and have a daughter, I suppose the real term is Fiance. Good catch TC
05-03-2013, 09:34 AM
Nontypical Buck
Join Date: Jan 2008
Location:
Posts: 2,186
---
Hmmmm ! Ol' "parapraxis" showed up ?
I am not a fan of any "shotgun" load below the 20 ga., 3" sabot type slugster set-up. Just too much distance limitation for my taste, however, I suspect that limiting the distances to 50 yards or so, the 28 ga. slug load would be OK.
As for not springing for a rifle, I bet you could find a used Handi in 243 Win. for around $200. If your wife and/or girfreind are not worth you dropping two Benjamins, then maybe you need a third choice !?!
05-08-2013, 01:12 PM
Spike
Join Date: Jun 2012
Location: N.E Kansas
Posts: 25
---
05-08-2013, 03:42 PM
---
Accuracy is the biggest variable here. Can she hit a softball with it from 50 yards? You may want to consider a set of half way decent clamp on the rib fiber optic sights. They can be had for about $50. That will pretty much double effective hunting range of any smoothbore slug gun.

I think it will kill a deer dead as a door nail just so long as she can put the slug where it needs to go. Forget any illusions of a 200 yard slug gun here... but with a steady rest, some sights, and a little practice I think she should be able to take deer just fine out to 75 yards with it.

Practice, Practice, Practice, Practice.......... can't say that enough.
05-10-2013, 02:33 PM
Giant Nontypical
Join Date: Nov 2004
Posts: 5,425
---
Once you get past the above post of mine, here's what I think.

A Brenneke 28ga slug is a 5/8 ounce, or by my calculation 273gr, moving at 1450fps (Brenneke's number). Hunting with that wouldn't make me weak in the knees. A friend shot a deer with his .54 round ball out of his long rifle and anchored it, and as you point out the two are comparable.
I built this .54 flintlock back in the 80s, have killed about 50 deer with it...A .530 round ball weighs about 220 grains, I use 80grs FFF Goex and have dropped deer out to 125 yards...I see no problem...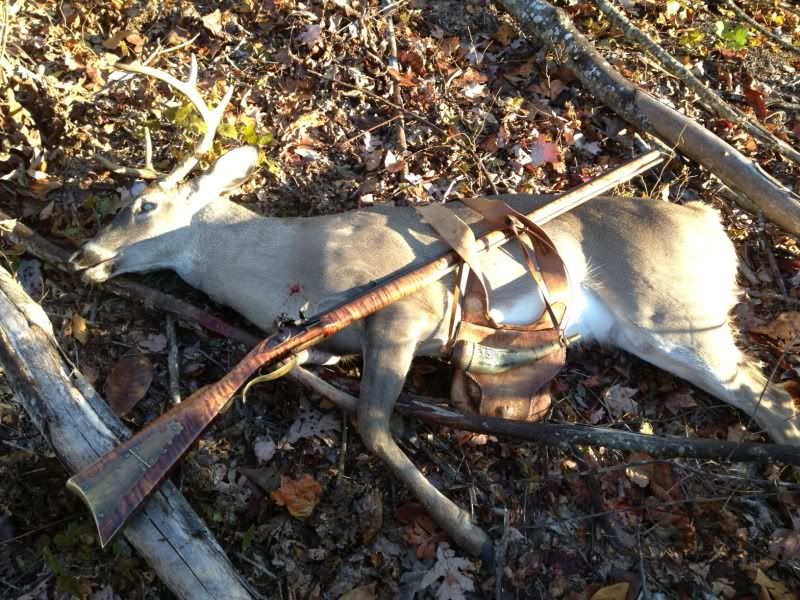 05-10-2013, 10:28 PM
Spike
Join Date: Jun 2012
Location: N.E Kansas
Posts: 25
---
On the subject of muzzle loading. You could always load a 50 caliber mini, maxi, or round ball with pryodex or black powder into a 28ga shell and fire it. Or you could put a 54 caliber projectile down the barrel, basically make an inline muzzle loader. As said accuracy is the issue not power. One of the loads I mentioned earlier is basically a 50 caliber round ball going at 2000fps. If this load was coming from a muzzle loader no one would be questioning its effectiveness at bagging deer.
06-07-2013, 10:20 PM
Spike
Join Date: Mar 2013
Posts: 16