Insight please?(hornady sst 12 guage)
10-31-2012, 01:26 AM
Insight please?(hornady sst 12 guage)
---
Im thinking about shooting some different sluggs from my 12 guage remington 870. Currently I use Copper solids and they are great but they are expensive and they are kind of hard to find anymore. Has anyone ever used hornady sst? Got a friend that swears by them but was wondering what you all may know about them. Also I want to get a better scope to put on my gun to I need a little more zoom what is an affordable scope for a shotgun? My gun is fully rifled as well. Any insight on these topics would be much appreciated
10-31-2012, 06:32 AM
---
It has been my experience that every gun will pattern differently with sabot slugs, it can be a very frustrating & expensive adventure, even guns of the same model will shoot different using the same brand slugs,
The best you can do is purchase a few boxes of each & head to the range. However (if it means anything) I have found the Remington Accu-Tips patterned in all my slug guns, (some patterned much better then others). being fairly new to the world of slugs I am really amazed at the sensitivity of these shells. When shooting I found I could pattern (somewhat) with one brand & be completely off the board with another, it didn't seem to make much difference between the 2 3/4 or the 3". I will admit I am probly more "anal" about accuracy than most, but that is just me. good luck Doc
I have settled on the Accu Tips Which may or may not work for you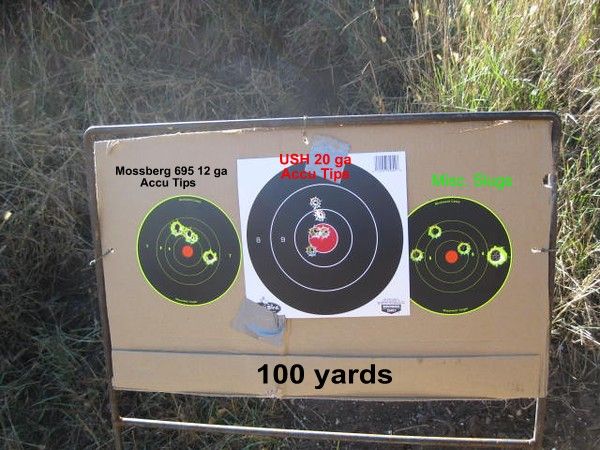 ---
Last edited by DocD; 10-31-2012 at

06:38 AM

.
10-31-2012, 10:08 AM
---
JMHO but I suggest you atleast try Brenneke slugs. Either the 3" mags of 2-3/4" heavy field mags.

I won't bother with the "they aren't sabot" discussion. If Brenneke says they are good for rifled barrels then I'll believe it. They have been making slugs over 100 years and my guns rifling is just fine. The accuracy out of our H&R USHs is awesome.

And when you put a hit on a deer.......well that big, fat 1-3/8 oz. slug hits like a ton of bricks!
10-31-2012, 10:36 AM
Spike
Join Date: Oct 2012
Posts: 4
---
i shot them last year for the first time just to see what slug hunting was all about and i had very good luck with them i shot 2 doe with them at about 80 yards and wanted to see how good they really were so i took a shot at a doe at about 140 yard and smoked her so im a ferm belever in them i bet i shoot them again
10-31-2012, 10:47 AM
Typical Buck
Join Date: Sep 2008
Location: Indianapolis, IN
Posts: 800
---
I shoot them out of my Rem 870 and love them. I sight my gun in at 90yds knowing I wont take a shot longer than that (too thick in the woods) and most shots around 50 yds will be dead on.....with my gun. As for a scope, not sure what price range you are looking for but you will biased opinions on this subject. My choice is Leupold or Simmons. Just depends on what money you want to throw down on it.
Posting Rules
You may not post new threads
You may not post replies
You may not post attachments
You may not edit your posts
---
HTML code is Off
---