Is It possible
01-24-2010, 05:15 AM
---
I have seen, in January, a very small doe with several buck in toe. One instance was two years ago I was driving near my home and spotted a buck in a power line. I turned around to look at it and saw a total of 7 buck all trying to work this small doe. She had to be less than 100 lbs. She was just standing there while all these buck were lurking. It was as if she knew if she moved an inch they would all dog her again. I think fawn doe get bread more than you think. JMO.
01-24-2010, 05:31 AM
---
Here is some info I googled:
http://www.deerandforests.org/resour...uly%202009.pdf
http://bozw00d.tripod.com/id66.htm
Breeding in doe fawns is dependent upon their physical condition. Large doe fawns may breed when only six to nine months old, generally bearing a single fawn. Doe fawns that have not reached physical maturity in their first year will wait until 16 to 19 months old. Weather, growing season, range conditions, and heredity all play a role in the breeding scheme. The number of fawns and yearling does breeding may vary tremendously in the same population from year to year, which is important for the wildlife manager and hunter to understand for proper herd management.
01-24-2010, 06:32 AM
---
Happens a lot (I think)....I have found one doe fawn in the middle of an open field dead gored by a buck. The moring I found it, I had hunted that field the night before and seen heavy rutting activity and bucks chasing off fawns. Weeks after that I had seen a doe fawn with her hair on her back shredded. Assuming from a buck breeding her because of the Horizontal marks. I think it happens in area's where the buck to doe ratio is about right. The rut is a little more intense due to supply and demand
01-25-2010, 02:10 AM
---
The only data that I have that you can read would be my log book entries. I have, for over 12 years, witnessed mature bucks tending fawns during the 2nd week of Dec and again the 1st week of Jan. Saw one get bred. This occurred in Southern Wi and northern Ill. Breeding can also take place later than Jan as evidenced by super late born fawns. A couple of times I've seen tiny fawns with spots that weren't but a couple weeks old that were spotted during the 3rd week of Sept. Back track about 210 days to find date of conception.
Back in the late '80's or early '90's, I read and article in D & D Hunting by Ozunga or Alsheimer that stated that up to 95% of fawns born in milder climates would breed during their first year ( before they were 1 year old). I didn't save the article.
01-31-2010, 08:58 AM
---
Yep like Bob said female fawns will come in to estrous when they reach a body weight of 76-80 lbs. It is also a very good sign that you have a healthy herd and has nothing to do with an out of whack buck to doe ratio etc. Pike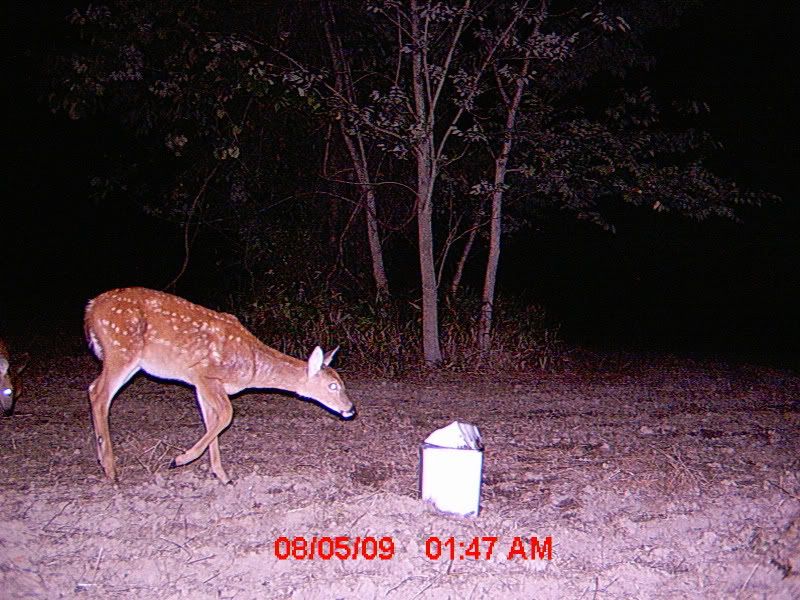 ---
Last edited by J Pike; 01-31-2010 at

09:03 AM

.
Posting Rules
You may not post new threads
You may not post replies
You may not post attachments
You may not edit your posts
---
HTML code is Off
---