Do You Recall Your First Deer?
12-22-2009, 01:10 PM
---
Originally Posted by
GregH
Dec. 7, 1968 7:24 AM
15 yard running shot with a 35 lb recurve, cedar arrows and Bear sharpen-with-a-file broadheads.
Hand painted coveralls (from my dad's work), $1.25 dime store hunting knife, masking tape bow camo and my Sunday going to church rabbit fur lined gloves.
I certainly remember that deer.
That's some serious, old school mojo there. Awesome story....
12-22-2009, 01:30 PM
---
I was 15, and my brother was 13, and we were stalking with our bows near the river not too far from our house in Northern California on public land. We saw two young forkhorn blacktails enter the river jungle, so we split up to try to get around them and get a shot at one. As I was slowly stalking my way around , I spotted a huge 4x4 feeding toward me. When he got about 30 yards away, I tried to draw on him, and he spotted my movement, and jumped into the brush. Shaking and cursing under my breath, I looked up to spot another young 3x3 feeding across out in front of me, about 25 yards away. I was shaking so bad when I released, that it was a miracle the arrow went anywhere near him, but he went down about 10 yards from where I hit him, and it was all over!
I hollered for my brother, and his reaction was something along the lines of "holy cow, you got him"!

That was 33 years ago, and I have never been able to curb the addiction
12-22-2009, 05:16 PM
Fork Horn
Join Date: Feb 2003
Location: Abington Mass
Posts: 158
---
My hunt went like this I was 28 years old, both my father and myself had never shot a deer. We agreed to meet 1/2 hr before light at our spot, I also told my dad that I would not wait a minute past. He was late as usual, and true to my word I walked to my stand. At around 630 am I could hear a deer walking towards me, stopping every now and then. All of a sudden I heard the deer crashing through the woods going away from me. I was disappointed to say the least. A few seconds later I could hear the steady cadence of someone walking down the logging road, guess who? He asked me what was going on, and I told him that a deer was walking towards me, till it either scented you or heard you then it crashed away. He said he was sorry he was late, and that he was heading to the edge of this swamp, and off he went. Around 1/2 and hour later I could hear a deer walking back down the same trail as earlier. Basically the same cadence as before walk a little then stop a little. Finally I saw his head sticking out of the thicket watching carefully. It seemed like an eternity till he stepped out giving me a shot. As he stepped out into the opening he pick up his pace to get back to a thicket on the other side, I let out a [I]Baaaahhh[I] and he stopped dead. I shot him broadside with a slug from my 870 and he ran 20 yards and dropped. I was so excited, that I got right down and ran to where he had dropped. I had no idea what to do next, so I called my friend who was running an excavator on a job site and he walked me through field dressing a deer over the phone. When he was all field dressed I used a rope to hang him up in a tree, and went to get my truck as it was cold out and I was exhausted. i backed my truck down the road, and sat in the warmth with my coffee listening to the radio. My father came out of the woods around noon time, and as he was walking to me he saw the truck and asked what I was doing. I told him I was cold. He asked me if I had shot at anything as he heard a shot. I told I had, and he asked what it was , so I told him it was a buck. He said what happened did you miss him? I said no I got him, and pointed to the deer hanging in the tree. He let out an "Alright cool" I think he was happier than I was. Any way my deer was a 5 point, and he field dressed at 160lbs.
---
Last edited by specialist1; 12-22-2009 at

05:22 PM

.
12-22-2009, 06:39 PM
---
It was the second to the last day of the 1993 Ohio shotgun season. I was 13 and my first year hunting. The morning turned out to be a rainy one but we went out anyway. About 1 hour into the morning I heard sounds coming from behind me to the right. As I look I see a doe trotting hard, then another, then another, then another. As I stood up in the treestand I see a buck trailing the 4 doe. When he gets perfect broadside to me, I let my 20 gauge Winchester do its job dropping him on the spot. I walk over to him to make sure he is dead then make my way to my stepdads treestand. When I get there his stand was empty. I head back to the building and there he was drinking coffee. He said he didnt want to deal with the ran anymore so he came inside. I said ok but could you handle the rain for a bit and help me get my buck? I have never seen a grown man jump up so fast.
As we get back there we find another hunter standing over my deer! After words are exchanged and the guy was ran off, we got my buck out of the woods.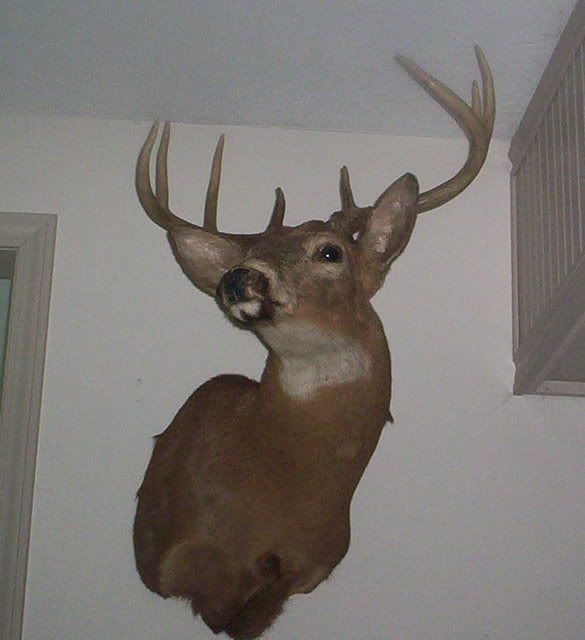 12-29-2009, 06:18 PM
---
I started hunting in 2002. It was late season in VA, almost in it's final days if I recall. I was sitting in a ladder stand I set up overlooking a patch of thorny bushes and mountain laurel near a creek. It was freezing and getting dark but I had a little extra light from a nearly full moon so I stayed out a little longer than usual. After awhile I saw and heard nothing so decided to get out of the stand. I walked a few feet and thought, I might as well wait five more minutes, so I sat on a nearby fallen tree.

I was sitting there sort of chilling when all of a sudden I heard some rustling up the hill from me. I turned around and there was this deer walking at a steady pace behind me. I thought it would see me because I was pretty much in the open but it gave no sign of stopping or running in fear so I let it get close. It came within 20 yards and I put the crosshairs on it's sweet spot and fired.

It leaped into the air and ran right past me and into the thickets. I heard it run a bit and then this huge crash. Being an inexperienced hunter at the time, I didn't know if I got it or not. I searched for a sign or body, but couldn't find anything. It was getting dark so I went home a bit disappointed. Before bed, my wife told me to go out early in the morning and look again because it was going to be absolutely freezing that night and if the deer did go down, the cold should take care of it. So at 7am I went out and looked again. To my surprise, I found a leaf with a nice pool of blood collected in it. I expanded my search and finally, in the worst thorns and thicket you can imagine, was my deer.

It was a medium sized spike. I couldn't believe the first deer I ever shot was a buck of sorts. Seven years and several more deer later, I am still hooked.
12-30-2009, 09:09 AM
---
it was December 27th, 2008. opening day of ohio muzzleloader season.my grandpa set me up in the corner of some woods with fields to my left and in front of me. after about 2 hours, i saw what i thought was a basket rack 8-pt. broadside anout 40 yards away. i raised my muzzleloader and fired. the buck kicked out, ran 20 yards and rolled. i found my grandpa and when we walkjed up to the deer, it turned out to be an 11 point. it green scored 141. i had hit it right through the heart.
---
Last edited by yote_slayer; 12-30-2009 at

09:11 AM

.
12-30-2009, 01:25 PM
Fork Horn
Join Date: Jan 2005
Location: Amarillo, TX
Posts: 456
---
I was 13 years. My dad had a hunting lease south of Palo Duro Canyon in Texas. I didnt have a hunting license and never shot a rifle before but I asked my dad if I could carry his second rifle. He let me and away we went. I stayed several feet behind him until we made it to the top of the little mountain. We were glassing a small wheat field on the bottom of the other and I spotted a herd of mulies. He told me to stay put and he would try to bird dog them my way. It took him it seemed all day to get into position. He started banging on a fence post and the mulies all perked up and staired at him. I was ontop of the mountain and could see hima nd the deer just praying that they would make there way towards me. They finally spooked enough and sure enough they came right at me. I spotted the biggest buck in the herd and kept my eyes on him. They made it directly below me, stopped and twisted their heads back to look at my dad. I pulled up the 6mm and looked through the scope. Dang, that scope had two lines going accross and I didnt know which one to use. I decided to use the bottom line and fired.... nothing, not even a flinch. I pumped the rifle and put another round in the chamber, I aimed again and fired.... nothing, still not even a flinch. I pumped the rifle the second time, aimed still using the bottom line and fired.... nothing, the deer didnt move an inch. They were focused on my dad. I pumped the rifle the 3rd time aimed the same way and fired... still nothing. I started thinking, please dont run off. I pumped the rifle the 4th time and I was out of ammo. I reached into my pocket to get more rounds. I tried to pull the magazine out of the rifle and my hands were so cold and that I couldnt get it out. I pumped the rifle and loaded it single shot style. I aimed and this time I decided to use the top line in the scope and boom.... the buck dropped. It was about a 75 yard shot. He was little 7 point basket rack muley. I will never forget that hunt.
Posting Rules
You may not post new threads
You may not post replies
You may not post attachments
You may not edit your posts
---
HTML code is Off
---