Pics of Your Enclosed Stands?
11-17-2009, 06:39 AM
Pics of Your Enclosed Stands?
---
So after getting a playhouse built in the spring, I'm thinking of finally building an enclosed, elevated box blind on our property. It will be in a strategic spot in the woods inbetween a couple of sloughs/bedding areas and I'm thinking of going 6x6 feet for the floor about 8 feet off the ground. I was thinking of a basic box design with a horizontal gun and vertical bow window on each side. I have these elevator brackets I'll use to attach the 4x4 legs to the blind itself.

Any pics or tips in building one will be much appreciated. I'm thinking of just going with a basic design and then souping it up in the years to come, adding frills like shelves and what not inside.
11-18-2009, 05:39 AM
Spike
Join Date: Nov 2006
Location: SE Wisconsin
Posts: 88
---
Oh and I recomend putting actual shingles on the roof and slant it for the rain to run off. The shingles will ensure that its dry all year long. You can usually pick up a few scrap shingles at a job site. You only need about 10 to cover the whole roof.
11-18-2009, 05:59 AM
Spike
Join Date: Oct 2006
Location:
Posts: 26
---
We use scaffolding for the base. It is metal so it doesnt rot, plus it is very sturdy. We even run some cables with turnbuckles to nearby trees. It lets you pick your height too. we have some that are two sections and others that are three high.
11-18-2009, 11:46 AM
---
Here are a couple of the "Shootin' Houses" we built this year.
Sittin over a nice little isolated foodplot with a large standing cornfield on top of the hill.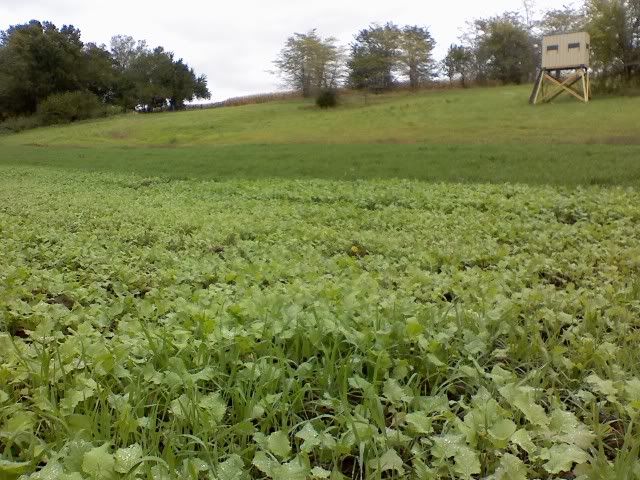 Here's just a simple ground blind we placed on a field edge
Here's the other elevated blind that sits a good distance back in our timber.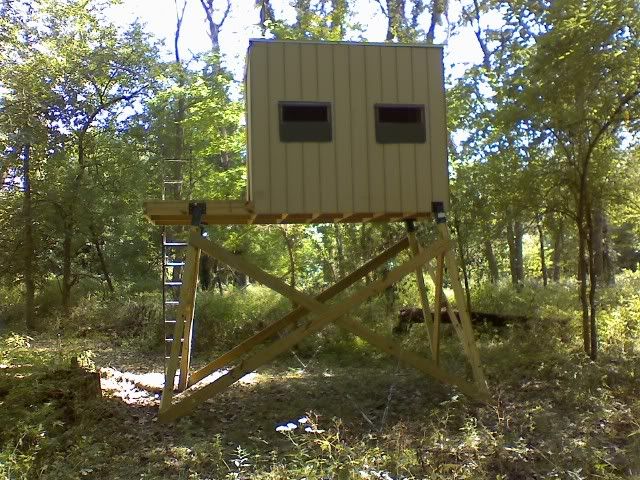 We even added a bow window on the back side of this blind and it works great.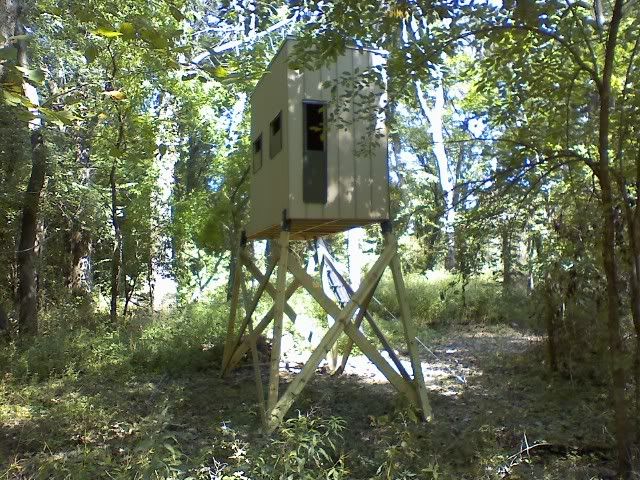 A closer look at our sliding window kits
from the inside.... looks different now though.... we've added more carpet, shelves, hanging hooks, chairs and heaters in all our blinds.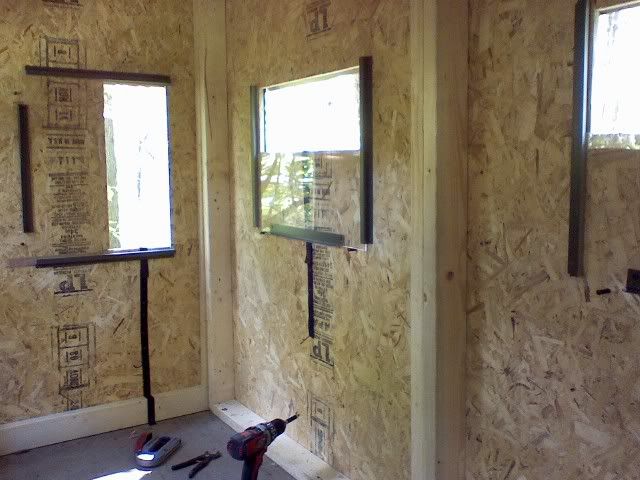 11-18-2009, 04:27 PM
---
Here is one me and the boys built this summer. It is so nice to have them in a lil shootin house like this.......I really enjoy it!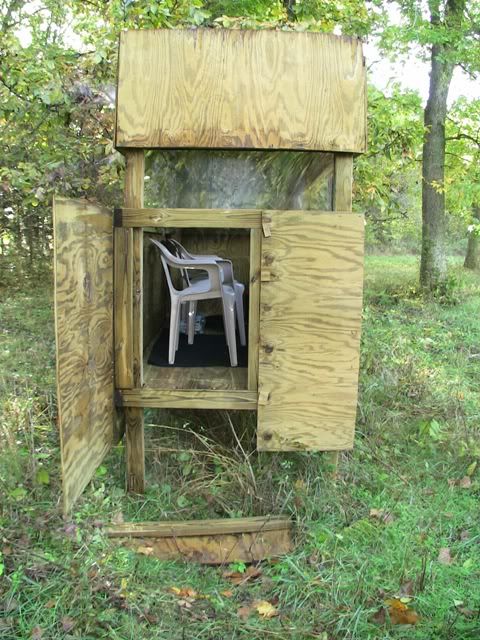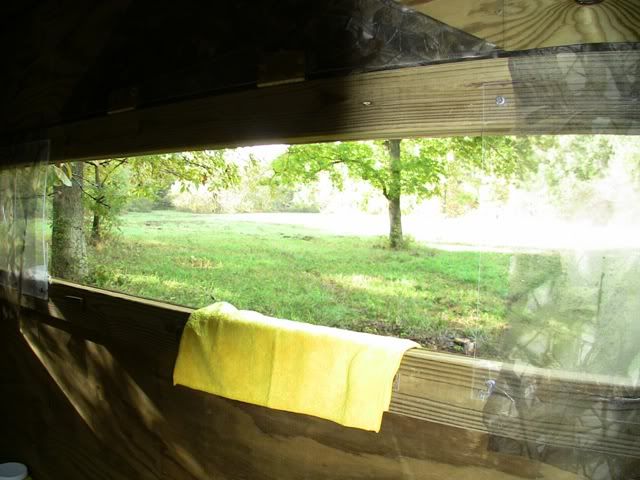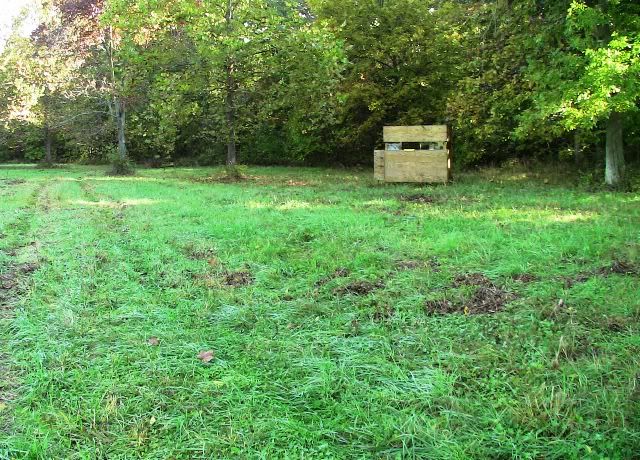 Here is the proof that it works!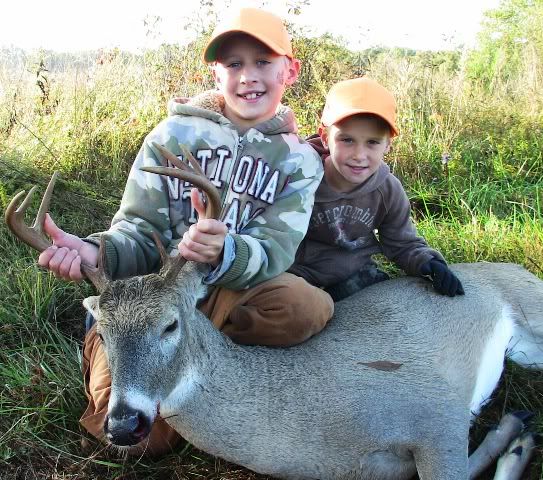 4x8 floor is big enough to get 4 folks in so MaMa is goin next time!
OK gun season starts Saturday.........I am planning on spending a lot of hours in this thing next week waitin on ole mossy horns to show up........
11-19-2009, 11:26 AM
Spike
Join Date: Oct 2009
Location: Central IL
Posts: 55
---
heres the one i built this year..... for bow hunting only which is why i have such big open space on the front and right side
I "finished" it a week after the season started...blah....so its not "finished"....I plan to add a real roof and a better wall to sit against (break up my silouette) in the spring/summer.
its up on a pretty steep and terraced hill...so its pretty high over the food plot in front of it...
I used vertical strips of burlap for the front and then hung the burlap on the sides to provide a better background....
from the perspective where i took the pic, i sit in the back left corner with my back to the wall and have shooting options to the front and far right side. behind and to the left of the pic is not much for shooting lanes....but theres never deer traffic there anyway.
---
Last edited by jeep4x4greg; 11-19-2009 at

11:33 AM

.
11-19-2009, 12:09 PM
Spike
Join Date: May 2006
Location: Deleware County, N.Y.
Posts: 42
Deer Blind
---
Posting Rules
You may not post new threads
You may not post replies
You may not post attachments
You may not edit your posts
---
HTML code is Off
---