what do i do now ?
09-18-2009, 06:30 PM
what do i do now ?
---
i had been getting some great bucks on my trail cam during August and poof !!! they have all disappeared !!! not one of the four big ones have shown up in three weeks.
they were just getting ready to shed too !!!
i had bait out[corn]and i got hundreds of pics during a 4 or 5 week period.this tells me i was careful with my scent,rubber boots,in and out quick,and the flash didn't scare them off.
i know there patterns change as the crops mature but i figured this area was hot so i haven't scouted anywhere else. season starts Oct.1st . it's the perfect place,a narrow strip of woods with lots of acorn trees, beans on one side and corn on the other.a state park borders the north side and a dead end road is on the south. i'm keeping my cam there but can't bait it anymore because i can't hunt over bait. should i stick with this spot and count on something showing up ?
heres some pics.you can see my problem
09-19-2009, 04:57 AM
Typical Buck
Join Date: Dec 2006
Location: grottoes,va.
Posts: 764
---
those bucks are on a new food source and are out butting heads to establish there breeding area's. i think you need to tell me where those bucks are,i'll come and find them for you.

you already know where they are,leave them alone til time to hunt them.
09-19-2009, 07:58 AM
---
09-20-2009, 02:13 AM
---
Back in '07 I had a picture of a buck on one of my trailcams that was a pig. Got his picture three times I believe from about June 28th thru July 3rd. I had a trailcam in the same spot until the season started and never got his picture again. I kinda forgot about him as the summer went on. I placed a stand in the same tree where I had had the camera, not because I got his picture there but because I had gotten a lot of deer pics there. I never saw that deer again until about Oct. 29th, and then I didn't know it was him. On Nov. 2nd he met my arrow up close and personal. Moral of the story, he'll be back.
Before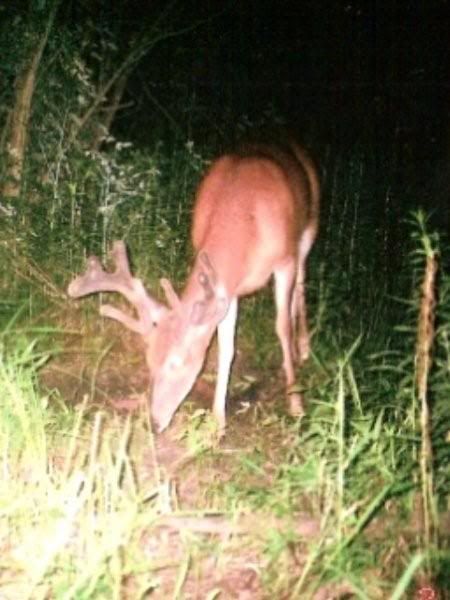 After
Still later
And yes, I am bragging just a little bit with the pics.
Blessings.....Pastorjim