243 and deer
11-13-2006, 08:10 AM
Fork Horn
Join Date: Jul 2006
Location: Phoenixville, PA
Posts: 244
RE: 243 and deer
---
my grandfather shoots a 243 and has dropped some very nice deer in their tracks with this gun...if you want most bang for the buck consider the hornady LIGHT MAGS which is a juiced up version andi think itbumps it up to the equivalent of a 270.
11-13-2006, 03:20 PM
RE: 243 and deer
---
ORIGINAL: timbercruiser

If you do your job with shot placement, the .243 will do its job. Most of the people I know that use the .243 use Hornady 100 grainBTSP bullets. Hit behind the shoulder the deer will be just as dead as a .270 hit. (I usea .270)
a .243 is what i use and have droped deer at 175 yards with Hornaday bullets
i love my .243 i like having a litte fun bringing them in a lil closer for a nice clean shot.
11-13-2006, 06:42 PM
Typical Buck
Join Date: May 2006
Location:
Posts: 585
RE: 243 and deer
---
I'lltypically use a .30-06 if hunting alone. If I'm hunting with my son, I'll use my Rem 700 .243. He shoots a NEF .243 single shot and we use the same ammo. 100grain Remington Core lockt!

The .243 is a great deer rifle. I wouldn't hesitate to take a 200 yard shot at deer.

11-13-2006, 07:46 PM
Join Date: Dec 2004
Posts: 15
RE: 243 and deer
---
Ibought a .243 Browning A-bolt last year. Shot a spike with itthat season and recently used it on a trip to Wyomingwhere I shot an antelope and a big bodied 4x4mulie, both at about 150 yds.Dropped them all in their tracks. Good enoughfor me!
11-14-2006, 02:36 PM
Typical Buck
Join Date: Oct 2006
Location: St. Louis, Mo
Posts: 855
RE: 243 and deer
---
Well I guess I need to weigh in my thoughts on the 243. I have used a 270 and a '06 all my hunting life and I absolutely love those 2 guns.I was looking for less recoil so I purchased a Rem 700 ADl in 243. Bought it 2 weeks ago, sighted it in in just 9 shots at 2 inches high at 100 yards right out of the box with 2 minor adjustments, 1 windage, 1 elevation. My 3 shotgroupsare great, all holes are touching. The second day of this years season I dropped 2 deer at 246 yards with one shot each, one hit in the neck and one at the base of the neck. Great gun.
My only problem with my 700 is this------------------------------------------------------------WHY DID I WAIT SO LONG TO GET THIS GUN??????
Good luck to all.
Mac

11-14-2006, 07:11 PM
RE: 243 and deer
---
I'm still a young hunter and don't know a hole lot but I would like to add my two cents. The thing I look at the most is the type of area ill be hunting. A .243 is more than enough gun with the correct shot placement, however, the least little thing in it's way will cause the bullet to expand before its suppose to thus causeing a miss.Unless the stick or wahtever is super close to the deer. If your hunting brushy areas, .30 cal is the way to go. Sorry I didn't have anything much to say just thought I would add my opinion.
11-15-2006, 05:53 AM
Join Date: Feb 2003
Location: chiefland Florida USA
Posts: 5,417
RE: 243 and deer
---
I have used a 243 for the past 30 years and always use Winchester 100 gr. PSP ; I try for a rib shot,sometimes high sholder shot just depends on the angle of the deer.both will make him lay down.the ribs just behind the point of the leg will drop him or her within 50 yards or less.I havr some old road way where I hunt.I put an orange ribbon on them all at the 200 yards and 250 yards. cheap rangefinder.
this one I dropped at 180 yards Sat. evening.he came out just a few steps from my 200 yard mark.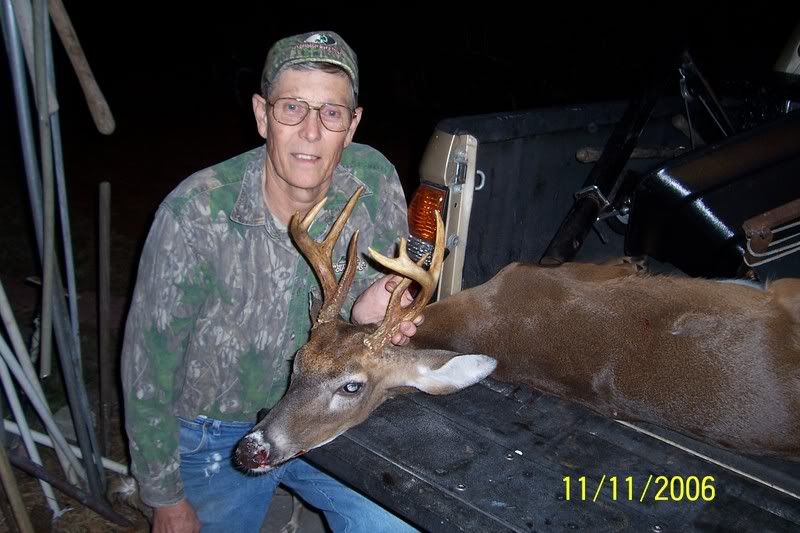 love the 243, I have two and my wife has one.all three shoot the same ammo.Great gun for light recoil.
11-15-2006, 06:37 AM
Boone & Crockett
Join Date: Feb 2003
Location: Ponce de Leon Florida USA
Posts: 10,079
RE: 243 and deer
---
springcaller, the "brush gun bullet" is more myth than fact. I read a couple of test a few years ago that showed .30's will deflect/breakup as well. Best thing is to pick a good ethical clear shot, otherwise you will lose deer with deflected bullets hitting where they are not suppose to. The only brush gun I know of is a 12 guage with buckshot and that isn't a great choice.