Bucks are shedding in Michigan
12-13-2009, 10:47 AM
Bucks are shedding in Michigan
---
You ask how I know I shot one 12/12/09 here in Michigan, I thought I was shooting a big doe and when we went to get him and take pics it was a buck that already shed.. Walt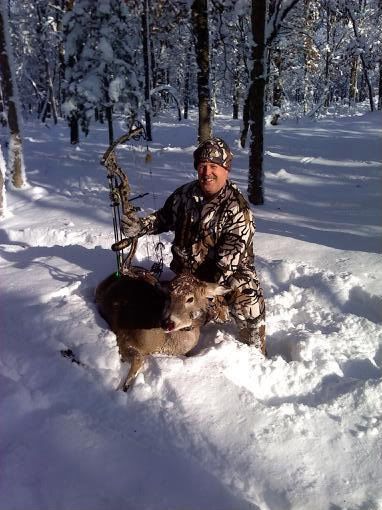 12-14-2009, 04:24 PM
---
how much snow you guys got up there . looks like a fun hunt. ive bn wantn some snow here to change it up a bit . bn tryn to get a doe with the recurve and tryn to film myself its turnin out to be a little more challenging than i thought
01-06-2010, 11:44 PM
---
Thanks for the heads up Walt I will get out and start my shed searching much earlier then usual. Any idea how old he is? Just thinking about the theory of older bucks shedding sooner due to breeding more does.
01-07-2010, 06:07 AM
Nontypical Buck
Join Date: Feb 2003
Location: Harford Co Maryland USA
Posts: 4,966
---
My dad called me a week ago to tell me he found a shed under a shredded holly tree in his backyard. It had 5 points and he thinks it belonged to a big one he was seeing across the street from his house.
03-04-2010, 02:48 AM
Spike
Join Date: Feb 2010
Posts: 1
---
how much snow you guys got up there . looks like a fun hunt. ive bn wantn some snow here to change it up a bit . bn tryn to get a doe with the recurve and tryn to film myself its turnin out to be a little more challenging than i thought
Posting Rules
You may not post new threads
You may not post replies
You may not post attachments
You may not edit your posts
---
HTML code is Off
---