New Dog ~ Time to start training!
02-13-2011, 01:57 PM
New Dog ~ Time to start training!
---
I'm new to the HN.com forums and thought this would be a great time to introduce myself and become an active member of the community.
I'm 26, Single, and live on a small farm on the western plains of colorado. The bird hunting is suppose to be pretty good around the area. We have multiple hunt clubs and game ranches around for hunting opportunities as well as some decent public crop land access.
I received a German Shorthaired Pointer for christmas from my family and am starting to progress into training her to be my bird dog. The main goal is to teach her basic pointing and retrieving, She will be mostly used for hunting pheasant,quail, grouse, and waterfowl.
She is now almost 15 weeks old and is showing great potential and already picking up on the training basics. I named her "Bella"
I have never trained a pointer before, And this is my first dog other than that as a kid growing up. I am an avid hunter and have hunted waterfowl in the past but never really got involved in the upland game bird scene until now.
I have been focusing on obedience training as of now, and teaching her basic commands like sit, stay, and to retrieve. I have recently started her on the "wing on a string" and trying to get her to trail pheasant wings in the brush around my farm.
I have found a few resources online to help train her to become a great hunting dog but I would be interested to see what others think on the best approach to getting her training efficiently.
I do not have the extra $$ to pay for training lessons, So I will be doing all the work myself. I have a ton of free time this spring and summer to focus on getting this done right.
I would love to hear from others on the subject and see what everyone thinks the best approach would be.
I will be ordering some live quail and chukar chicks to raise along with the dog as soon as they are available locally. Live birds early on in the training program are suppose to help significantly.
Thanks for reading through all my ranting~ I will keep everyone updated on her progress throughout the season.
EDIT:Fixed the pics~
---
Last edited by RockyMtnHigh; 02-13-2011 at

02:47 PM

.
02-13-2011, 02:51 PM
---
First off - Realy nice looking pup
Second ~ do look at the link I gave you as the North American Versatile Hunting Dog Assoc is just your ticket for people who want to learn to train their own versatile pointing dog. That is NAVHDA's grass roots! People helping people train their own versatile pointing dog. There is a Colorado chapter.
http://www.rmc-navhda.com/
Let me know how I can help as I know a few out that way.
JW
---
Last edited by JW; 02-13-2011 at

02:54 PM

.
02-15-2011, 02:09 AM
Typical Buck
Join Date: Oct 2004
Location:
Posts: 860
---
Bella looks like she's gonna be one hella of a hunter.

I would recommend you get their (NAVHDA) blue book (or whatever color) and read it first. Then when you're training, you have something to reference to. Another good book is Joan Bailey, "How to Train Your Gundog to Train Themselves." Sorta a pre-sequel to the blue book only this book starts is for young puppies to formal training. The only problem I see is her banging pots recommendation.

Is Bella your first dog? I'm asking because there are alot of tips out there, some good and alot of bad.
02-15-2011, 05:55 AM
---
RMH

Be careful of what you are teaching now (before you get on a good training program).
Many Pointer dog folks don't teach SIT or they wait until after WHOA to teach SIT.
Wing on a String might be useful for testing young puppies, but it isn't recommended for actual training.
Teaching SIT/STAY is redundant. SIT means sit until given another command (no need for STAY).



.
02-15-2011, 07:32 AM
---
Thanks for the replies guys. I will be purchasing a book or two in the near future when I get my finances caught up.
Bella is my first personal dog, But I grew up around dogs. We had beagles growing up that were trained to be deer and hog dogs, So I understand the basics of making a decent working dog out of a pet.
Bella is already trained to "sit" before almost every other task. She doesn't eat, get the bird tossed for a retrieve, Release the bird, or receive any treats or praise until she sits.
Because I do alot of waterfowl hunting, instead of "stay" I have been teaching her "hold" until the command is given to fetch the bird. The last thing I want is bella to be running around outside the blind every time a bird falls out of the sky. I guess "hold" is just another word for "whoa" in the long run.
I've been using the wing to just get her use to the bird scent and being gentle while retrieving them. She initially would chew and eat the wings but she seems to be picking it up really fast and no longer tries to eat it every time I toss it out in the field. I attached a couple of the wings to a training dummy so she is use to retrieving a bird like object.
I am not going to be too critical on following a "program" to train my dog. I will teach her the basic obedience commands and then add live birds to the mix will be the first steps I will be taking. Birds are a must to get her to be a "bird dog".
I have been hiding the bird wings in the brush along the ditch outside prior to letting her out. She finds the wings every time! We make a game out of running the ditch along the property a few times a day and locating the wings. I also add some fetch in the mix just to get her use to bringing it back to me.
Last night we scared a rabbit up and she immediately chased after it until it hid in some thick brush. She sniffed around for awhile but never flushed him back out.
Thanks for the replies and advice again! I will definitely be needing some help along the way.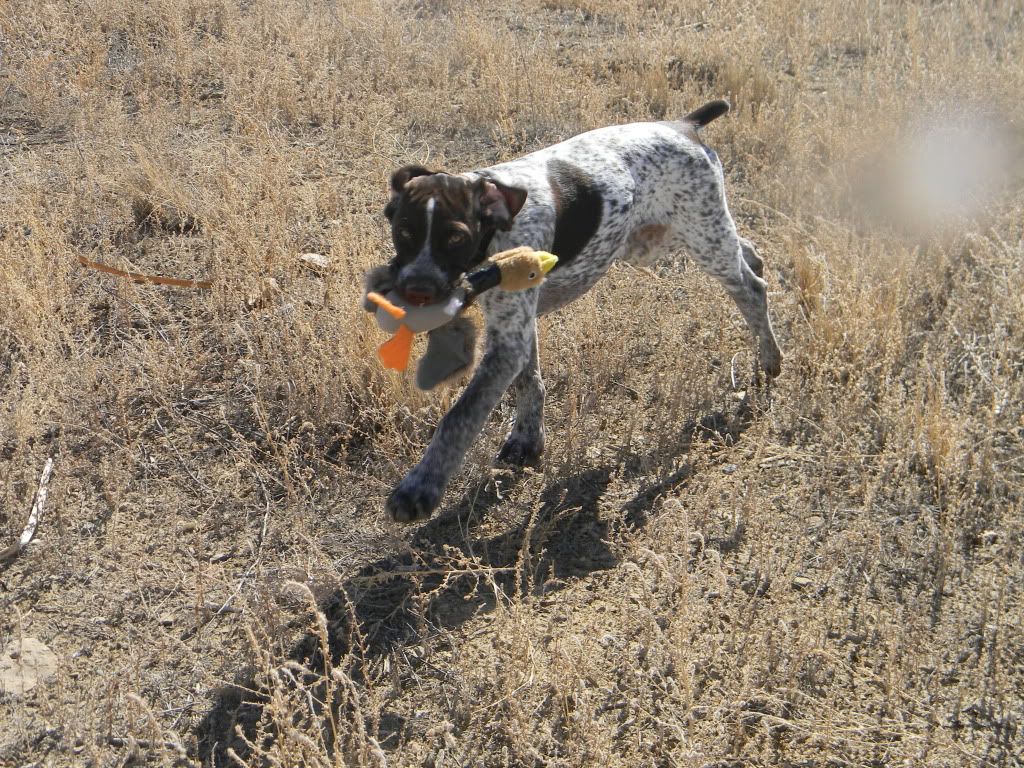 ---
Last edited by RockyMtnHigh; 02-15-2011 at

11:01 AM

.
02-15-2011, 10:00 AM
---
RMH,

Try to keep her from running rabbits with the command, "leave it".

BTW - sounds like you are well underway........................


Make sure to keep it fun for you both - always finish on a positive note !
02-15-2011, 01:28 PM
Typical Buck
Join Date: Oct 2004
Location:
Posts: 860
---
I don't often see people training bird dogs to track down scent. A winged pheasant running through the bush will outrun a dog easy. Better to let the bird go then to let the dog RUN. Stuff can happen when dogs run out of range. A dog's natural desire to get at the bird is usually enough.
03-03-2011, 04:43 AM
---
great looking dog!....I can't really give you any sound advice but I can tell you that once i learned to relax a little we were both learning more than I ever thought posible!..She taught me ALOT!!!!
Again, that is beautiful GSP...