Do you really need a camo shotgun?
04-08-2011, 04:41 AM
---
Not sure I understand the sales gimick thoughts, no one forces anyone to buy anything dipped, you can get most guns and bows with no camo. Like I said, it certainly isnt going to hurt, and I love tweakin my stuff out, cars, trucks, Harley, bows, guns, etc.... with whatever, rims, tires, paint, sights, dipping, stabalizers ..... adds a little something personal to your gear.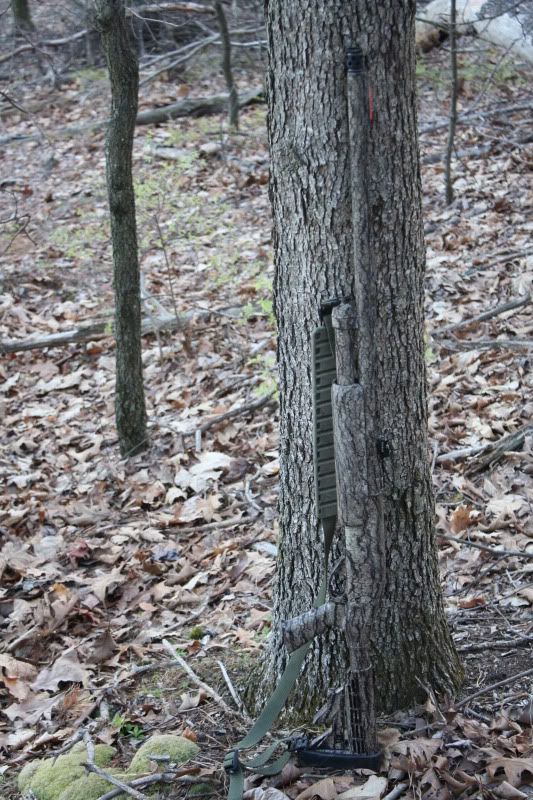 04-08-2011, 06:03 PM
Giant Nontypical
Join Date: Nov 2004
Posts: 5,425
---
I have never owned a camo gun...I used a double for 15 years or so and started using this B-80 over 25 years ago...It has a gloss finish, just can't stand to think about covering it up...
Heck, at 6ft 5 and 240ish, it ain't the gun I have to worry about them seeing...
This gun fits me to a T and points naturally...It also throws a great pattern, that's what's important...
04-25-2011, 06:45 PM
---
This question has come up before on this post, with much the same consensus. My current turkey boomer is a camouflaged Win. 1300. Need the camo? No, but I figure why make it easier for the bird to spot me?

Instead of wondering, here's an image of the last thing some geese saw in Saskatchewan a few years ago. I don't think it'd look much different to a turkey.
04-25-2011, 07:43 PM
Nontypical Buck
Join Date: Feb 2003
Location: Pine Hill Alabama USA
Posts: 1,278
---
Needed? Naaaa. I hunted with a standard blued steel and wood shotgun for years. Then I used a black synthetic stocked gun for years. I have a camo shotgun now but only because I like how it looks.
05-10-2011, 07:47 AM
---
i know plenty of guys who outhunt me every year w a remington 1100 w 2 3/4 in shells! lol no camo and no 3 1/2 in shells! i like the 3 1/2 in shells bc it gives me a lil more range if i cant get em in close enough and i think the camo just looks awesome! lol but as long as you sit still there is really no need for camo unless you just have a stainless steel gun or something and i havent seen too many stainless steel shotguns! :-)
Posting Rules
You may not post new threads
You may not post replies
You may not post attachments
You may not edit your posts
---
HTML code is Off
---