Hevi-Shot...really that amazing???
03-25-2008, 08:32 PM
Hevi-Shot...really that amazing???
---
I was reading in my Cabelas Shooting $ Reloading and this is a quote from it, about Hevi-Shot Hevi 13. "Hevi-Shot broke the World Record with a pattern that scored 42 pellet holes in a 3" circle at 40 yards and holds world record titles in every class"!
Wow, that is tight! Has anybody else had this much luck with it, I think that is pretty amazing. Does anybody think that may be TOO tight, why or why not?


03-25-2008, 08:37 PM
Join Date: Feb 2008
Location:
Posts: 193
RE: Hevi-Shot...really that amazing???
---
I've had excellent success with Heavy Shot 13, although I think the choke tube I'm using has alot to do with it also. Great tight pattern from my SBEII. I patterned it out to 40 yds., and it looks good, but I've never taken a bird over 20-25 yds. before either.
03-26-2008, 05:34 AM
RE: Hevi-Shot...really that amazing???
---
I won't be using lead ever again."Heavier than lead shot"is truly a major advancement over pb.
First let me say that I was previously perfectly satisfied with the 2 oz, 3" 12 gauge lead loads I was shooting. I have had great success with them over the years and I wasn't really looking to change. With that said, however, I am constantly looking to improve any aspect of my gear including the loads I shoot. If there was something out there that allowed me to take a bird cleanly, ethically, and perhaps extend my range a bit I was willing to evaluate it.
Two years ago I bought some 3.5 ", 1.75 oz Hevi-13 #6 loads at the NWTF convention in Nashville. I was blown-away by their performance on paper compared to the 2 oz, 3" lead loads I was shooting. Their performance on turkeys was equally impressive, but the two I killed that year could have been easily taken with a 20 gauge, so the jury was still out.
Last year I stepped up to Nitros after reading so much about them here and on the NWTF message boards. The performance of the Nitros is on another level compared to those Hevi-13s. Now I see that Eviron is loading 2.25 oz Hevi-Shot loads for the 3.5" twelve gauge, so maybe they are closing the gap
In my experience, when choked properly, the center core of the pattern is amazingly dense. I got 246 pellets in a 10" circle at 40 yards using the Nitro 4X5X7s 3.5", 2.25 oz load from my Mossberg 835 with a .676 Star Dot choke. This was the first choke I tried with the load out of an unpolished barrel. I suspect I could improve upon this by experimenting with different chokes, but why? For hunting purposes, which is all I am interested in, this type of performance is all I will ever need.
I killed agobbler stone dead at a laser measured 63 yards last season - I mean he never even flopped. Before anyone blasts me for shooting at a bird that far I will freely admit it was a mistake and I hope not to do it again. I am using a 1.75X4 scope on this gun because the pattern is so tight I'm afraid I might miss at closer range. I had the thing dialed up to 2X andImisestimated the distance due to my relative lack of experience with a shotgun scope and turkeys.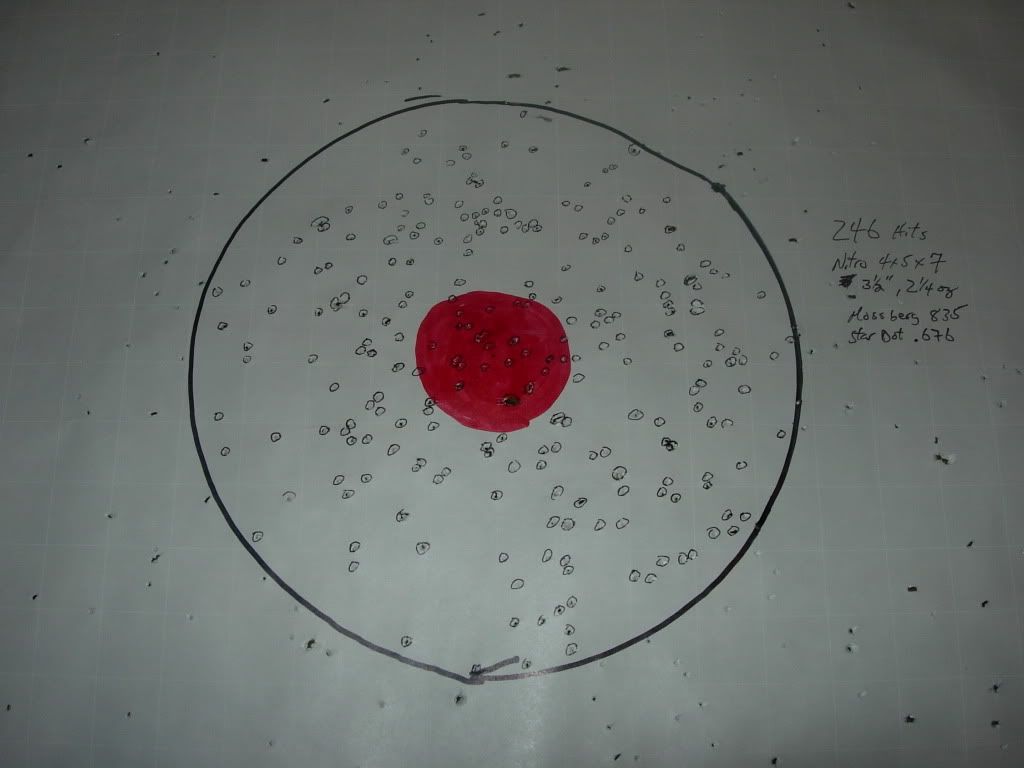 03-26-2008, 09:00 AM
Typical Buck
Join Date: Jan 2007
Location: Hillsdale,IN
Posts: 552
RE: Hevi-Shot...really that amazing???
---
ORIGINAL: SHOTARYE

I've never taken a bird over 20-25 yds. before either.
Same here, and that is the only reason that I havent swithched over to these long range, tight patterning loads. I patterned my browning gold hunter the other day with 3.5" high vol. 2oz, #6 shot winchester supremes and had 60+ pellets on a 10 inch circle at 40 yards. I dont know if this is very good or not but if this year goes like the last 7 years and 7 birds, I shouldnt have to worry because my farthest shot has been around 25 yards with the others being under.
03-26-2008, 09:22 AM
RE: Hevi-Shot...really that amazing???
---
Guys, most guns will pattern greatto 20-25 yards with most turkey chokes. It's those 40 yard shots that we need better patterns at, and that's where those hevishot loadsshine. They are a much denser metal than lead and hence, carry much more energy levels out to that extreme distance. (Biggest choice is finding the right choke tube for that shell.)
While I'm talking about this hevishot stuff, in no way am I promoting taking 50+ yard shots!!!! I switched to a Rhino choke/Nitro loads a few years ago because of the patterns I can get at 40 yards out of my gun. Do I really need that combo for 20-25 yard shots? NO......but as many of us here already know, all gobblers just don't waltz right in to 20 yards or less!!
I'll try to take my birds in 25-35 yards if I can.My pattern, being what it is, gives me a very nice dense swarm I can direct right to that birds head and neck area while looking through the scope on my gun at those shorter distances.
It all boils down to what you like or prefer. There's no right or wrong choices, everyone's gun-choke-load shoots differently. We owe it to ourselves to be sure that we shoot the most accurate and best pattern out of our guns while hunting this fine game bird. Close enough doesn't cut it!!!
03-26-2008, 09:34 AM
RE: Hevi-Shot...really that amazing???
---
Yeah im kinda debating whether or not to try Hevi-Shot myself. Right now I use WInchester Supreme Double-X Magnums, and they shoot great, so i dont really have a reason to switch. Plus Hevi-Shot is so dang expensive compared to Winchester. Who knows.
03-26-2008, 10:05 AM
RE: Hevi-Shot...really that amazing???
---
Kdsberman

I thought the same thing (Hevi-shot is too expensive) until I really took a closer look. The primary thing is this - these shells, actually these pellets,are the thing that kills the turkey. It isn't the calling, the camo clothes, the Gore-Tex boots, the fancy vest, crow call, slate call, mouth calls, box call, decoys, or any of the other gear I buy and use while turkey hunting. What kills the turkey is the pellets shot from a shell, passing through a choke in a shotgun barrel. From the perspective of what part of my hunting equipment is most important to maximize, I have chosen to maximize the efficiency of thecomponent that actually kills the turkey.

As far as the expense goes, I hope to shoot three Nitros at turkeys this season (the limit is 4 in Tennessee but I would be happy with 2 or 3). Thats 3 X $5.00 per shell = $15.00. Add one or two more to confirm that I am sighted in and now were are at $20.00 to $25.00. Seems like a lot of money for 5 shots, or is it???

I spend at least $20.00 - $30.00 on gasoline alone each time I go turkey hunting. Over the season, including the early youth hunt, that is5-6 weekends (at least) X approximately $40.00 - $60.00 per weekend so now we are at $200.00 up to $360.00 on gasoline alone. Another weekday quota hunt involves a motel room and eats for two nights, so add another $200.00 - $300.00. That adds up to approximately $400.00 to $600.00 + just to be able to get to where I want to go turkey hunting and I haven't even called at a gobbler yet. Nevermind what I spend on mouthcalls each year, clothes and boots that need to be replaced, etc.

Put into this perspective, that $15.00 - $25.00 I spend on 3-5 Nitros, which I strongly believe gives me the best chance to actually kill the turkey, seems like a pretty wiseinvestment.

I work hard and save vacation time to be afforded the privilege to hunt turkeys. With that said, however, I don't have to actually kill a bird to get a rush from an encounter with a turkey. Some of the most memorable hunts I've had didn't involve a turkey being shot at. But when that moment of truth arrives when the safety is off, my finger is on the trigger and I'm aiming that circle-X reticle at a full-grown gobbler l am completely confident that I have done everything I can to ensure that the turkey will soon be very dead at any range from point blank to 50 yards.
03-26-2008, 12:54 PM
RE: Hevi-Shot...really that amazing???
---
In a word....yes. Hevi-Shot is really good stuff. It's too expensive for my wallet to use in waterfowling situations, but for turkey it's great stuff. I haven't tried the Wingmaster HD yet.

For me, I'll pickhevi over lead, if I have the choice but...not having it won't keep me from turkey hunting.I killed my firstwith a 2.75"Win. Supremeand he dropped on the spot.