Dog cautions... fix or let resolve?
04-21-2007, 11:44 AM
Dog cautions... fix or let resolve?
---
I've had my year old out a few times on wild birds this spring. I've noticed a number of false points taking place. He has also pointed wild birds very well. He has not missed a bird yet. I don't think I should question the quality of his nose given his age. If he was a few years older with more experience, maybe. That said, I'm wondering if there is something I should do to try to help him determine the difference between whatever is getting him to false point and the time to put the real one on.

The thought I had was to take him out to a field where I know there are no birds. Let him work the field. When he goes on point, just nudge him along and get him going again. I think I probably helped cause this issue as everytime he would go on point, I would treat the situation like there was a bird out in front of him. Until I was sure the coast was clear; if he tried to move, I'd whoa him. If I can get him into an area where I know nothing will flush out front, I'm thinking I can help him get this stuff out of his head.

After that, I was thinking about putting him into a field with some planted birds and let him work it the same way. I'll know where the birds are, so I will know when his points are real or false. I can adjust my behavior to the situation depending on whether he's false pointing or there's a real bird there.

Thoughts?

Thanks,

M
04-21-2007, 12:11 PM
Join Date: Jan 2007
Location: ireland
Posts: 2
RE: Dog cautions... fix or let resolve?
---
you dont say what type of dog you have or maybe i missed it.
if your dog is under 18 months then you need to give more time very young do not worry about false pointing you do not know what has been there in the last hour or so. he will get it him self as he gets older and wiserand sees a few birds down. sounds like a very good young dog do not rush and you will have years of fun with him or her

04-21-2007, 12:21 PM
RE: Dog cautions... fix or let resolve?
---
Thanks. He's a pudelpointer. He's a good boy (most of the time) with a ton of drive and desire to please. I'll be testing him for natural ability in June. Should be fun.

Cheers,

M
04-22-2007, 10:29 AM
RE: Dog cautions... fix or let resolve?
---
Do you take him to the same area when you take him out? If so your dog maybe working where he has seen them most the time. I wouldn't worry alot about false pointing at this time. If I recall he is still quite young? Also here there is alot of migratory woodcock showing up and I am guessing you probably have them there to. If soput him on some of those that should help you out some. Good Luck.
04-22-2007, 11:41 AM
RE: Dog cautions... fix or let resolve?
---
Yeah, he's 12 months. I do not take him to the same area. I change locations everytime I take him out, which has been at least every other day for the past few weeks.
Yes, we have a ton of woodcock in the area right now and that has been where we've been working. He found 4 this morning and they were all coupled up; so I'm getting out of the woods and let them get to business. I don't mind his false pointing too much, as I do think it's something that will go away as he gains experience.
I'm going to give the pup a week off as I'm heading down to Arkansas to pick up my new duck boat. When I get back, I think it will be time to get into the fields and play with some chukars as I described above.
Here's a picture of him getting ready for the water portion of the NA test: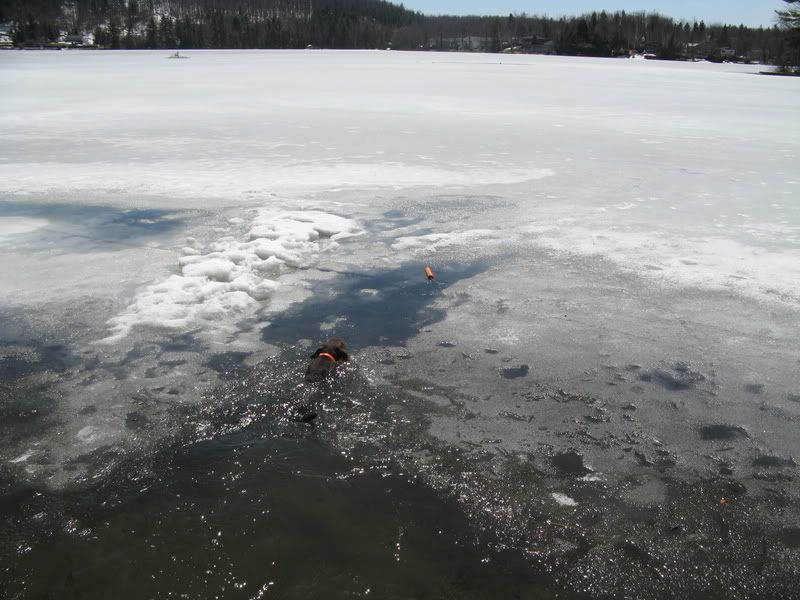 Cheers,
M
04-23-2007, 07:34 AM
RE: Dog cautions... fix or let resolve?
---
Brrrrr, it sure looks cold! Our lakes are about the same right now except for the bigger colder ones they have alot farther to go. That is a nice looking pic thanks for sharing.
04-23-2007, 08:53 AM
Join Date: Apr 2007
Posts: 10
RE: Dog cautions... fix or let resolve?
---
Could he be pointing rabbits? I had a young pointer I ran in FDSB Field trials. The guys I trained with thought most false points (especially in heavy cover) were rabbit points. My dog loved to point rabbits. If I went through the time to break him off rabbits it would have broken him so I accepted this quirk. This is just a thought.

Doc George

Thread
Thread Starter
Forum
Replies
Last Post
Posting Rules
You may not post new threads
You may not post replies
You may not post attachments
You may not edit your posts
---
HTML code is Off
---