Bittersweet Buck
10-18-2010, 02:35 AM
Bittersweet Buck
---
I'm calling him my Bittersweet buck....

I got in my stand,no sooner than I brought my gun up, had a doe come in and pee, so I wasn't shooting her, she kept looking back, so I got ready, there he was , put the crosshairs on him and she spooked because she walked to my stand and smelled the flashlight i had dropped, lol, so he jumped, thank God I didn't pull the trigger, now he was hiding behind this thick clump and it was a stand off for about 10 minutes, my arms were so tired of holding my gun up, I thought I might drop it, so I hit the trigger and eased my hammer back just in case I did drop it, when I did ,it clicked, he bolted, a nice nice buck, full rack, just beatiful....I wish I could of just lowered my gun but I couldn't see his eyes and I was afraid to move...lesson learned.
Then I had a lil doe come in and this grunting fool coming my way, so I got ready, there he was, a spike, lol...he was so horned up and he couldn't find the lil doe, he must of ran by me a dozen times looking for her, lol.Then out of my left , I see a deer moving , got in my lane, then he did, I bleated, he stopped I saw crab crawls shining in the sun's light and I shot....I wasn't about to count points at this point...hunting public land literally walking 3 miles in, I wasn't leaving meatless.I've hunted 7 days of archery and 3 of muzzleloader so far and I'm tired of walking so far and passing up legal kills...so this younging had to come home...bittersweet
2yr. old, 115 lbs. Should of been thebig boy, lol...but I am still very thankful.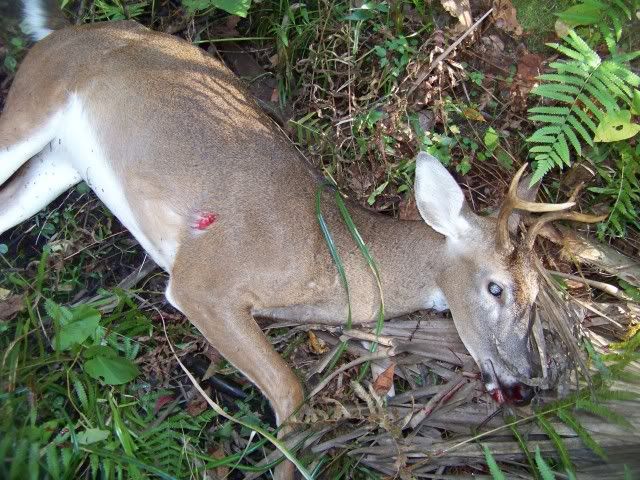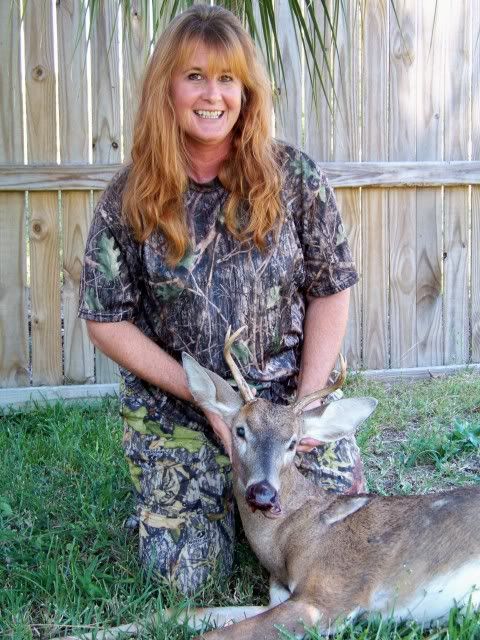 ---
Last edited by huntnma; 10-18-2010 at

02:38 AM

.
Posting Rules
You may not post new threads
You may not post replies
You may not post attachments
You may not edit your posts
---
HTML code is Off
---