got real close to an eagle
12-04-2007, 04:53 AM
got real close to an eagle
---
i have never gotten this close to an eagle before that wasn't in a cage or dead(while at work,dont want anyone to think i am shooting them, lol...)he actually let me take these pics and a small video.....not the best pics but pretty cool ones.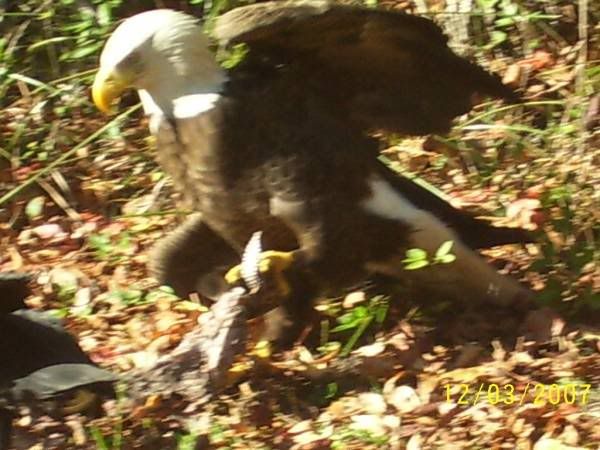 12-04-2007, 04:50 PM
RE: got real close to an eagle
---
WOW!!!!!Good stuff..The best place I've seen in Polk County for eagles is the Polk County landfill...I was privledged to go on an Audubon Christmas bird count with them one year..I was with a group responsible for the Landfill ..WOW we spotted about 25 eagles along with many other birds I needed for my life list..
Great pics Ms.
12-04-2007, 05:20 PM
RE: got real close to an eagle
---
thanks ya'll, i knew some would appreciate the pics....
i've seen video of them at a landfill, don't know where it was , but it was amazing footage....we have 3 nests on Toso., though i have seen them, i just coudn't get them to stay still long enough for any good pics, lol....

12-04-2007, 11:22 PM
RE: got real close to an eagle
---
I've got some distant pics on video but yours are better by far..The landfill area is off limits to the public.
[:@]....I had to be part of th egroup...After we got there we were ******ed by 4 wheel drive . On the BIG hill we saw loads of cowbirds , eagles , gulls and terns of many varieties...and then when we toured the isolated ponds we saw lots of new ducks and water birds..However; for the ordinary Joe..you simply driveto point A..dump trash and leave..
Circle B park on 540 is great for photography. They have Savannah sparrows, Eastern Meadowlarks...a few eagles and some huge hogs..I got some REAL CLOSE shots of hogs in action. ..300 pound and bigger.
When walking down the trail after parking your vehicle ..the road comes to a T ..you take a right and walk about a 1/4 to qa 1/2 mile..I use my spotting scope for the many waterbirds and ducks..YOu can stalk the hogs and get real closeto them.
Scrub Park on highway 37 has a nice flock of Scrub Jays and tons of varioius wild flowers .I missed a video of a life time in there.[:@]I was observing the only active red headed woodpecker colony I know about when a red fox about 10 feet from me just sits there and stares..I was ticked that I had not brought my camera.
Thread
Thread Starter
Forum
Replies
Last Post
Posting Rules
You may not post new threads
You may not post replies
You may not post attachments
You may not edit your posts
---
HTML code is Off
---