VA Thanksgiving buck
11-24-2007, 06:48 AM
VA Thanksgiving buck
---
Thanksgiving a.m. I took my youngest brother out deer hunting and put him in my climber overlooking this nice little draw that deer frequent often. After making sure he was good to go, I proceded to hike down the creek along the top of the ridge some 300 yds. away where I took up my position for the a.m. The plan was to hunt until about 0830 when I'd get up and start walking towards him, going through a couple thickets hopefully pushing a deer or two his way if he hadn't shot anything by then.
Having forgot my safety harness I chose not to sit in a portable stand we had hung nearby, so I chose a spot on the ground and was NOT a happy camper! About 0715 I was really ansty, which is not like me, so I decide to head towards him. Unknowingly to me, at this very moment he was watching what he thought was a 6 point breed a doe, rake several trees, and feed about 45 yds. out. In Prince William Co. you can't use a rifle so it's either a MZ or shotgun w/ buckshot or slugs. Being the 1st legal year for slugs, we don't have slug guns so he was using 00 buckshot and 45 yds. was too far, 40 yds. was the absolute limit.
Anyway, at this point and he text messages me saying "don't come down here, I see deer". Not knowing this, I start my hike towards him and go through the 1st thicket. After no deer sneak out, I think well, I guess I'll just walk towards him now it's warm out they prob. aren't moving anyway. Then I think, why don't I hit the next thicket and see what I can push out so I proceed into the next one. Again, after nothing comes out, I'm ready to head straight towards him when I think, what the heck, I'm going to sneak onto the trail and cut down the other side and maybe I'll catch him sleeping
I very slowly and quietly sneak some 100 yds. down the path and come over the crest of the hill and see him sitting in my stand w/ his head down. Now I'm thinking son-of-a-gun, he's been asleep all morning and this is a great spot on our farm.
I'm now about 25 yds. to his right and I whistle, my lips were dry and it wasn't too loud, so I lick my lips and whistle again, this time louder. After 5 seconds I see his head start turning toward me really slowly so I call out "you ready to go?!" At this time my phone vibrates, I pick it up, and see his text message, I'm thinking yeah right, he's messing around. We both try to call each other at the same time neither call goes through, then he retries me and tells me he's been watching the 6 pointer for 30-40 min. I ask what happened to him, did he go back up the ridge behind the horsefarm, if so, I'll go all the way back and try to push him and the doe back down. All of a sudden he says "Oh shoot, there he is!" and hangs up!!!
At this point, I know he wasn't kidding and now I see why he had been turning his head so slowly when I whistled and called to him. I look towards the draw where they usually come from and it only takes a second for my eyes to catch the glistening of antlers in the sunlight. Unfortunately, the antlers are 30 yds. from me facing directly towards me! I freeze, not moving a muscle and the buck almost immediately goes back to feeding, I'm thinking how in the world did he not hear me sneak down here, or whistle, or call out, or talk on the phone?! I start to crouch down, my shotgun in my hands and just as I get to that point you don't want to stop at, he picks his head up and stares DIRECTLY at me! With my calves and thighs on fire, I hold this spot for what seemed like hrs. but in reality was probably 45 seconds. Again, he goes back to feeding and I drop the rest of the way down. We're in a triangle, my brother to my left 25 yds. has a heck of a view 20' up in the air in my climber and is watching me and the deer simultaneously. As soon as that buck went back to feeding I ducked down fast, and the doe that was with him was staring right at me. I never knew she was there, never even saw her.
So I'm crouching on the ground w/ only a creek and a few small pine trees separating me from my younger brothers possible 1st deer and I ask the man above for help. The buck is now feeding and walking towards me and is coming up on the creek which is 30 yds. from James. As soon as I see him about 5 yds. from the creek, I look over at James. He's just staring at the buck w/ his shotgun resting on the top rail of the stand. I watch and watch and watch James and finally he slowly looks at me. I open my right hand so the buck can't see my movements and w/ my left hand make a pistol shooting motion 5 or 6 times until he gets the point. I see him start to raise his shotgun so I take my safety off, thinking I'm going to back him up b/c I'll bet anything that deer will take off back up the ridge, the same way he came down. As soon as this thought was over, I hear a BOOM, so I stand up expecting to see his white tail as he bounds away. To my surprise, he's just jumped over the creek and is coming STRAIGHT for me!
At 15 yds. he turns towards James' stand and I let him have one. He takes another 2 bounds and I let him have another, and he keeps going. He's now 15 yds. from my brothers stand and I'm thinking, I hope James cylced that round out and has another in. As if on cue, I hear a 2nd BOOM from James and then silence as the buck slides to the ground. "HECK YEAH, HECK YEAH!!!" James yells as I walk over to his stand. After the congratulations are said and some pics are snapped w/ our camera phones, we're off to get the four-wheeler to come drag him out. As we gut him, we find one buckshot pierced his heart and he took 2 of the 4 shots to the heart/lung area and 1 (my 1st shot) to his flank as he turned.
He weighed in at 165 lbs., his neck was swollen, glands were rank, and one of his eyes had a scratch in it, probably from fighting. What a perfect morning, for all the events to unfold the way they did, the starts MUST have been aligned and the man above looking out.
Sorry for writing a book, but WOW, what a Thanksgiving, it just made my day being able to see that smile on his face after harvesting this fine Thanksgiving buck!!!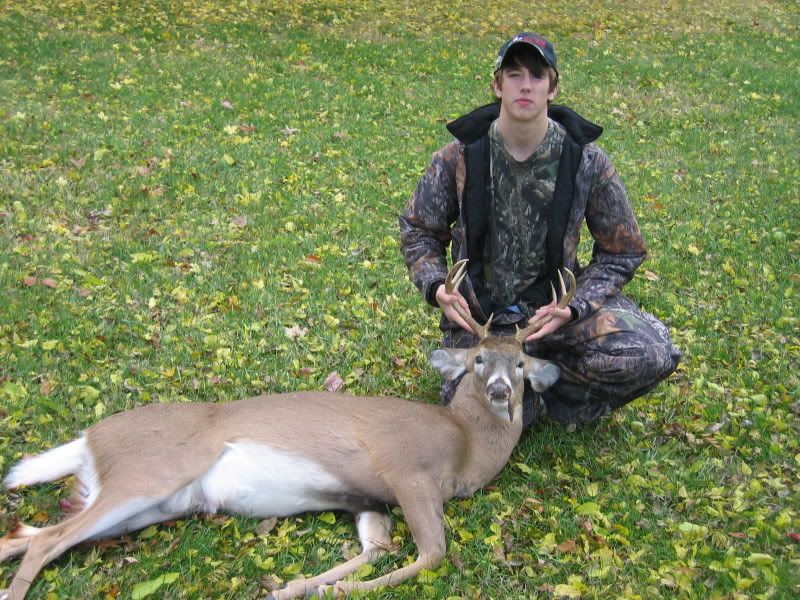 11-25-2007, 12:14 PM
Nontypical Buck
Join Date: Sep 2004
Location: Manassas, VA
Posts: 3,612
RE: VA Thanksgiving buck
---
Hey Coolbrze0, awesome buck! I have a Remington 1187 slug shotgun if you want to use it...I have a scope with it that you would have to shoot in(doesnt take long)....it can be very accurate up to around 70 yards and with 3 inch slugs, can crush deer. You can a decent amount of slugs as well, I only use my bow now so it has been sitting for a couple of years. Let me know and you can use it the rest of the season.

shadow

11-25-2007, 06:42 PM
RE: VA Thanksgiving buck
---
Hey Breeze,

Just put in a imp. choke and shoot rifled slugs, or a rifled choke and shoot sabot out of a smooth bore barrel.. I shot a 4 pointer 11]20 on my birthday at 75 yards. I've been in PWC since 1990 and find it hard to find a place to hunt here except for quantico. And the double odd buck should yeild at least 60 yards in the open I wouldn't shoot further I know some who have and killed deer not my taste with 00 past that.

12-03-2007, 03:26 PM
RE: VA Thanksgiving buck
---
Thanks guys, I was really proud of him and it was awesome to be there to watch it unfold.

60 yds. w/ 00 buck, man I need a new gun! I've shot 6 or 7 shotguns this year and not 1 would I shoot 00 buck at over 40 yds. tops and this includes both my 870s.

Thread
Thread Starter
Forum
Replies
Last Post
Posting Rules
You may not post new threads
You may not post replies
You may not post attachments
You may not edit your posts
---
HTML code is Off
---