SUNDAY HUNTING STICKERS!!!!!!
08-23-2007, 10:40 AM
SUNDAY HUNTING STICKERS!!!!!!
---
Okay.... The last person we had this set up with had sticker machine troubles and couldn't fill the order... HERE is a deal with a guy that makes quality stickers and will be able to fill our orders!
Okay boys & girls...

Here is the deal.. Steve at
http://www.waterfowldecals.com
has given us a DEAL. This is a quality vinyl decal that will stand the test of time....


2"x12" $4.50 ea or 20+ 1.85 ea
4"x3/4" for $.75
8"x1.5" for $1.60
12"x2.5" for $1.85
If you guy's want to order 100 or more, I'll do the 12" for $1.00 ea

You can place your order NOW with Steve at

http://waterfowldecals.com


email addy-


[email protected]
Order 'em up and Let's get this on the GO!
Two stickers are shown in the photo.....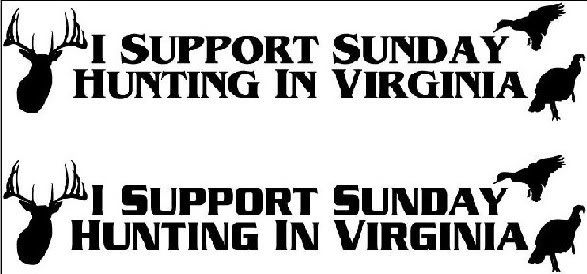 08-28-2007, 08:50 AM
Direct Link to order from.....
---
http://www.secure.waterfowldecals.com/Merchant2/merchant.mvc?Screen=PROD&Store_Code=WD&Pro duct_Code=VAsunday
YES, IT IS A STUPID LAW... Some of the reasons behind why we should not be able to hunt on Sunday are even more stupid.
Posting Rules
You may not post new threads
You may not post replies
You may not post attachments
You may not edit your posts
---
HTML code is Off
---