Test Mediums for Bullets
01-06-2005, 09:19 PM
Test Mediums for Bullets
---
Anybody come up with any creative test mediums for testing their handloads?
This link suggests using large cans of tomato sauces.
He evaluates the effectiveness of the load by examining the damage to the can and the, "diameter of the splatter."
01-07-2005, 03:27 PM
Join Date: Feb 2003
Location: Carlisle PA USA
Posts: 50
RE: Test Mediums for Bullets
---
Honestly I don't know how effective a test that might be. A 223 rem will tear a can or a jug of water apart as much as a 30-06, but I would not say that they are in the same class.
I would try wet newspaper or old phone books. That will give you a better idea of penetration and size of wound channel.
01-07-2005, 06:21 PM
Nontypical Buck
Join Date: Jun 2004
Location: NW Ohio , 5 min from Ottawa National / Magee Marsh
Posts: 2,051
RE: Test Mediums for Bullets
---
I built a water test .
It is a trouth 1' wide and 1" high
I used plywood for the sides , bottem and far end
It is 4' long
I use cardboard for the end I shoot through
It is filled with 1 gallon plastic bags filled with water seperated by a piece of cardboard.
The cardboard is to tell just how far the bullet penatrated ( some times the shock brakes bags not hit )
I sit this on saw horses at 100 yd or any other range that I can hit the center of the the target.
I hit it last year with a 375 HH and got full penatration with solids ,so be carful of the back stop
If not centered or if the bullet mushrooms funny it comes out the sides or top some times.
It makes a mess with all the water flying
01-08-2005, 11:51 AM
Nontypical Buck
Join Date: Jun 2004
Location: A flat lander lost in the mountains of Northern,AZ
Posts: 3,171
RE: Test Mediums for Bullets
---
bout the only thing ill test other then velocity with a chrony is penetration. I test penetration by using a long shaped box atleast a foot in length and fill it with wet sand and pack it in tightly then shoot with which ever caliber. when the wet sand is shot you can see roughly how far the bullet penetrated by looking at the surface of the sand and seeing how it is disrupted by the bullet passing beneath the surface showing you roughly how far the bullet penetrated. Its not a real accurate way of measuring penetration compared to practical terms of comparing it to penetration on a deer or other animal, but you can compare with other calibers just to see how much better it penetrates then the next caliber.
01-09-2005, 07:22 AM
RE: Test Mediums for Bullets
---
I agree with Colt 1911. Bundle up stacks of newspapers until 8-10" thick than soak in water for a couple of hours. Any thicker and they don't always soak all the through & are heavy to move. Use 1-5 bundles deep to get the depth you require.
Have Fun
Also this method allows you to recover the spent bullet if you use enough bundles so that it doesn't pass thru.
01-10-2005, 01:21 PM
Spike
Join Date: Dec 2004
Location: Oshkosh WI.
Posts: 19
RE: Test Mediums for Bullets
---
Here's the ultimate in bullet testing medium. It's much easier to use than ballistic gelatine but is nearly the same.
http://www.corbins.com/sim-test.htm
Here's my set-up for expansion testing;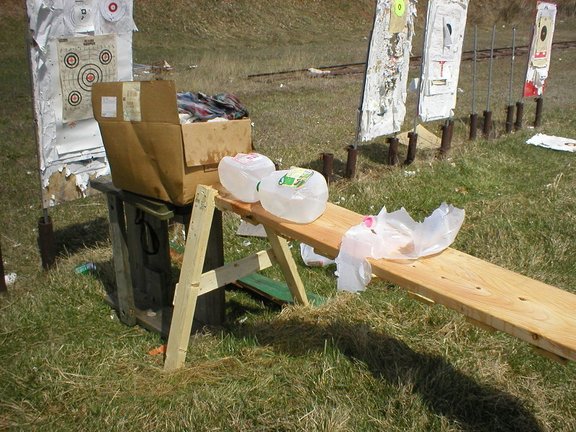 If you want to see the results with Hornady interbonds, just ask, I'll put some pics up on here.
01-12-2005, 11:39 AM
RE: Test Mediums for Bullets
---
HighDesertWolf, I did the same thing with some Barnes Triple Shocks. I wanted to see how far they would penetrate and if they expanded as advertised. I was impressed with both. I cut the box open in the front where the bullet had entered, then kept brushing sand away until I found it.
02-05-2005, 01:01 PM
RE: Test Mediums for Bullets
---
As far as penetration goes, is it true that wet newspaper shows roughly 1/2 of the penetration seen in actual animal muscle, or is that over simplifying things too much?

Just trying to get a rough idea of what newsprint will show.
Thread
Thread Starter
Forum
Replies
Last Post
Posting Rules
You may not post new threads
You may not post replies
You may not post attachments
You may not edit your posts
---
HTML code is Off
---