2009 Canadian Hunting Posts
08-17-2009, 10:42 PM
08-20-2009, 09:01 PM
---
Hey Guys
Anyone heard from JD of late??? Just wondering how he's doing health wise. Skeet your Captain is a little bigger than my Iceman at 33", my Iceman is 31. Got used to shooting the shorter bow last year when I was reviewing the Rock by Diamond. I now use that as my backup . Dang Sore from going up and down a lot of my stands. Stupid trees are drying out from the drought here and rotting,so I've been moving stands into healthy trees as of the last few weeks. Getting to old for all this crap LMAO.
Talk to ya soon guys.
Rocky
08-21-2009, 06:59 PM
---
Did any one put in for the under subscribe tags yesterday? I took a chance on antlered moose and got it within an hour. Got drawn right where I got drawn for elk and mule deer. When I get up there I'll be getting an otc antlered whitetail also. Life is good.
Bobby
08-21-2009, 08:37 PM
---
Picked up a late season moose tag in 520, but slept in an missed out on the elk tags. Oops.
YF,
Haven't heard from JD. I sent him a pm a while back but no reply. I hope he is well.
08-21-2009, 09:45 PM
still alive!
---
Well look at what we have here...the same old rag tag bunch of of yahoos this side of the border
lol. Great to see someone got the ol'thread up & running again. I have been off for a while as things are always complicated in my life these days. Rocky, the head is feeling better (k.o. wood) but I'm scheduled for a MRI this Nov. And every year from now on. I'm feeling 100% better than this time last year and finally got some meds to help with the bad headaches. My balance is much better but I have days that still suck! Worse news is my youngest son is in the ICU as we speak, if some of you remember his heart was on the wrong side of his body when he was born. All has been good but the found a growth that was on his lung pushing on his heart, due to a major artery feeding the tumor it was suggested we wait till he turns one and do the operation. We hated to do it but felt it would be better now than take a chance and wait till he's older. 8+ hours for the surgery and lots of heartache since. I can go into a ton of details but I'd rather not, in a nutshell he's healing but it's been tough on him (& us). Seeing your little one suffer and have all those tubes is killer especially when you feel so helpless. Dads can fix anything but just not in this case. Anyhow, in the past few hours his condition has got better but he will most likely be in the hospital for at least another week. Needless to say hunting/scouting again has been on the back burner but i need to get my mind off the "bad stuff", therefor I'm here again! I was driving home from the hospital tonight and saw some beautiful bucks in nosehill, one was 150+ and got my blood pumping. I did put in draws but 999 everything as I just didn't know what things would be like after his surgery. I'm hoping for mulie & elk with the bow and pheasants as usual. My cousin is getting married this year so it looks like my whitetail partner is out and there will be no trip up north this year
I do have a buddy who may be going to Sask. this year so if he has room I might join. Anyhow, I definately will NOT be getting down on myself lke I did last year, I'm just happy I can get my boots on and get out there with a bow/gun! Whatever happens, happens. Without any scout I can't expect miracles of shooting the monster whitetails Sask & Skeeter shoot (but I'll keep tryin!!) I did get a new shotgun as I figured with all the cr!@ i've been through, life's too short to hunt with an ugly gun! Bought my dream gun Winchester 101 XTR featheweight in 20ga. I haven't even shot it yet as we were in Kelowna for a couple of weeks and I got it the day Iwe left. I'm taking my oldest out tomorrow to break the hospital monoghtony and give it a go. Any how this is getting long so i'll wrap up. Thanks for asking about me guy's i appreciate it and as usual i'll try to keep posting pics & near misses all season long. Good luck to all the regulars (you know who you are) and post those stories & pics. Sask. I got the PM just now so thanks for informing me. How is your little one? I was on here a few months ago but saw no posts, how's life as a daddy?
08-27-2009, 05:00 AM
---
Hey Guys
Good to hear all is looking up for you JD and enjoy your new gun!!
Saska how's the little one doing? You need to post some pictures of him. Just got my Game camera pictures back last night and have got one I'll post for you's to see and guess his score. He's the smallest of he 3 that I'm gunning to score this year. Have a great day and God Bless.
Rocky
08-28-2009, 08:48 PM
---
Well it has been a scary week but my little guy is back at home & doing well!! I can't tell you how happy we are, life can get back to normal finally
. Shot in the bow the other night, I'm still on target...now just show me the deer. Good luck this season fellas!
08-31-2009, 08:03 AM
Spike
Join Date: Apr 2005
Posts: 86
---
JD,

Dads can fix most anything-- and when your child gets old enough to tell you so it's pretty cool. My twins are 2-1/2 and they already know dad's job is to fix stuff--- and I'm pretty darn good at it--- they think. They spent 2 months in ICU when they were born so I know the monotony you speak of and the heart ache. I would just lay down at night and say a simple prayer- Lord help them cause I can't, amen.

Good luck to those participating in this Canadian thread. Mr. Big didn't get big by being stupid, but there is a week or so each year Mr. Big gets really stupid. None of you guys have hit that stupid stage chasing girls have you? If not, you are missing out.

Later Gator,
Spring Tom
09-02-2009, 02:16 PM
---
Glad to hear things are slowly getting back to normal for you JD.
YF,our little girl is great, growing like a weed and doing new things everyday.
I don't have a lot of pictures to share from my new trail cam but here is one of a pretty nice bull moose that happened by back in July.
I also got my velvet whitetail back last month. I think the mount turned out pretty well.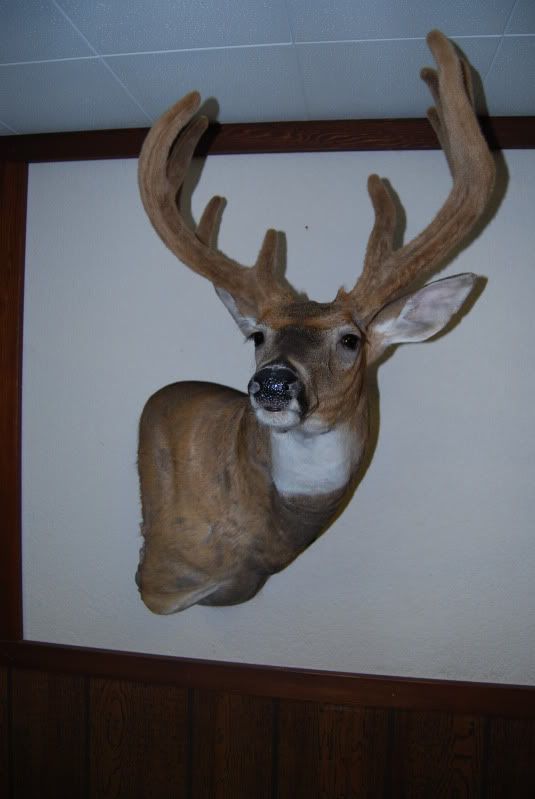 09-03-2009, 05:06 AM
---
Saska
The mount looks great, sure wished my wife would allow me to mount some of my deer. She can't stand the thought of a deer looking at her from the wall. Oh well ! I guess I can say she's saved me a lot of money
. Good to see the young ladys healthy Saska. Enjoy her while you can ,they sure grow up fast . Good luck hunting and be safe bud.
Rocky