Anyone have high hopes for this years Pa season?
06-21-2010, 08:55 AM
Anyone have high hopes for this years Pa season?
---
I had a setback this past year. There was road construction in our town and the equipment staging area was adjacent to my food plot and property. The deer moved further up the mountain and away from their normal bedding areas. I've put out the feeders back in Jan and planted corn and soybean as well as have a clover/chicory/alfalfa plot. So far I only have 3 deer on camera and the buck I have let walk the last 3 seasons haven't been seen since this road construction began last fall. My hopes aren't very high for seeing anything worthwhile shooting this upcoming year at my plots. I did however get permission to hunt a new property that is all private and adjoins a soybean field. I put the cams out last week and will check the them this upcoming weekend. Fingers are crossed
. Just wondering how you guys who hunt the average woods of Pa feel. I know the western portion of the state has more deer and that area isn't a realistic assessment of what most Pa hunters will experience. Please state your WMU's when posting. I am in 4C/4D
06-21-2010, 01:40 PM
Typical Buck
Join Date: Oct 2008
Posts: 701
---
no hope at all, not even buying a license. Unit 5c is very diffilcult to get permission to hunt private land . and the Gamelands are almost void of deer ,but good tree rat hunting and a good place to talk with a sea of orange humanoids. I'm guaranteed 100% for a deer in WV every year. Thats where I will be. a 6 hour drive, 10 minutes on stand and a 6 hour drive home with deer.
06-21-2010, 01:54 PM
---
I'm placing most my efforts in Ohio (once again). My father and I have a lease there. I love being able to go out every day knowing I am going to see at least 2 or 3 deer. Here in Pa I pray to see just one deer every third time being out. I still plant the food plots and do my thing because I know if I didn't do that I'd have almost zero chance of seeing any deer in my area.
06-23-2010, 07:57 AM
---
I know there are some nice mature buck in 4C but deer in general are few. I will say the Harrisburg Water Auth. has done amazing things with the 100's of acres they own through a stewardship program. Timbering responsibly and for habitat not solely profit, I can only dream the PAGC would do the same. In the future there will be more deer in that area and then the PAGC can use those numbers to take credit for what another agency has done. I hunt in Ohio and ever since going there it makes the Pa Deer Hunting experience pathetic. If I only hunted deer I wouldn't even bother buying a PA tag.
I do more work in terms of habitat than most of the hunters out there and it is of little help due to the PAGC reducing the deer herd too far in my area. I have shot buck in Pa over 120" but it isn't because of what the PAGC has done it is because I will go years without shooting a buck until I eventually find one that is worth shooting. I am not one of those guys who needs to fill his buck tag. If it isn't bigger than what I already have on the wall why kill it? I have no desire to fill my house with 6 point yearling racks. I am not going to mount it unless it beats what I have already taken and if I need meat I can go to WV or Ohio for doe.
It's funny or sad if you rather to see what some people consider MATURE. I know a guy who has to kill a buck just to say he killed a buck. And his logic is every deer he killed was mature because it wasn't possible for it to get any older. I am not saying you are like him Pats, just stating the mentality of many who have taken us to where we are today in most of PA. I wish you a great season and I truly hope you shoot a good 4 1/2 year old monster. Make sure we get to see the pics!
06-23-2010, 09:08 AM
Typical Buck
Join Date: Oct 2009
Posts: 593
---
Considering that I gave up on Public land north of Berks County 2 years ago after 30 years of hunting and moved to private land where I see deer every day and see a buck almost every day, I am VERY optomistic about the approaching season.
06-23-2010, 05:21 PM
Fork Horn
Join Date: Sep 2008
Posts: 147
---
Based on the quality of the shed antlers our Food and Cover people are finding while working on the game lands I am very optimistic about finding quality bucks here in units 2F and 2G. I just wish I had the time to hunt them more than a few hours at a time and then usually only on none peek hunting days.
Dick Bodenhorn
06-24-2010, 05:41 AM
---
Good to see you're back RSB. Wmu's 2 are too far from me to hunt the way I hunt. If I am going to spend 3 -4 hours driving I will just go another hour and be in Ohio and stay there for a week at a time.

Correct me if I am wrong but I only see one(maybe two) sheds that has more than the 4 point requirement. I thought there would be more racks with 5 on a side and up. Interesting. The beam lengths look good.
---
Last edited by 4evrhtn; 06-24-2010 at

05:48 AM

.
06-24-2010, 12:43 PM
---
There may be hope for a potentially good season after all.... I have been trying for a few years to get permission to hunt on an area of land. This year I received a call requesting a favor of a pest control nature. I was able to help and now got the green light to hunt the area I've been dying to get in on. The property is very restrictive to where you can hunt and at what times you can be in certain areas. I did some scouting and found a deer run as well worn as we used to find 20 years ago in Pa. I set up some cameras and some minerals. Here is some of what I found..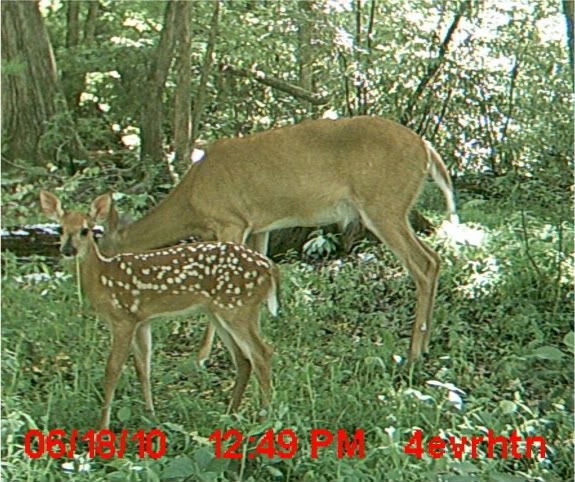 It looks like he's off to a good start for mid June. Ok, now I'll admit I am getting more hopeful.
---
Last edited by 4evrhtn; 06-24-2010 at

12:47 PM

.