PO'd with Yamaha
09-15-2006, 03:37 PM
PO'd with Yamaha
---
This spring when i got home from workin in Alberta all winter i thought i would treat myself to a new quad. I picked one up in Calgary and got a pretty good deal on it but was not totally impressed with the service. I had ordered the bike over the phone a month in advance and I told them what accessories i wanted all sounded good. I was to pick the bike up on my way home from Northern Alberta. Well i arrive there and they tell me that i could come back in a week and pick the bike up because they ordered the wrong back skid plate.People i live 10 hours away. I proceeded to let my feelings been known and that they could send the plate to me prepaid. I am loading the quad onto my truck at the dealership and it stalls out. Wouldn't even give me enough fuel to load the thing. Buddy comes out with a gas can and dabs a bit of fuel in it so i can load the thing. I get it home and after 300km i smoke the clutch on it. I got stuck in a bog, sucked in muskeg and burn it out. I was denied warranty because i was told quads were not meant for that type of abuse. Did i buy a quad or a ford focus? When you see yamaha's advertisements on TV they aren't exactly driving in highway ditches. The quads are shown mudding, goin up mountains, over brush etc. So 500 dollars and a chapped ass later i had my bike running again. I had all aluminum skid plates put on the bike because I know how the plastic ones stand up when the temp dips below zero. This was a pricey investment but i felt it was well worth it. Well i was dragging my elk out of the bush 70 yards and never went over any large logs, rocks or anything that would damage a skid plate however the next day i discover that my rear skid plate is cracked and rattling. The thing is maybe a foot square, cost close to 100 dollars and its cracked over nothing? I have had really good luck with yamaha in the past but not this time it seems.

09-15-2006, 03:58 PM
RE: PO'd with Yamaha
---
What model are you talking about? The belt cases are really tight on Yamahas and if ya did get water in there and left it- thats what probobly fried your drive. (There's a drain plug, check your manual.)

As for the skid plate, I beleive that there is some thread locker on the 3 or 4 mounting bolts. Did you re-apply some more? If a pice of aluminum gets loose it can crack. Did yours get loose somehow? Cause that's weird with it cracking.

09-15-2006, 04:40 PM
RE: PO'd with Yamaha
---
I have a 06 kodiak 450se. The belt getting wet was not the problem i am aware of the drain plug and used it however little water came out of it. The problem was that muskeg was sucked in the breather worked down in around the clutch and wore it. As for the skid plates the allan screws were all well tightened and am still wondering how that could have happened.

09-15-2006, 05:46 PM
RE: PO'd with Yamaha
---
Alrighty then. I'd bet that skid plate wasn't made to real exacting tolenencesand might have bound up a bit when all tightened up - therefore cracking oncesubjected to some use and/or vibration.

I am VERY suprised that you had any problems though. The Kodiak is one of Yamaha's highly reliable machines.

Good luck in the future though - it ought to work out fine.

I have really been wanting to put all thealuminum plates on my Bruin, but all I can ever find are bare (shiny) aluminum. I have went the extra yard to paint my black racks to camo, put on a camo seat cover and design & install my own camo cover for the handlebar. So until I can find some that are actually powder-coated atleast flatblack I'll just pass on buying shiny ones and spray painting them because judging by the scratches on my stock "plates" any paint would be scratched off and leave shiny scratches.

The way it sits camo'd up right now......................you better remember just exactly where you left it cause it melts into the woods.

Never had a mech problem with it (knock on wood) and ask ALOT out of it.

09-15-2006, 06:49 PM
RE: PO'd with Yamaha
---
The rear skid plate is shaped in a L. The base of the L obviously covers your rear end from the bottom then makes a 90 to cover it from the rear and slides over the hitch. The crack is right where the 90 occurs which would be the weakest point one would assume. I drove a Polaris ranger down seismic lines in northern alberta this winter and found that plastic skid plates bust out in a matter of days in the cold. I had the skid plate and most of the floor busted out of the rig by the end of the job so i decided that metal was a must for my quad. Here is the quad, looks nice when its not in the shop lol. front brush bar, over fenders, alm plates, mud lites 10's on the front 12's on the back.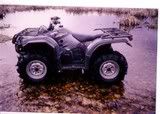 Thread
Thread Starter
Forum
Replies
Last Post
Posting Rules
You may not post new threads
You may not post replies
You may not post attachments
You may not edit your posts
---
HTML code is Off
---