Lets see some of your Hogs-Exotic pics
06-27-2014, 03:43 AM
Giant Nontypical
Join Date: Jan 2011
Location: Allegan, MI
Posts: 8,019
06-30-2014, 08:52 AM
Giant Nontypical
Join Date: Jan 2011
Location: Allegan, MI
Posts: 8,019
---
Seeing all those hogs sure makes me miss hunting down in the brush country. It got so that I had a lot more fun shooting them than deer down there. There are a few in those pictures that have some huge cutters that could really open you up. This is the last one I shot with my .243 Sako down there in 2010 the year before my Dad died. I'm on the left, Dad's in the middle, and the guy with the moustache is a friend from north of Houston. I also shot this longbeard the same day with that .243. It's the only turkey I've shot with a rifle and it was opening day of that season.
Attachment 28734
---
Last edited by Topgun 3006; 06-09-2015 at

07:28 PM

.
07-26-2014, 12:44 PM
Spike
Join Date: Jun 2014
Location: Tejas
Posts: 4
---
It is Saturday afternoon. Hot and muggy outside. I'm sure I'm supposed to be doing something productive...
Nah.
So with that in mind......................
My most disappointing miss in the last couple years came about after a long hot September day at the lease last year. I had been filling up feeders and fixing things that seem to just quit from month to month.
I have a spot that is at the back of our lease. It is about 1.5 miles in off the main gravel road we use to access our hunting areas. The path to access this spot is just wide enough to get an ATV through. I'll park my ATV and walk the last half mile uphill as its too thick and steep to access it any other way than on foot.
I call it "The Cliffs" as where I sit is a sheer rock face that is about 100' above the floor of a 350+/- acre bowl. Directly below is a dry creekbed that runs in an east/west direction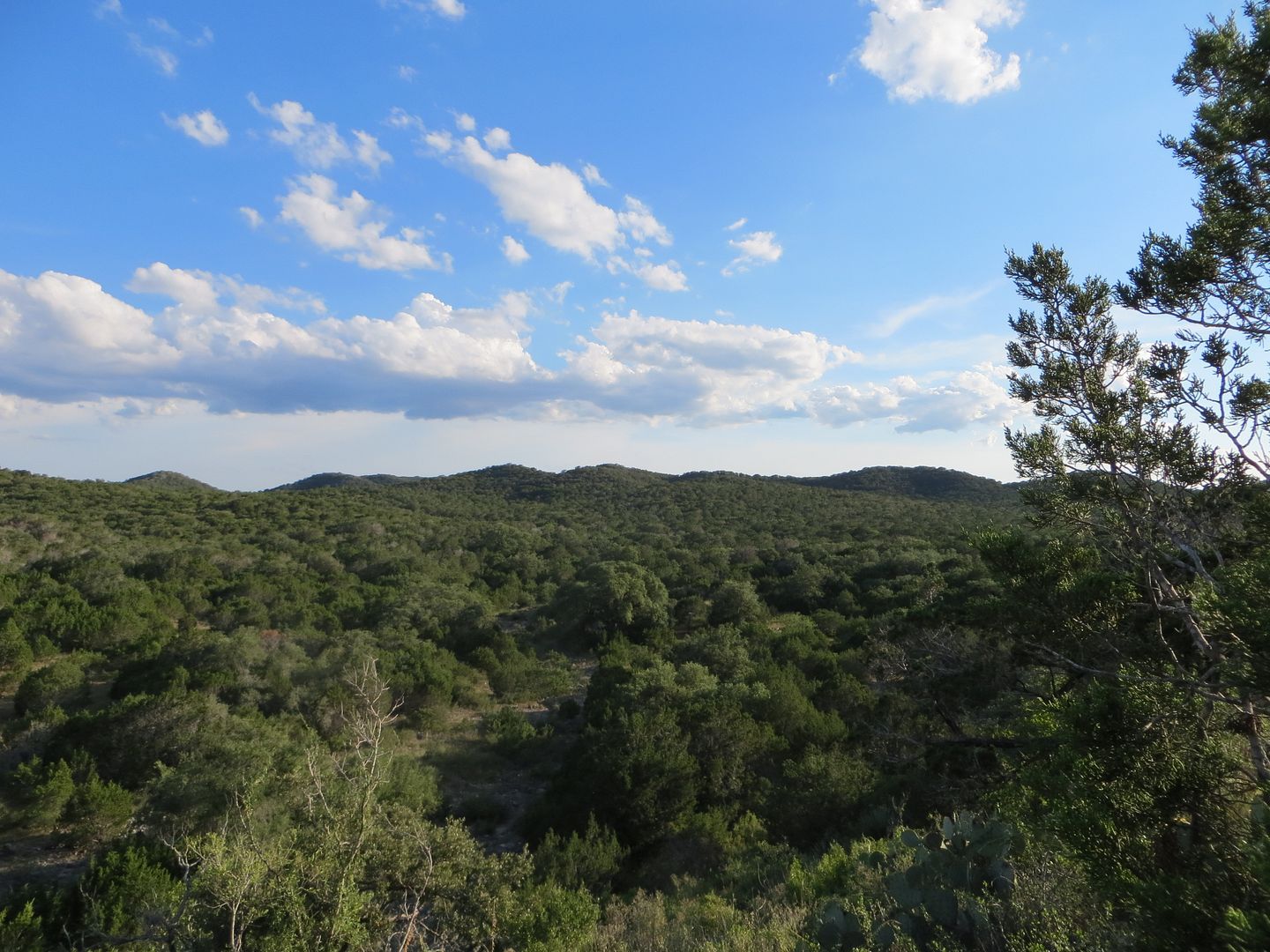 If you look closely you can see the spin cast feeder. It's about 160 yds out, to the right of the dry creek bed.
I had been working all day in the heat and had let myself get too hot and somewhat dehydrated. IIRC I got out about 5 PM. This time of year one can see until almost 9 PM.
I keep game cameras set out from time to time and Had picked up pix of a group of javelina that would come in from time to time. IIRC I had a half dozen pix over a three month period. Guess they would range in and out of the area as they did not show up on game cam regularly.
I was jazzed as I've been on this lease since 2004 and had not seen the first Javelina.
It was about an hour before dark and I was glassing the bowl. Sometimes will see Aoudad up high near the tops of the surrounding hills. I saw something out of the corner of my eye. I lowered the glasses and got just a glimpse of the hindquarter as it entered the brush and was lost to sight. I thought to myself that was strange. Sure didn't walk like a hog. I watched the area for a few minutes and went back to glassing. About 10 minutes later I caught motion again on my left at the same spot where the critter had disappeared into the brush. I put my binocs on it and damn if it wasn't a javelin and not only that, a monster of one at that. The javelinas I've killed are usually mid 20 to low 30 lbs. This guy had to have been at least 60 lbs. He was a stud puppy for a Javelina. He was walking a game trail on the far side of the creekbed and I figured where he would come out would be about 150 yds. Too far for me on a freehand shot.
I was not in the most appropriate spot or position to make the the shot.
This afternoon I was shooting my Rem 700 KS in 300 H&H, zero'd for 200 yds.
I was on an incline with my feet about 12 inches below my butt. I tucked my shooting sticks into my boot tops in order to get a rest, but due to my quivering from the heat and dehydration taken with the "buck fever" I was experiencing I could not seem to get a steady rest.
He came out of the brush and I knew I had a small window to make the shot before he disappeared for good.
I couldn't get a steady sight pix, but I figured this might be the only chance I got and I let fly. I didn't hear the "whop" and I sensed that I shot over him. It takes almost 30 minutes to get down from my perch to the ATV and then drive to where the Javelina was when I shot, but only 10 minutes or so to scramble down the cliff, which I did. I looked high and low till dark for any evidence of blood or fur, but to no avail. I was elated that I had got the shot, but bummed that I had missed. I hate missing.
Best,
GWB