Bostic Plantation Hog Hunt only
12-30-2007, 11:03 AM
Join Date: Dec 2007
Posts: 1
Bostic Plantation Hog Hunt only
---
Looking for information about Bostic Plantation..
How high are the stands?
How long do they leave you in the stands?
Is the shooting range out to 150 yards?
Who has stayed in the Main Lodge?
Is there a place to cook food outside the main lodge?

12-30-2007, 08:29 PM
Fork Horn
Join Date: Feb 2003
Location: Wappingers Falls,N.Y
Posts: 140
RE: Bostic Plantation Hog Hunt only
---
12-31-2007, 05:49 PM
RE: Bostic Plantation Hog Hunt only
---
I've hunted with Bostick twice. Both times were with dogs so I have no help for you on stands. But in general I had a good hunt both times. Joe Bostick still runs it, but he is getting on up there in years and forgets alot of stuff. So make sure you talk to one of the guides before you go and that theyhave you down for the right hunt on the right day. There was some confusion there on our hunt. Their price is OK, not the cheapest around. But they definately have some big hogs. I took a 450 lb'er on my first trip there. IfAb is still guiding there, you'll be in good hands.
I stayed at the "shack". Staying at the big house (executive lodge) was too pricey for me. If that is what they are calling the main lodge, then the accomodations will be fair. You have a den with couches and a big screen TV, several rooms with twin beds and bunk beds in each, a trailer attached to the rear of the house with even more rooms, and a kitchen and dining area. But if you use the kitchen, be sure to clean up after yourself. Mrs. Hattie doesn't like ANYONE messing up her kitchen. She does cook for some guests, but that too isextra.
Shooting range is out to 300 yards or more. We did BBQ outside but we brought our own grill ( I don't think there was one already there, maybe a fire pit). And the guys that hunted stands while we were there asked to stay out all day and the guidessaid they would accomodate. But ordinarily they pull you out at 10 ish and put you back on the stand at your leisure. They have a HUGE amount of land at their disposal so you have a good chance of seeing a big hog. If you have researched guides in that area, you'll come across Marion Gohagen. He is the man when it comes to hog hunting in SC's lowcountry. He used to work for Joe but is now running his own Guide service. If your plans change or you just want to see what else is available in that area, give him a look. Here is a link:
http://www.gohagansguideservice.com/
Feel free to ask me any other questions you may have about either outfitter and good luck. Here is a pic of my family and I with our trophy hogs taken with Bostick.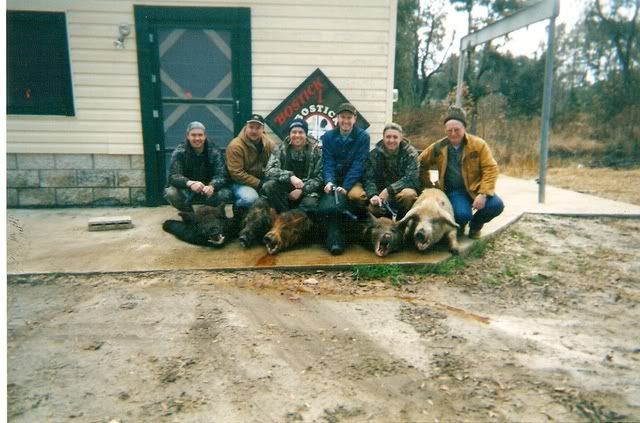 01-02-2008, 06:48 PM
Join Date: Jan 2007
Posts: 8
RE: Bostic Plantation Hog Hunt only
---
i hunted there about 5 years ago.had a very bad hunt we stayed in what they called the bow hunters cabin.it was dirty and full of roaches.i shot a hog on my second nite there the guide brought a dog to track it cause it was after dark all it did was play in the water.he said we could look for it the next day but he never took me back too look.dont think it is worth what ur gonna pay.
01-23-2008, 01:40 PM
RE: Bostic Plantation Hog Hunt only
---
I posted this in another forum but here's my take. I hunted Bostick in February/March timeframe 2006. The stands are 10-15 feet high and yes indeed there are lots of them. I shot a 300 lber my first night out (I guess I didn't realize how lucky I was that he dropped where I hit him) and another the next day. The second hog I dropped turned out to be starving and diseased so I just asked that the carcass be burned instead of keeping any part of it. For the rest of my hunt (about 4 days) I didn't see anything but armadillos running around. I stayed in the shack across the road in the trailer attached to the back of the house. It wasn't the worst accomadtions I've had while hunting (I'd say the poncho lean-to I built on a windy ridge during a downpour takes that title) and I had a bed and a roof. Beyond that there was a living room type area and a kitchen but mcraddock really wasn't kidding about the kitchen (another party staying there left a mess and got a "talking-to"). So overall it was a sucessful hunt but I'm not sure it was worth what I ended up paying for it. Take it with a grain of salt but that's my experience.
Thread
Thread Starter
Forum
Replies
Last Post
Posting Rules
You may not post new threads
You may not post replies
You may not post attachments
You may not edit your posts
---
HTML code is Off
---