Bad hit?
06-18-2007, 03:03 PM
Bad hit?
---
I have a question for your archers withlotsof hog experience...
Late yesterday afternoon, I put a hit (17yds) on a 90-100#boar.The arrow looked like it hit the spine.The pig dropped, and spunaround quickly in a circle on his front legs, and kinda ran off. His backlegs weren't working too good, but he got his wheels going. I thought I heard him crash, but it was getting dark and the ferns are thick where he ran to.
I couldn't findany blood. The broadhead(2 blade "stinger") and4-5", stayed in the pig. The video shows it looked like a hitin the meat, just below the spine,but from the way the arrow stopped, I think it hit bone.
He was quartering away, but he turned more broadside at the last sec. The hit was almost 90deg straight in. I've never hit one like this, so I don't know if he's likely to drop fast or head for the hills.
I'm going out again to look forhim today. It makes me sick to lose one. He wasn't a trpohy, and the hogs are messing up this place really bad, but Idon't like towaste the meat.It's hard to saywhat his chances are, but....makeit or not? (see image)
06-18-2007, 05:21 PM
RE: Bad hit?
---
Best case scenario you would have clipped a lung,but it could have went into the intestines.My friend shot one just like that,but he was going away.It did the same as yours went in about 5" and stopped.No pass through means poor/no blood trail.We found the hog the next day only 100yds away.Maybe you hit a lung.They can go a long ways on one lung though.Tell us if you find him or not.
Does this diagram help you?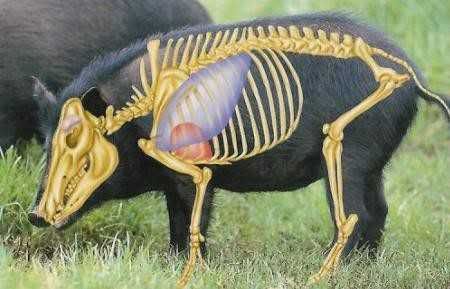 06-18-2007, 08:47 PM
RE: Bad hit?
---
I honestly never get too upset if I lose a hog. Especially when they are doing a lot of damage. I agree that you probably got intestines and maybe 1 lung. Let us know if you find it. If not just find another and try again.
06-19-2007, 03:51 AM
Join Date: Dec 2005
Location: Kalaheo Hi.
Posts: 319
RE: Bad hit?
---
Waz up Braddah Joe A,
So what , hana pa, you get em?? Man I hit pigs all over the body and they can go like the energizer bunny , on , and on and on. Thats a sick feeling to me . Maybe you got a lung , maybe two. . Did you put pressure on the pig trying to find it?? Let us know.

06-19-2007, 05:09 PM
RE: Bad hit?
---
Well....I went and looked. No pig, but I saw a sow come in from upwind into the area while I was looking. That was kinda cool. No shot opportunity. Too far away andbamboo toothick. At least they're still in there.
06-24-2007, 05:16 PM
Fork Horn
Join Date: Feb 2003
Location: Fallbrook CA. USA
Posts: 322
RE: Bad hit?
---
Killed a pig a few years ago with a broadhead lying between the top of the heart and below the lungs, couldn't find any old entrance wound so she had to be carrying it around for years, also killed a deer with about 12 in of arrow in his chest, completely covered like a coccoon. Imagine if humans were that tough, we get a paper cut and whine about all day !
06-25-2007, 12:06 AM
RE: Bad hit?
---
We shot one a couple of weeks ago in about the same place high and mid body on a 125lb boar. He ran off like nothing had happened. After waiting a couple of hours, I put down the bow and picked up my .357 mag and began the tracking job. I found him 200 yards later under a big deadfall, and he charged me like he had never been hit. After some brief negotiations I inspected the arrow wound to find one vertebra was completely shattered and removed from the spinal column, but the spinal cord was untouched. I have no idea how that pig was able to move, much less try to put up a fight.