Hill Billies
03-19-2007, 06:32 AM
Join Date: Jan 2006
Location: NSW AUSTRALIA
Posts: 214
Hill Billies
---
I just got back from a weekend looking around a new property at Bathurst, it was a top weekend with about 20 Goats and 15 Foxes hitting the dirt.
It was easy enough to see the Goats feeding from up to 1km away but the down side was that it's some very steep and rocky ground and as you got close to where you last saw them they had moved on.
You could here the goats bleating from miles away but getting an exact location was very tricky as the echoes were very deceiving.
The view from camp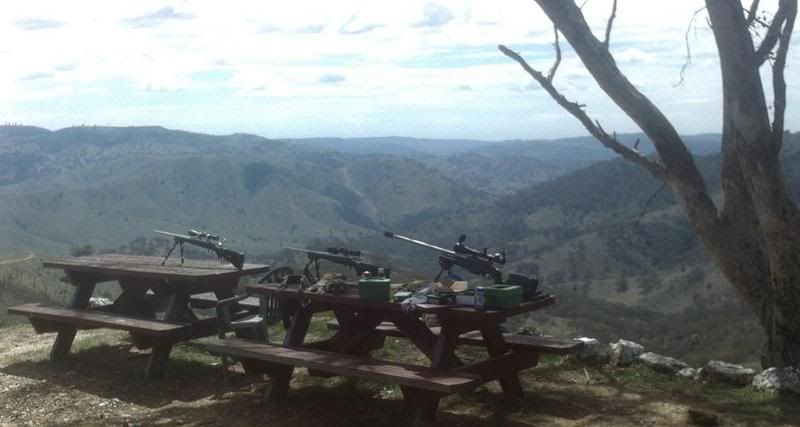 The back of the property
My 1st two Billies, I got them after they crossed a track in front of us while driving to the back block. We got out quick smart and after a quick stalk we found a good position, I took out the lead Billy as it went through the fence and then while they were confused I lined up the best one and dropped him.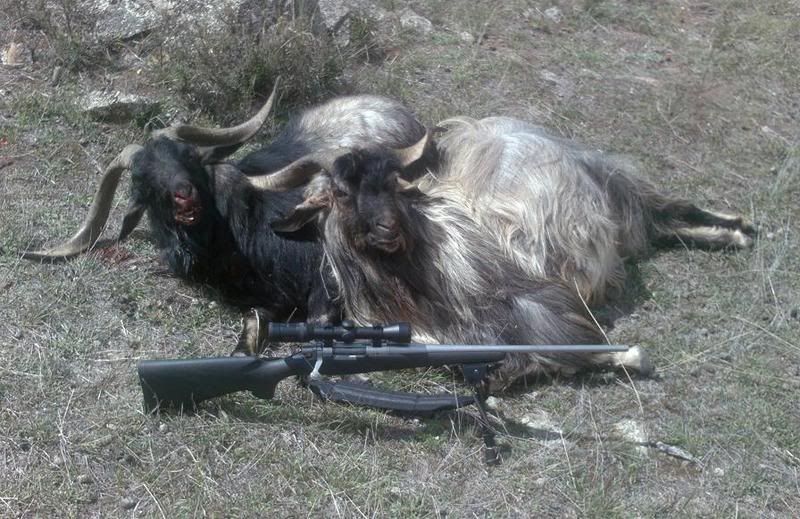 We saw this fox while eating breakfast at camp, he was about 800m away. My mate and I got about 200m closer and he started to call him in, I watched as he got with in 20m of my mate just out of site. I was 100m to the left of my mate watching him through the scope, the Fox decided that something was up and disappeared down a gully. I saw him stop where the gully ended about 160m-180m from where I was (Big mistake)
My mate never even saw him due to the dead ground, but it was great to watch.
We shot these 5 foxes in the space of about 3 minutes!!! We parked on the side of a hill and had a call to see if anything was about and the whole hillside lit up with eyes, we were calling them to within 30m of the truck before shooting them.
To our surprise the others didn't stop after the 1st shot but kept coming closer, after we had picked up this lot and taken the photo we turned on the light and saw two more 150m away one of witch was very impressed by the 270win.
03-20-2007, 01:26 AM
Join Date: Jan 2006
Location: NSW AUSTRALIA
Posts: 214
RE: Hill Billies
---
ORIGINAL: Ausie-guy
Those pics are making me home sick
Thanks for sharing mate great job.
I come from about 80 miles west of Bathurst.
That was about 25-30min north of bathurst, it looks like we have about 8000ac there to shoot on now.
03-20-2007, 01:37 AM
Join Date: Jan 2006
Location: NSW AUSTRALIA
Posts: 214
RE: Hill Billies
---
ORIGINAL: ipscshooter

Looks like a great time! How about giving us a description of those rifles? Model/Caliber/Scope?
On the left is my baby it's a Remington model 7 in 260rem with a 2-7X36 Kahles on top.
Next to it is my mates Ruger M77 SS in 243win with a VXII 4-12X40 (I don't have a close up of it)
And last is the beast, Sako TRG in 338 Lapua Mag topped with a Leupold Mark 4 6.5-20X50.

While my model 7 is a great 350m Goat rifle that Sako TRG was rolling them at 500m-800m accross the gully's, I'm that impresed that I just put a deposit on a Remington Model 700P in 338 Lapua Mag.
03-20-2007, 05:11 AM
RE: Hill Billies
---
Very interesting posts, 260rem! Thanks for sharing! How far are you from Darwin? I had some fantastic R&R at Darwin many years ago. Loved your country even though Darwin was all I saw!
03-20-2007, 06:04 AM
Join Date: Jan 2006
Location: NSW AUSTRALIA
Posts: 214
RE: Hill Billies
---
I'm 3 hours south of sydney so I'm a fair way from Darwin, but for some reason I find myself in Darwin from time to time. I wonder if it has anything to do with Buff, Bulls and monster Boars?