rusty mossberg model 185 DC rehab
03-13-2014, 04:46 AM
rusty mossberg model 185 DC rehab
---
Im rehabing an old Mossberg Model 185 DC THe 185 DC was made from 1955 – 1958. This gun like most of the guns that come my way is in very bad shape and missing the magazine but I know a source for a factory replacement. It is not a particularly valuable gun but I like a challenge. I do not intend to create a show piece but rather a functional and usable hunting gun. The original owner no longer wants the gun but didnt want to just throw it away so he gave it to me and said if I wanted to clean it up I could keep it.
Back in the day it cost $26.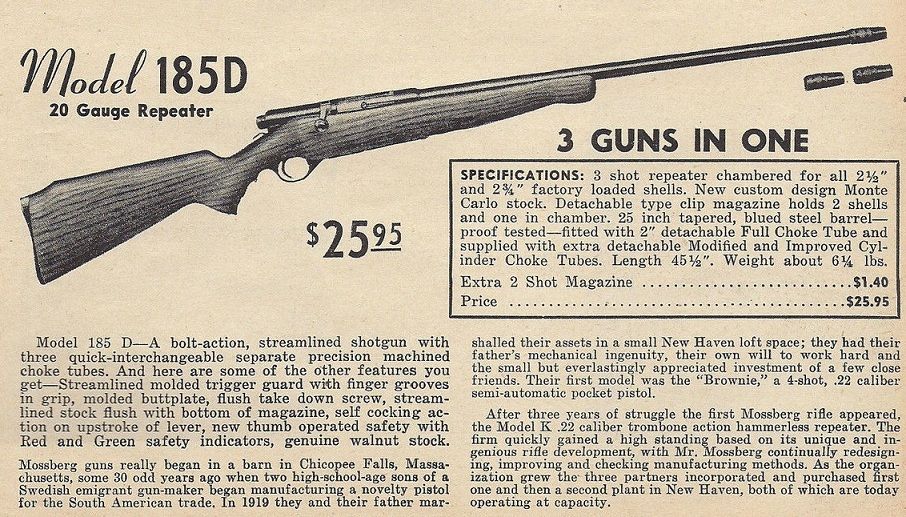 There is no finish remaining on the wooden stock and it has some stains.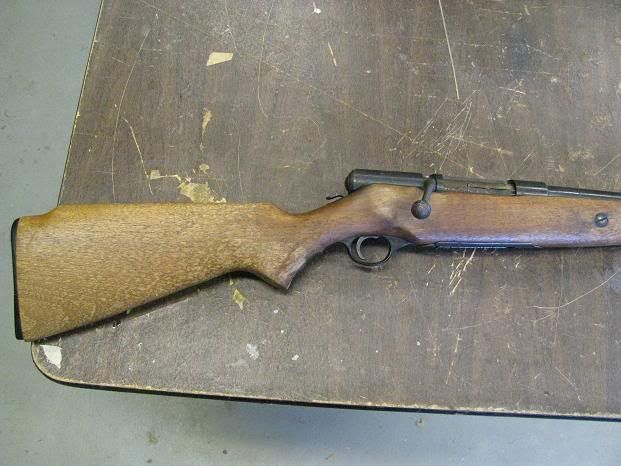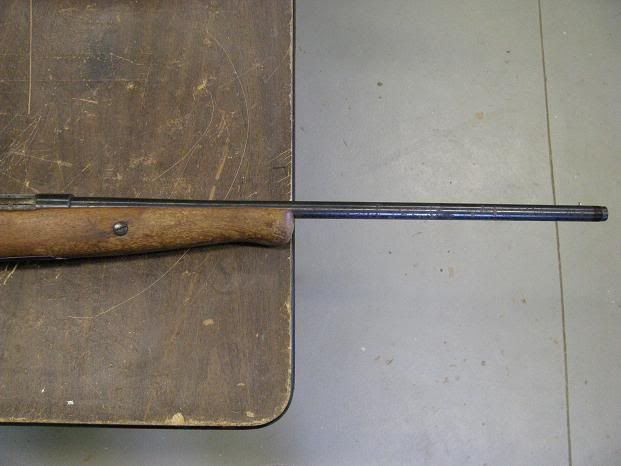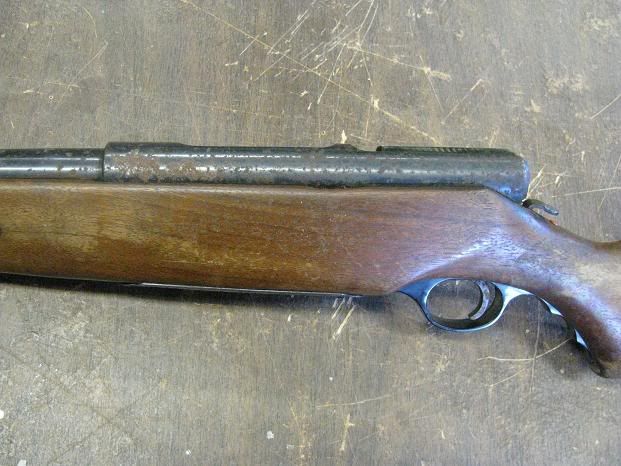 The bolt is pretty rusty.
And there is a good deal of rust on the outside of all the metal parts..
I would have thrown the gun away if it were not for the bore. I was surprised to find it shiny and in great condition.
Let the fun begin.
03-14-2014, 02:25 AM
---
Unlike all the other rehabs I wont pour over every detail and part. I think you have seen the process I use. This gun is going to be a tool (a turkey hunting tool). Its not going to get the super high gloss polish and blue. The metal is too deeply pitted for such a thing so this gun is going to get a matte finish on both the metal parts and the wood (satin finish on the wood). The black matte finish hides the pitting and gives the gun a stealthy turkey hunting look since you dont want glare coming off your gun (and I am not a fan of camo tape). Not polishing saves considerable time allowing me to complete this gun rather quickly. The bolt is the most corroded part so I started there. Not only is there a lot of rust but it is deeply pitted.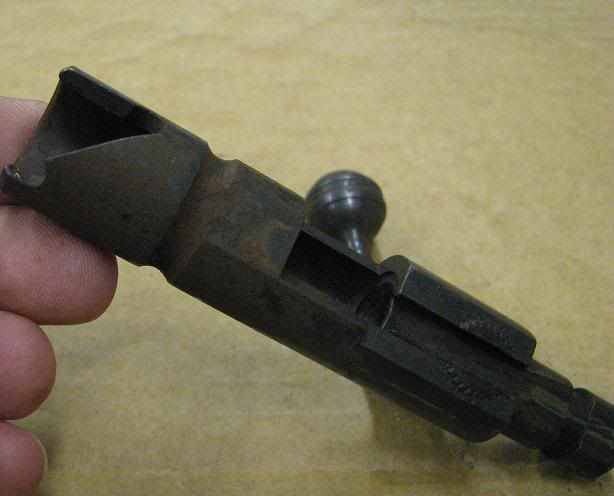 This is after the soak in the bluing/rust remover and a clean up with the Dremmel wire wheel, 400 grit and steel wool.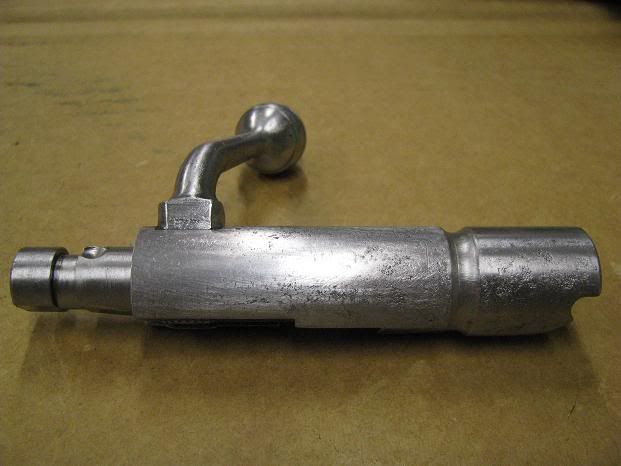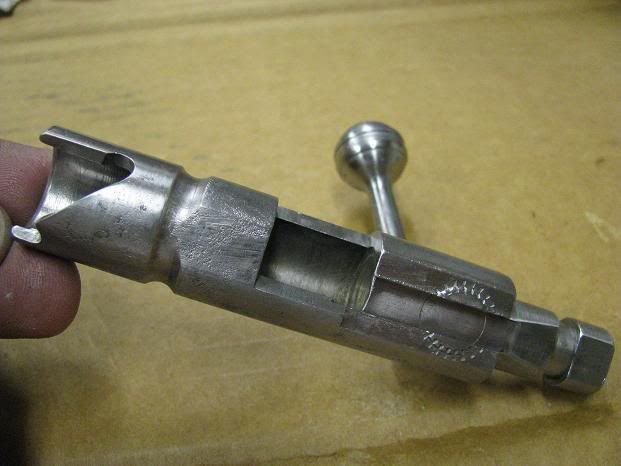 This is after the 2nd bluing. I blue just in case the baking lacquer should wear or get chipped off. It does two things. I protects the metal and it blackens it so if the baking lacquer were to get removed you don't see shiny silver metal beneath.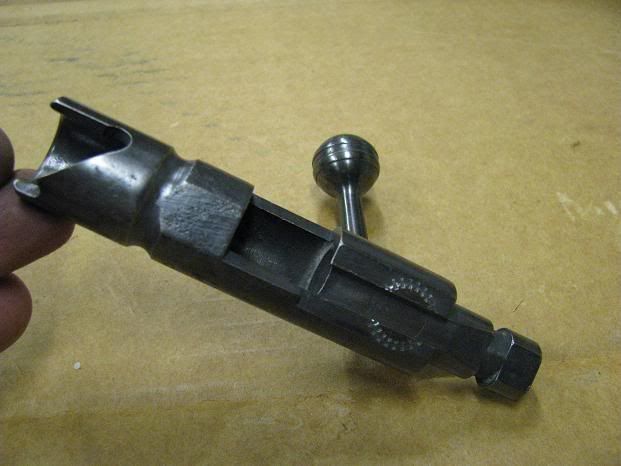 The Brownell baking instructions call for 3 light dustings and then a half hour at 300F. Here are the parts going in the oven in the shop.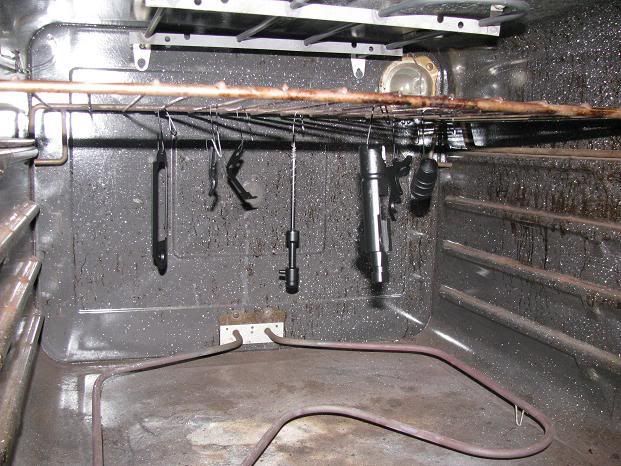 Here are the parts after baking
The adjustable choke.
Safety
Magazine retention clip.
Trigger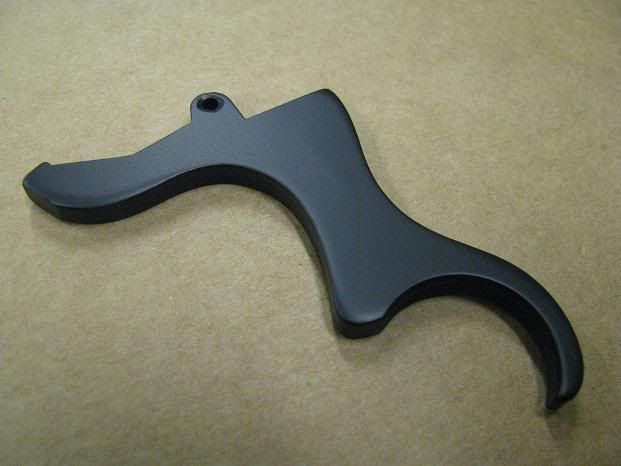 Magazine opening/plate.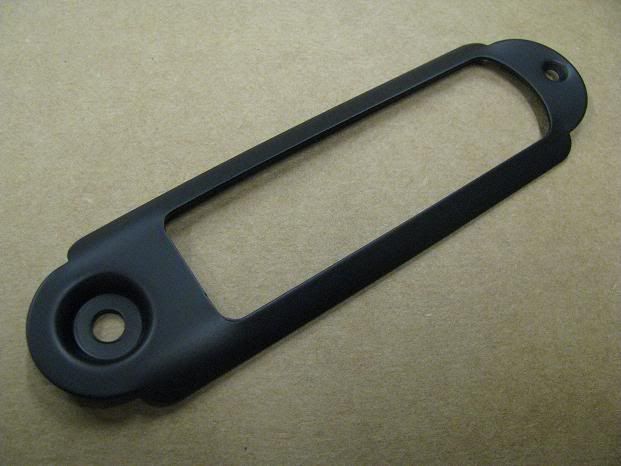 Firing pin.
That rusty old bolt. Now you can see why the matte black was a good choice for a gun with this degree of rusted pitting.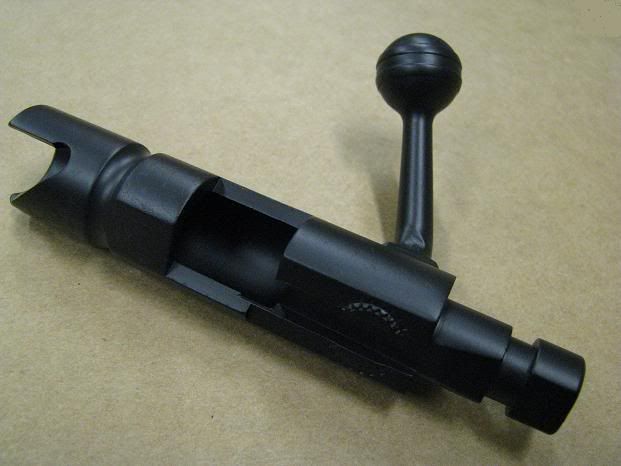 To be continued……. Time to fire up the homemade barrel curing oven again.
03-14-2014, 04:50 AM
---
Looks fantastic so far. I am curious how well the baking lacquer will hold up on the bolt and action with time, since it's subject to metal on metal movement. Also, do you have any concerns regarding the lacquer affecting any of the action's tolerances?
03-14-2014, 06:11 AM
---
ITs a very thin coating and there is enough clearance in the parts that no binding is taking place. The parts are not such a tight fit that things like grit and dirt and rust (which seem to be thicker or take up more space ) than the lacquer so I am not concerned. A light coat of lubricant was not required but I lubed the parts anyway.
03-17-2014, 02:25 AM
---
With all the small part finished, I could focus on the barrel. It took a long time to get rid of all the old bluing and the rust but in order to get a good finish on the metal, it was time well spent.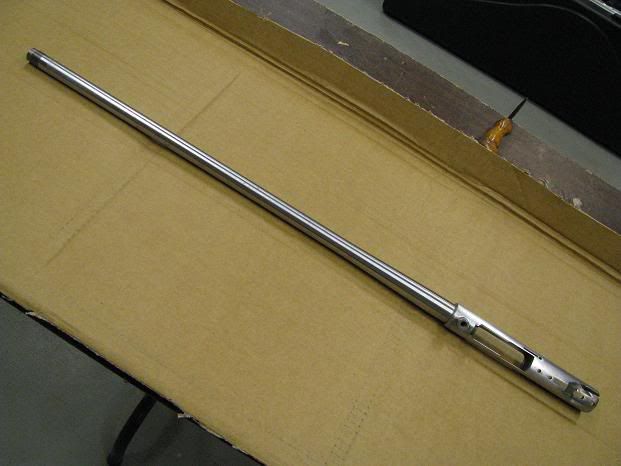 I then triple blued the barrel and rubbed it down with steel wool (quire vigerously) after the 3rd bluing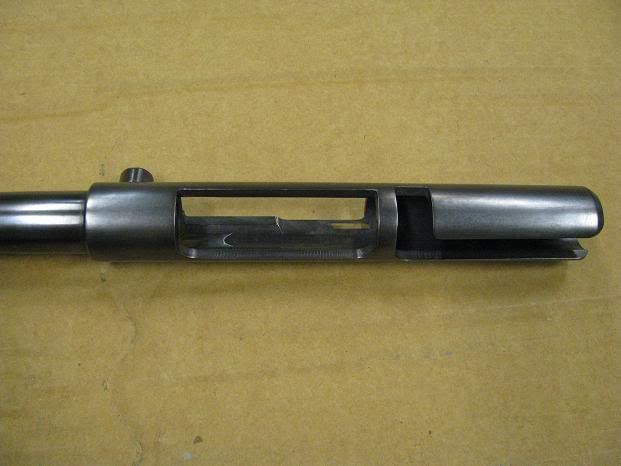 Once again, I'm pretty sure that level of protection (once oiled) would work well but I decided to cover all the metal with the baking lacquer. Again, If the lacquer ever gets chipped or wears off, there will be nicely blued metal underneath. I could not fit the whole barrel in my oven so I made a make shift oven from an electric hot plate and a piece of stove pipe.
I supported the barrel by hanging it from a wire attached to a metal rod across the opening.
I used a scrap of plywood wrapped in aluminum foil as a lid. I drilled a hole for a temp probe so I could keep track of the inside temp.
During the hour that the barrel cooked, I sanded down the rest of the wooden stock in preparation for finishing. Here is the cooled barrel.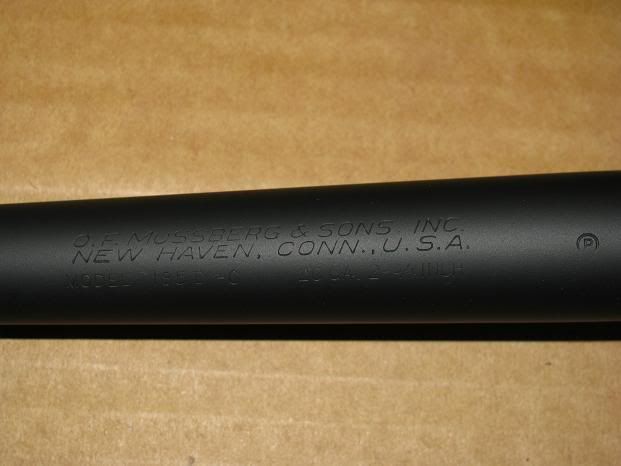 Now even though this is going to be a matte finish low key turkey gun there is nothing that says a guy cant add a little flare such a poor mans gold inlay on the barrel.
Here is the finish result.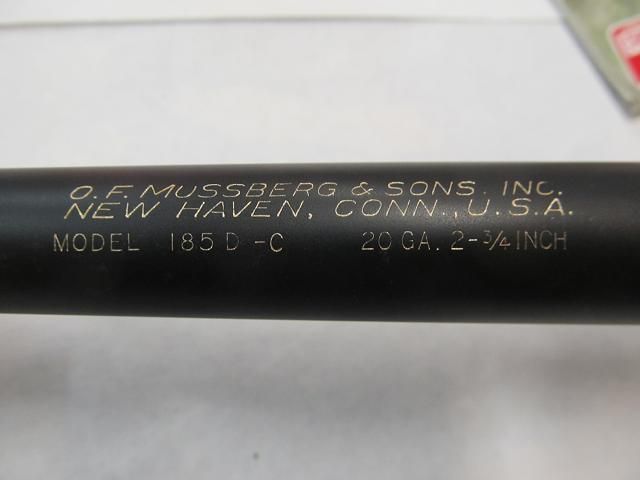 Here is the poor mans metalic gold
Brush it on and let it dry and then wet a paper towel with non acetone fingernail polish remover and wipe down the barrel (not too hard) and it will leave only the gold (or whatever color you like) in the depressed lettering.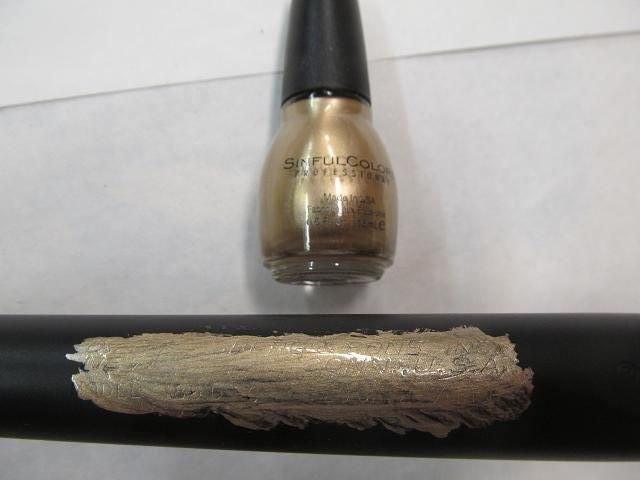 I then assembled all the parts of the action.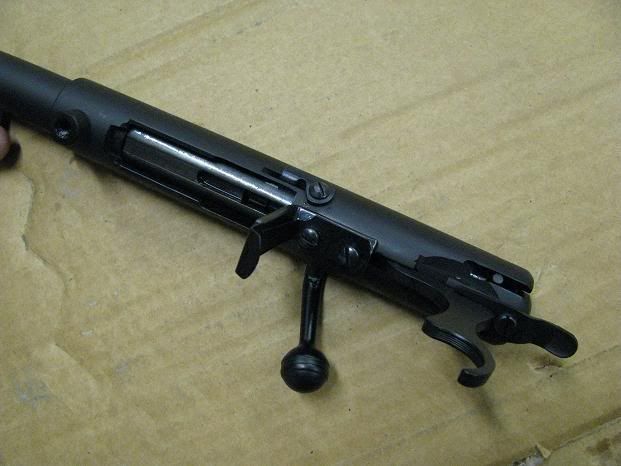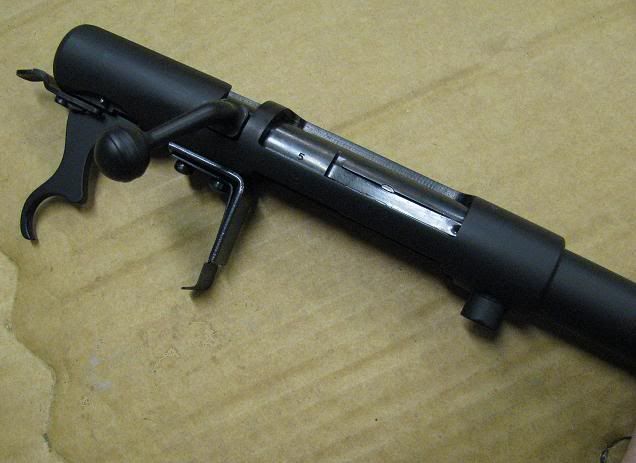 Since there was no oil on any of the parts, I set the action in the stock to see how it would look.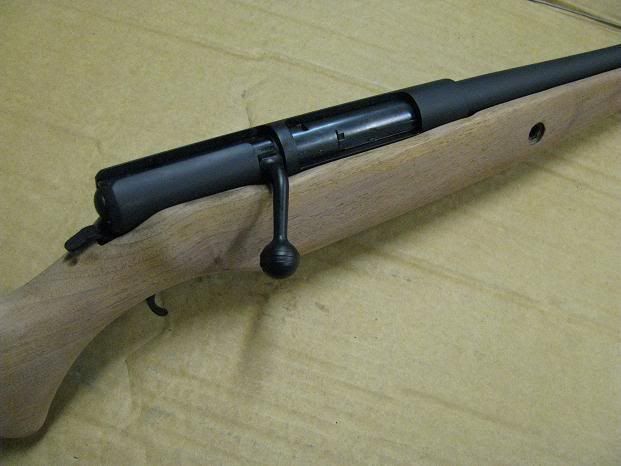 With the finish mostly gone and the stains, I could not tell what sort of wood I am dealing with.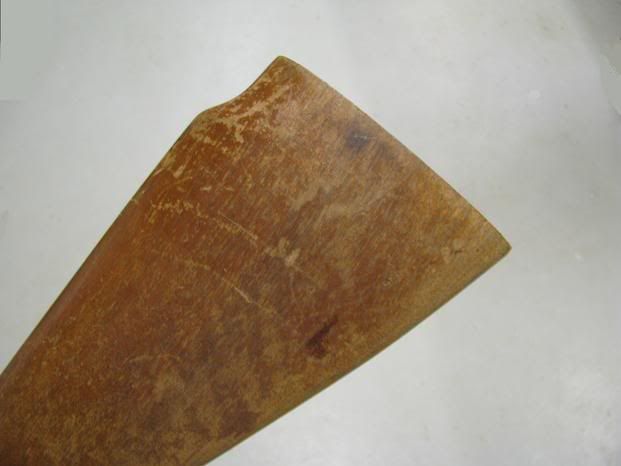 I used 100 grit and then 220 in my palm sander and as soon as I started sanding, I knew exactly what kind wood it was just by the smell. It's good old American Walnut. Its just such a plain straight grain I thought it might be a cheaper wood stained to look like walnut but no, this is the real deal.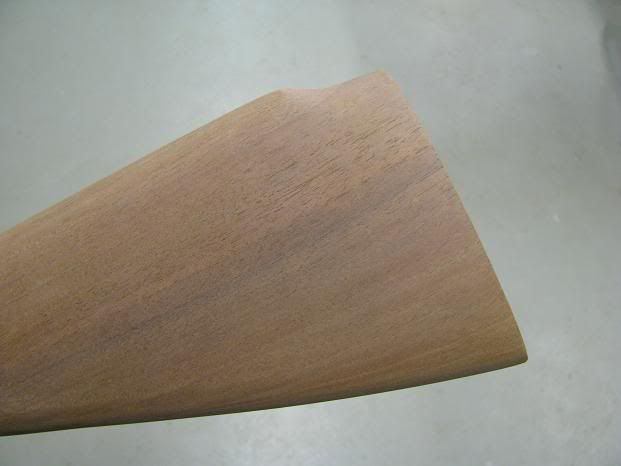 I dipped my finger in a can of denatured alchol and touched the wood to see what I can expect for a finish color. I think this stock will be nicer looking than I had hoped.
This gun will not get a hand rubbed oil finish. It will get several coats of Hallsman spar urathane in a satin finish instead. Spar Urethane is a protective clear coat finish that has been specially formulated to use on interior or exterior wood surfaces exposed to water, sunlight, or changes in temperature and humidity. The UV blockers contained in Spar Varnish, help to reduce the effects of fading or graying caused by the sun.
The basic difference between other varnishes and spar, is the ratio of oil to resin. In spar, this ratio is relatively high, which makes for a more flexible finish. It is tougher than polyurethane, making it more resistant to cracking and chipping. This also makes it more durable under dramatic temperature changes.
If you are going to use a spray on finish on your stock (vs a hand rubbed oil finish) use spar vs the cheaper polyurethane. ***I am in no way attached to minwax and do not benefit by extolling the virtues of spar urathan. I just know what works***
I spray on several coats (must all be applied within a hour and a half) and then the stock sits for 72 hours and then is lightly sanded and sprayed again. It provides a great finish and is faster than 10 coats of tung oil applied over 10 days.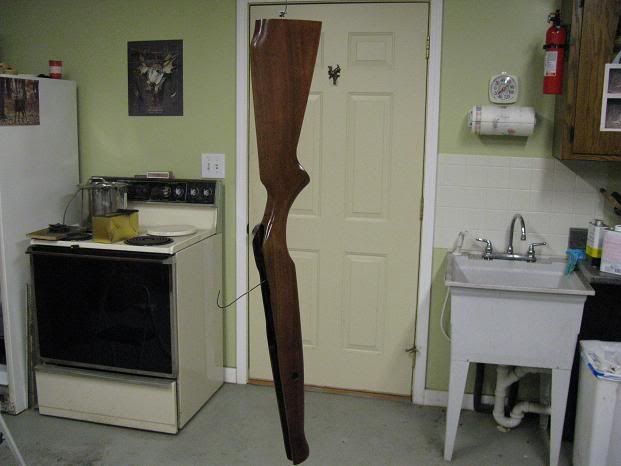 Now its the waiting game waiting for the finish to dry so I can assemble the gun. I think I will add white and blue spacers between the stock and butt plate. In the meantime I can start the next gun which might be one of the coolest little guns I have ever worked on but thats for another thread coming soon.
to be continued......
03-18-2014, 02:24 AM
---
Over the weekend I sanded down the heavy coats of spar urethane I had applied 3 days earlier. I sanded it with 600 grit and then 0000 steel wool. Then I gave it a final spray coat (several)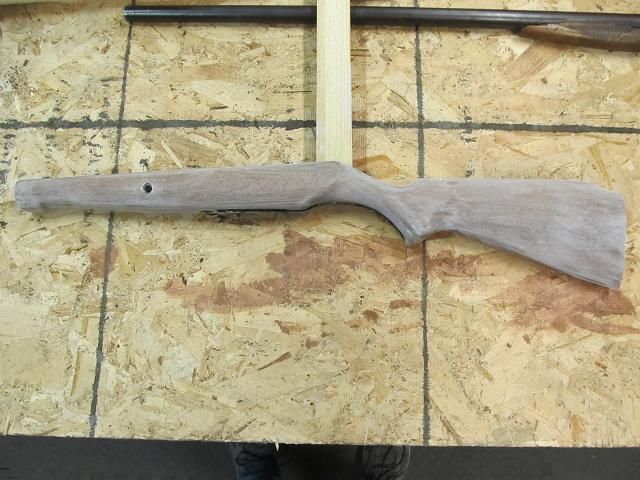 Then I cut apart a blue and white 3 ring binder that are made of thick plastic to make spacers.
Then I put it all together and took some finished pics with the new magazine that arrived in the mail.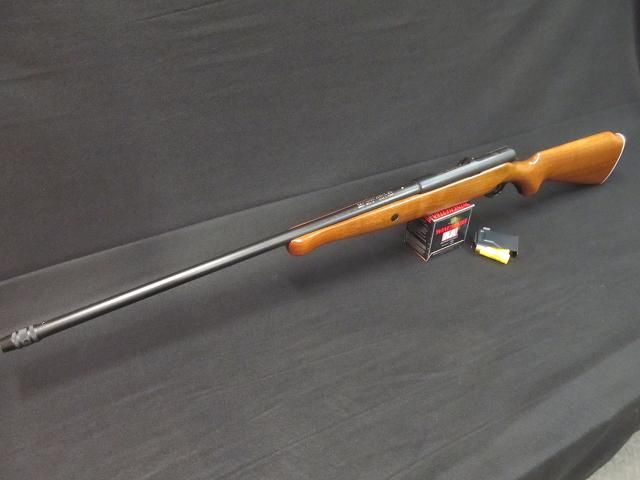 Another old gun brought back from the dead and ready for action in the turkey woods. Time to start on the Hamilton model 27.