The coffee can shotgun restoration
03-04-2014, 08:05 AM
Giant Nontypical
Join Date: Jan 2011
Location: Allegan, MI
Posts: 8,019
---
I don't know about you guys, but from the two threads I've seen the OP put up, I think he's a miracle worker with a lot of talent and patience!!!
03-04-2014, 08:14 AM
03-04-2014, 10:48 AM
---
When I was in High school those 66's were everywhere and they were cheap. I only live 45 min from Ithaca NY so it stands to reason that's why. My wife has one in .410 gauge with a vent rib barrel that belonged to her Dad. I knew fellas in NY that wouldn't trade their 66 Buckbuster for love nor money because they did throw a slug well and weighed next to nothing to carry for the day. That said, I was at a small local gun show on Sunday and saw some 66's in various states of condition and was amazed at the prices they're bringing nowadays. Hopefully you'll be able to find a clean replacement barrel for a reasonable price. Congrats on the exemplary work you've done so far resurrecting that old gal from the dead!

BPS
---
Last edited by Blackpowdersmoke; 03-04-2014 at

10:55 AM

.
03-04-2014, 11:02 AM
Typical Buck
Join Date: Aug 2007
Posts: 749
---
the place I called about 66 barrels hand a about any part for a 66 but barrels. still looking. my first gun at age 3 months was a 66 in 410 now I have 18 ithaca 66.
03-04-2014, 07:21 PM
03-05-2014, 02:43 AM
Typical Buck
Join Date: Aug 2007
Posts: 749
---
some thing to collect it was.my first gun and I like them. when I started collecting them they where not asking crazy prices.
03-05-2014, 03:16 AM
---
Got a new shipment of Brownells Baking lacquer so I was able to spray and bake the receiver and lever. I had the time so I spent it doing more to smooth out the receiver and get rid of the pock marks. It turned out pretty well. It will look even better with two coats of paste wax to give it some shine. Im almost ready to put the gun back together. The stock is nearly finished getting coats of tung oil.
03-06-2014, 03:31 AM
---
Last night was a banner night for this old shotgun. A few things of note took place. First of all since this gun was destroyed by a raccoon and it pitted the receiver and lever (and raised hell on the wood) I opted to mark the history of the gun into that same receiver. I was originally going to mark both sides but opted for just one side.
I masked off an area and sprayed it with flat, white spray paint.
Then I placed tape over the paint and drew in the image I wanted on the receiver. I painted the receiver white so I could see the pencil lines.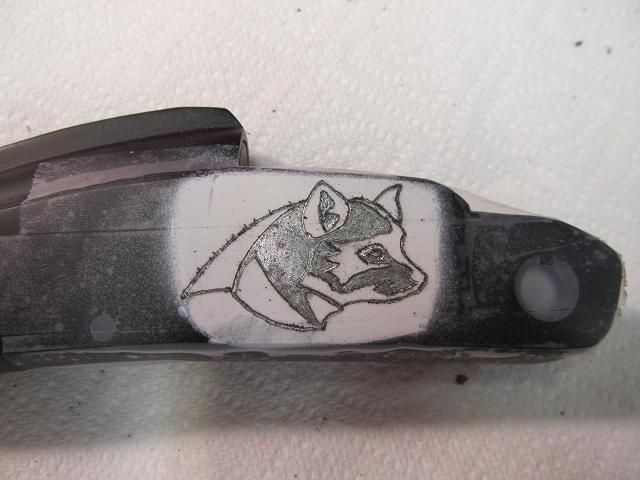 I used a fine pointed diamond bit in my dremmel to take away the black baking lacquer and shine up the aluminum underneath.
Then I peeled away the tape and washed away the white paint with acetone leaving the tribute to the masked bandit etched into the metal.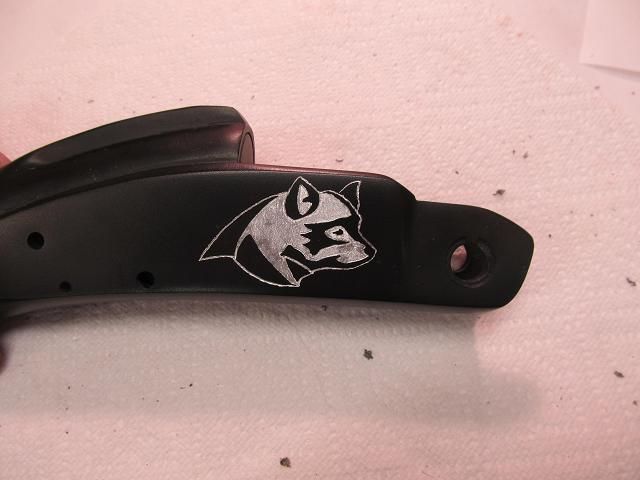 I assembled all the metal parts and attached the finished wood. For now I have the pitted barrel on the gun just for the pictures.
The stippling worked out very well.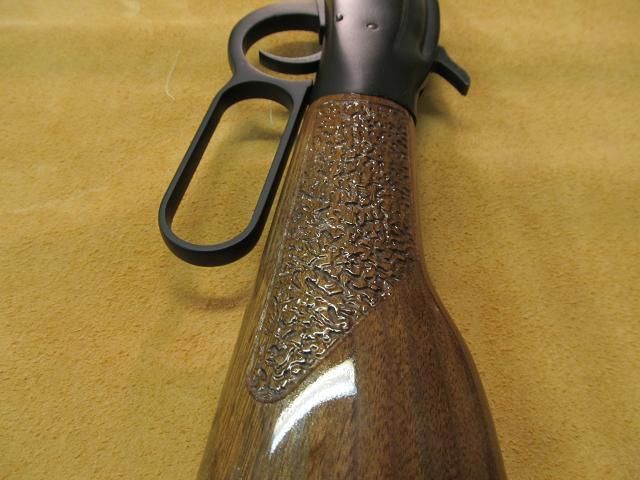 The cracked stock is repaired and looks a bit better than before.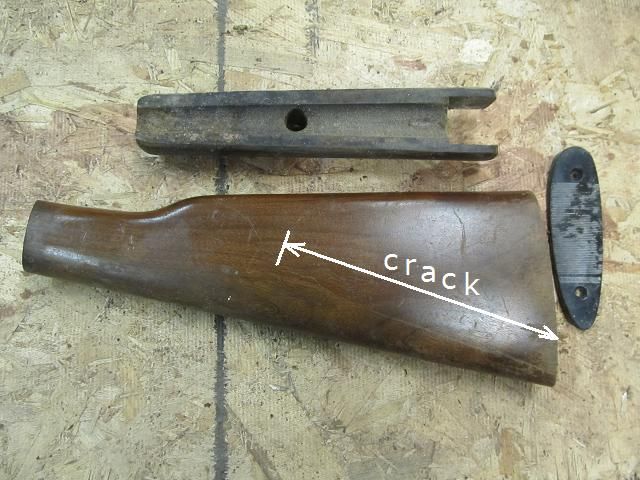 This gun has come a long way from the coffee can.
Also last night I won an Ebay Auction for a replacement barrel for this gun in the buckbuster configuration (with front and rear rifle sights) So this old gun can once again take to the deer woods. (once I recondition the barrel and reblue it) The barrel set me back $128 but since I got the gun for nothing, It all works out in the end. Here are the images from the Ebay Auction.
With this one done its time to move onto a gun with some sentimental value to me. A 1940 Winchester model 37. Its my father's gun and the first shotgun I ever fired. Time to start a new restoration thread for this rusty mule kicker.
03-06-2014, 08:27 AM
Nontypical Buck
Join Date: Feb 2003
Location: Clermont Florida U.S.
Posts: 4,970
---
Congrats on another job well done.
03-06-2014, 05:15 PM
Giant Nontypical
Join Date: Jan 2011
Location: Allegan, MI
Posts: 8,019
---
And I thought only God was a miracle worker! I guess in actuality He truly is the driving force behind your remarkable skills though!!! Keep em coming, as I'm now looking closely at this Forum to see what you're up to next!
Posting Rules
You may not post new threads
You may not post replies
You may not post attachments
You may not edit your posts
---
HTML code is Off
---