.204 or .25 WSSM?
12-23-2004, 11:25 PM
Join Date: Dec 2004
Posts: 4
.204 or .25 WSSM?
---
The .25 WSSM is a great all around cartridge but I already have a deer/elk rifle and wanted a good pelt rifle. I recently shot the .204 and was very impressed. I'm looking at the ruger mk77 stainless .204 or the winchester (something, i forget) .25 wssm. Which shoots better? Which would you reccomend? How much damage do the v-max bullets do to bobcats and coyotes, I have heard good and bad things. I will be mainly hunting varmints. Either way, i will probably be shooting light solid bullets or very light ballistic tips. I'm leaning towards the .204 because of its flat shooting and very high speed.
12-24-2004, 06:41 AM
Nontypical Buck
Join Date: Jun 2004
Location: NW Ohio , 5 min from Ottawa National / Magee Marsh
Posts: 2,051
RE: .204 or .25 WSSM?
---
I have not shot the 25 WSSM but its ballistics are about the same as a 25/06 ,so with a proper bullet it should work but may still have a exit wound.
I use a buddys 204 ruger in a savage on a yote ,hit just behind the shoulder angling back. No exit wound and a about 20 cal entrance.
It was dead on the spot.
I saw 1 that he hit on the point of the shoulder and it riped a hole in the hide there, no exit .
12-24-2004, 08:47 AM
RE: .204 or .25 WSSM?
---
Why dont you think about the .243, it's really the king of varmint rounds. Its heavier bullets stay on path and is very flat shooting. you can also use the 55 gr ballistic tips that are pushing right at 4000 fps and is the flattest shooting round available.


Heres a comparo.


velocity
----------muzzle----100yd------200------300-----400----500

.243
55gr------3910-------3493-----3114----2766----2444----2144
.204
40gr------3900-------3482-----3103----2755----2433----2133

energy.
.243
55gr------1867--------1489-----1184----934----729-----562
.204
40gr.------1351-------1077------855-----674----526----404

trajectory
.243
55gr.-----------------+0.7--------0.0------4.3----13.1----27.7
.204
40gr.------------------+0.7-------0.0------4.3----13.2----28.1

I didnt post the .204's 32gr. cause it ballistics arent as good as the .40 gr.
12-24-2004, 11:21 AM
Giant Nontypical
Join Date: Feb 2003
Location: Missouri USA
Posts: 5,420
RE: .204 or .25 WSSM?
---
If you are wanting a good accurate .204, check out the CZ or the Savage model 12 line of varmint rifles, I know there are prettier rifles than the Savage but as far as accuracy you will have to look long and hard to beat it, especially at the price they bring.
12-24-2004, 12:35 PM
Join Date: Feb 2003
Location: Lingle WY USA
Posts: 527
RE: .204 or .25 WSSM?
---
Don't know anything about the 25 WSSM but I do know that the 204 is the best fur/varmint rifle I've owned. I've taken 6 coyotes with mine in the short time I've owned it. All were shot with 32 gr. V-max from 75 yards to 312 yards. All were "bang/flops" and not one had an exit hole. My Savage 12fv will shoot several loads in the .6"-.8" range all day long. The best loads are in the .4" range.
Couldn't be happier. Very little recoil and 220 Swift or 223 WSSM performance without the pelt damage.
Check this out comparing the 223 WSSM and the 204.....the 204 actually is better downrange (for energy, holds it own in trajectory)even though the 223 starts with a mv of 4500.......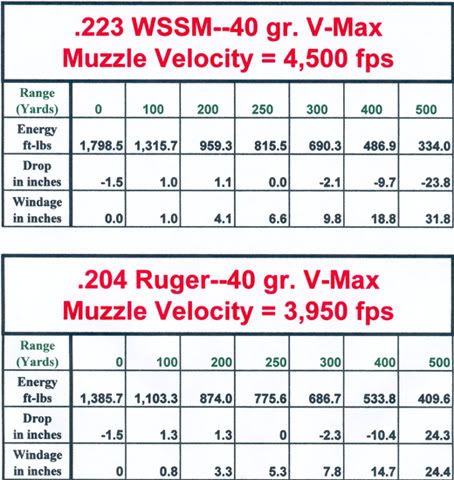 12-24-2004, 12:55 PM
RE: .204 or .25 WSSM?
---
When comparing the 204 to anything else you need to compare both using not equal bullet weights But bullets of equal sectional density. The forty grain 204 bullets sectional density is higher than the same weight in a 22 caliber bullet because the 204 is smaller in size. This is not to say that the 204 is not the better pelt cartridge as its the same principle as the old 17 Remington. The 243 is a good varmit caliber as would the 25-06 or 25WSSM. However pelt damage is bound to be more of a concern with the bigger calibers. Myself I use the 223.
12-24-2004, 09:54 PM
Join Date: Feb 2003
Location: Lingle WY USA
Posts: 527
RE: .204 or .25 WSSM?
---
James,
Most people simply look at velocity as the end all, be all of varmint hunting and long range shooting. However, as you stated, sectional density or ballistic coefficient is the single most important thing in ballistics. The longer and skinnier bullet will always outperform the short fat bullet if the weights are the same and you are looking at trajectory and downrange energy/velocity.

Also I would say that the 204 is a much better coyote gun than the 17 rem. I would hesitate to take a shot at a coyote past 300 with my 17 but with the 204......well lets just say it would have to be WAY out there for me to pass it up. Much more devastating (in terms of instant kills) terminal effects with the 204 but same pelt results.
Thread
Thread Starter
Forum
Replies
Last Post
Small Game, Predator and Trapping
Posting Rules
You may not post new threads
You may not post replies
You may not post attachments
You may not edit your posts
---
HTML code is Off
---