Diablo line of wildcats is up and shooting
03-14-2016, 06:59 AM
Diablo line of wildcats is up and shooting
---
With this project we wanted it to be as practical and straight forward as possible. No fire forming, no custom dies, easy to find brass, fast and flat shooting. Also want to have something that would fit in standard length action sizes with no modification.
Our first line is based on the 300 win mag case, we have chamberings in 7mm, 270, 6.5 and 257 cals. We have dubbed these the 284 Diablo, 277 Diablo, 264 Diablo and the 257 Diablo.*
Now to the shooting report. Didn't really go for any groups with the 284, was more interested in getting a max load and velocity with 180 vlds and h1000. It maxed out safe working load right at 3200 fps. We are extremely happy with this as it is right there with the 28 nosler and stw.*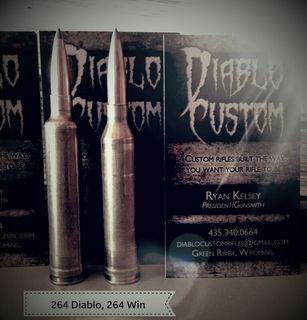 Next up was the 264 Diablo now when we started this project the 26 Nosler and the new 6.5 wby weren't in the picture yet, any how it still has its place. Its designed to fit in 3.4" length actions and to shoot the 150/160 type bullets. Mainly looking for top working load and speed on this one also. Loaded bullets in the 123,140,150, and 160gr range with h4831 and rl22. The top loads were 3650, 3475, 3350 and 3225 respectively. As you can see this one is gonna be a laser. One thing the really amazed us with the 264 is we used the same point of aim for all the different loads and all the shots grouped under an inch, this is at 120 yds and also the 264 has a 24.5" barrel.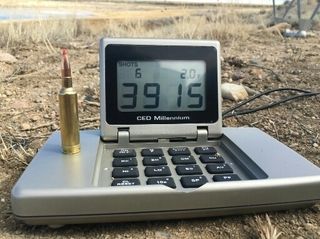 Also have 6mm and .22 cal based on the 6.5 Rem Mag and a bigger line going on the 338 Norma. That's the 240 Artzer Mag pictured above on the 6.5 Rem Mag case and an 87gr V-Max, the chrony was acting a bit funny that day so we aren't certain the 3915 is correct, it should be around 3750, we are going to retest that one this week.
03-17-2016, 07:02 AM
---
94gr case capacity to the top. It should run a 140 to 3400 pretty easily. I sent Ryan my .270 Wby to make into a Diablo so he should have a full shooting report soon.

A reamer is also on the way for a .270 El Fuego, which is based on the 338 Norma case and will be shooting the 170gr Berger.
03-17-2016, 02:50 PM
Posting Rules
You may not post new threads
You may not post replies
You may not post attachments
You may not edit your posts
---
HTML code is Off
---