Opinions on .22 Caliber rifles
04-25-2012, 03:19 PM
---
JC Higgins were good accurate rifles. My buddy had one. He shot a lot of cottontails with that little bolt rifle.
04-25-2012, 03:22 PM
---
another 10/22 lover I see..
The most accurate .22 I ever shot was a Remington Targetmaster single shot bolt rifle. My neighbor had one. And when I was a kid he used to loan it to me so I could go rabbit and squirrel hunting with the other kids. I always gave them the squirrels as they loved them and my mother hated them in the house. If you held a 6 o'clock on that squirrels head.. it would knock them out of the tree every time.
04-26-2012, 06:05 PM
---
I have decided. I am going to get the Sig Sauer 522 tactical rifle. I ordered a tactical 4x32 scope with a military dot scope I ordered. I asked a Sig Sauer owner and they could not say enough about the rifle. I trust their opinion and decided it was worth the extra money. So I thank all that responded. I am kind of excited about the new rifle. I think it will be a lot of fun.
04-27-2012, 05:41 AM
---
I like 10/22s also, and have a thirty-five year old one in the gun safe now. My favorite .22, however, is a Revelation (Stevens made for Western Auto) bolt action that I traded for twenty-five years ago. Very accurate shooter. It's very similiar to the .22 that I learned to shoot on forty-five years ago.
04-28-2012, 03:45 PM
---
Today, I went to the city and purchased my Sig Sauer 522 Tactical Field Rifle at a Wal Mart. Because it is the field model it has a 10 shot magazine. Peep sights also.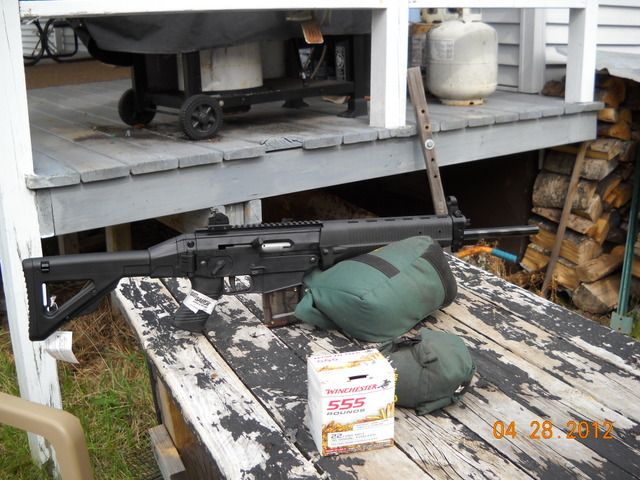 OBSERVATIONS...
The rifle is very well built. No rattles or loose feel to it. Even though the stock will fold to the side, it is rock solid. The one flaw I discovered quite by accident was the peep sight does not like to stay in place. The rifle feeds smooth and sure, with no jams or failure to feeds, and I shot approximately 200+ rounds today. The trigger is a real surprise it has a long travel, but breaks very light and clean. Very smooth actually. I was surprised that the trigger was this good. Just as fast as you want to pull that trigger it fires. I actually towards the end of the shoot was double tapping the rifle and it handled just fine.
The failure of the rifle is the peep sights. Like I noted. I fired the first nine rounds as the magazine does not hold ten rounds, the rifle does if you load one and then load the magazine. But I discovered the peep sight problems kind of quickly. I had spinner targets at 35 yards and took careful shots at them. I managed to spin one, but the spinner was not one I was aiming at. So I then OPENED UP on the spinner and did manage to his another one. But again it was not the spinner I was aiming at.
So I moved a paper target in to 16 yards. I thought it was 13 yards but the range finder told me I was wrong. I then remembered I had moved the shooting bench the other day when doing wood. Aiming at the target the rifle shot far to the right and low. So I made a sight adjustment.
Loaded the magazine, went to shoot and the rear peep was not there. Looked around and found it. Put it back in the rifle and this time really tightened the screws down. Shot the next group and again, still to the right. So I moved the sight again. Now I loaded all nine.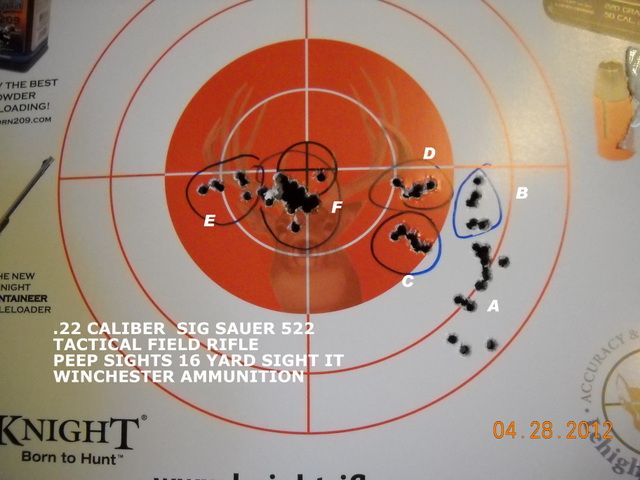 I shot group A rather quickly. Then decided to calm down and shoot.
Group B was the next adjustment up. Group C was an adjustment to the left and I discovered the sight had moved down the ramp a little. So I moved the peep up again and shot Group D. Now I decided to really commit and moved the peep far to the left... Group E was shot. On the last two shots, I noticed the peep had moved again. Now I was kind of upset. So I made a final adjustment to the peep sight and thought I put the screws in good and deep. I then shot Group F.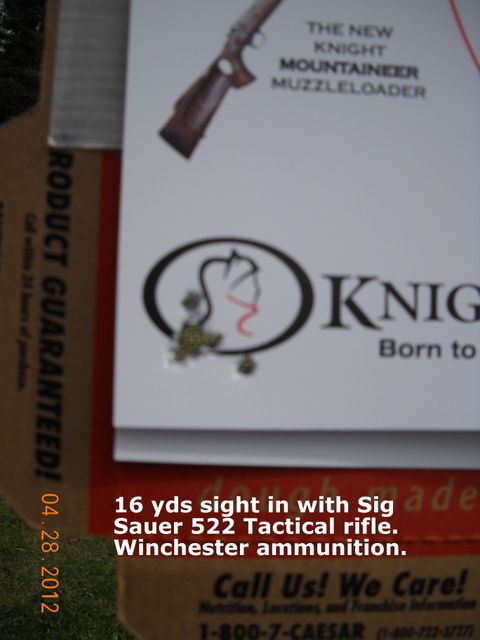 To double check the sights for the last time, I picked out a small circle on the target and shot at that. That is nine rounds.
After that I went back to the spinner targets and was just wheeling them around like a windmill. Nothing to it. I then shot at some square gongs at 50 yards and could hear lots of pinging sounds coming back. So I knew I was in the ball park. Finally I decided I would stop and clean the rifle.
CLEANING THE RIFLE...
This is one easy rifle to clean. Two pins that move aside and the top part of the receiver comes right out. You then lift the bolt and guns out and clean the barrel, then the bolt, trigger assembly and all the interior parts. And the rifle goes back together just as easy as it came apart... until the surprise. Putting the upper assembly back into the lower assembly, I look at the top and .. you guessed it.. No Peep sight. I tore the house apart and could not find it. I was a little upset at this point. Then I went outside and walked my path from the shooting bench to the house and there was my peep sight... laying there on the ground. relief was apparent. I then went in and put in back on the rifle, and lock tightened the screws in place. So we will see if that will hold.
I really like the rifle. Talk about fun to shoot. You can double tap this thing and it just keeps firing . And if the peep sight don't fall off or move, its a pretty accurate rifle. I have ordered a tactical scope for the rifle, and that should be here next week. Good thing I picked up two bricks of Winchester shells.. this thing is a blast. Plus I want to order two of the Black Dog 25 shot magazines for the rifle. Just for a little fun.
Now this is not my hunting rifle. This is my fun rifle. And so far the Sig Sauer other then that peep sight.. is fitting the bill.
04-29-2012, 01:50 PM
Spike
Join Date: Apr 2012
Location: Southwest USA
Posts: 1
---
Thanks for the review. I've seen that style of .22 before but this is the first unbiased review I've read. The only .22 I've shot is a 1974 Marlin Glenfield model 25 that my grandad gave me. It never jams and the accuracy is amazing just using the bead.
Btw, I've been looking for a .308 and I checked a lot of threads. Good honest reviews for the Ruger have been rare. Good luck with finding a solution for the peep sight. That rifle looks awesome so I'm happy to read that it shoots good too.
04-30-2012, 07:46 PM
---
I did find a solution of sorts for the Peep sight.. I mounted a Bushnell Trophy Red Dot on the rifle. It was easy to sight in. And I left the front sight in place. I found that if I put the red dot on top of the front sight and that under what I want to shoot.. it is deadly accurate.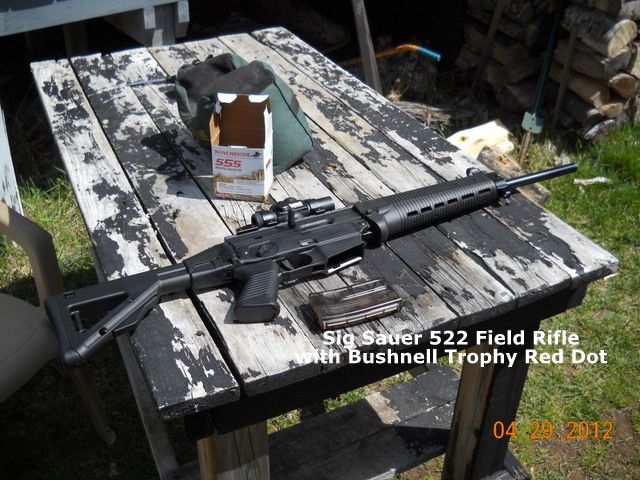 I am not a big fan of red dots. But since I do not intend to hunt with this rifle, it works good on the range in nice lighted conditions. I was doing some run and gun shooting and it was really easy to ring steel plates.
The bottom group was the first group I shot. Then I made an adjustment and you can see about 18 rounds at the center group. That top spray was a combat shooting ... where you pull up, center the red dot and just start shooting. Granted the group is not that good, but most of those shoots are at a man sized silhouette. If that paper was a chest cavity, there would be a world of hurt there.
I did shoot at some barn red spinner targets. Because of the light gathering ability of that red dot.. they blended into the woods on me. I painted them white.. and all was forgiven.. from a rest position at 25 yards they were easy. Even at 50 yards I was shooting a 4x4 steel plate. Aim 3/4 up on the plate and tap the trigger twice. Nothing to it.
I finally was shooting a 1 gallon paint can that was swinging free at 100 yards. and could hit that most of the time.
I shot off 555 rounds of the Winchester ammo. One cartridge failed to feed. It did this three times. So I suspected the cartridge. I did manually put it in the action and it fired. So would I blame the rifle of the cartridge? IN this case I am almost sure it was the cartridge.
I never had any jams on the rifle in 555 rounds. That box of ammo went in two days. But it sure was fun to shoot this rifle. I have a 1x20mm Nikon scope I might mount on it, just to see how accurate the rifle really can get. I purchased a tactical 4x32 scope but was thinking of throwing that on my SKS.
05-03-2012, 05:38 PM
---
I wish I would have see this post before your purchase. I guess the Sig is good. I opted for the S&W M&P 15-22. This rifle has yet to jam on me. I shot Win, Rem, Eley, and Fed ammo. There were hyper, high and std velocity ammo. I am happy that the rifle prefers the cheap Win Wildcat ammo. I have a Browning Buckmark red dot sight on it and it is a blast to shoot.
05-03-2012, 10:14 PM
---
If you already have an AR-15 class rifle, then there are conversion kits for .22LR.
If you don't have an AR, then the Ruger 10/22 seems like the best iron sight 22LR hunting gun for small game.
http://www.ruger.com/products/1022/index.html