Opinions on .22 Caliber rifles
05-04-2012, 02:22 PM
---
If you don't have an AR, then the Ruger 10/22 seems like the best iron sight 22LR hunting gun for small game.
I had a Ruger 10/22 and hated it so bad I sold it at a loss. That was
THE MOST INACCURATE
rifle I ever shot. I took it to a certified Ruger gunsmith who had it for a couple weeks and told me there was nothing he could find wrong. He claims he shot it. I brought it home and it sprayed all over the place, just like before.. even with the ammo he claimed he shot. I personally think he lied to me. So I sold it to a friend. The person that bought it also sold it because he could not get it to shoot straight. I would
never
own another Ruger 10/22. But I do own other Ruger rifles.
I've now put close to 1200 rounds through the Sig Sauer. Not one failed to feed. I have had three fail to fire. But those rounds failed to fire out of my Taurus Revolver as well. I think they were just bad rounds.
Since buying the Sig Sauer, I have put a red dot on it. While accurate and fun to shoot that was not doing it for me. So I put a Nikon 1x20mm scope on it. Wow!! what a difference. Deadly accurate.. and just a rock solid rifle.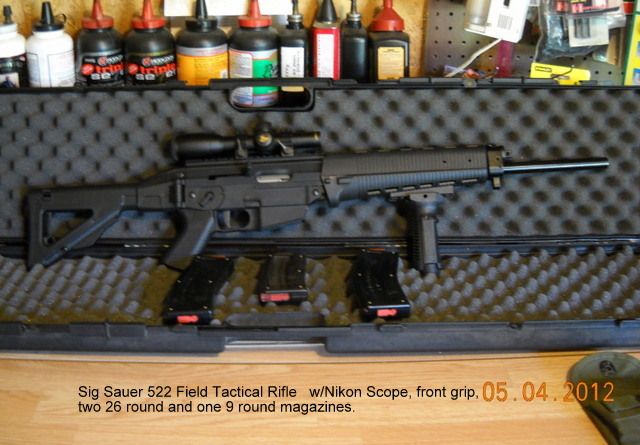 I have ordered a BSA 4x30mm Tactical rifle scope with a mil-dot cross hair. On the recommendation of a person who's opinion I greatly respect. That will go on the rifle next.
Today the 26 round Black Dog Magazines came. Wow can you go through 50 rounds fast. Just a lot of fun. And accuracy with that 1x scope .. I was shooting the little spinner targets at 36 yards. I was ringing a steel plate at 60 yards. And just to see what would happen.. I took the lid from a one gallon paint can. I set that up at 100 yards. From a bench position I took three shots at it. And it fell over. When I inspected the lid, one hit was about two and a half inches from the other two hits. The two main hits were dead center in the can lid and about three quarters of an inch apart. For a 1x scope.. that was pretty good for me.
If blowing off $20.00 worth of .22 shells don't bother your wallet in a day... this is just a super fun rifle to shoot. It is also easy to clean. I really like this rifle. It has found a home.
05-04-2012, 08:09 PM
---
A 3" three shot group is hardly minute of squirrel head. As I would have measured that group center to center on the furthest separated shots. Nor is doing it once any indication that it could happen the next time out. There is no way that a .22 caliber could ever compete long range with a .17 HMR rifle. But it does show that a rifle often will make a person just have a great day on the range. And since I shoot on average five days a week, this is a real nice day for me. I am really enjoying the new rifle. If you ever get a chance to shoot one, I suggest you give one a try.
05-04-2012, 10:21 PM
Nontypical Buck
Join Date: Oct 2011
Location: PA
Posts: 1,778
05-05-2012, 05:53 AM
---
It was taken to a Ruger Dealer/Gunsmith who the person at Ruger I talked to, suggested it be taken to to avoid all the hassle of shipping it through all the FFL garbage. This gun smith was only about forty minutes from the house. When I questioned the man about the rifle, he seemed to be very aware of the Ruger products. I personally think all he did was gave the rifle a real good cleaning (which I was charged for) and then told me it was fine.

When I sent the bolt out of my Ruger M77 in for repair, that thing had to be sent directly to Ruger. And they did a perfect job on repair of it. In fact it was returned better then new IMO. Like I said, I own Ruger rifles and pistols. And think they are an excellent value. But you will never convince me to get another 10/22.

Many years ago, I had a friend get a Ruger rifle. It looked like an M77 which was a bolt action .22 caliber rifle. I have never seen such an accurate rifle as that. He had a high end scope on it and could make amazing shots with it. I did consider one of them a few years back. But like I said.. I went for a fun gun to shoot. This Sig Sauer is a real well made rifle IMO. I can't wait for the tactical scope to get here.
06-24-2012, 10:32 AM
Spike
Join Date: Jun 2012
Posts: 34
---
I owned a Ruger 10/22 once. That thing was the most INACCURATE rifle I ever shot. So I contacted Ruger and they had me take it to a Ruger Certified Dealer. The gunsmith there "claims" he tested it and it was fine. Now don't get me wrong, that Ruger always loaded and fired. You just could not hit anything with it. So I figured it was me and the iron sights. I then put a scope on it. Still, it would not hold a group. I tried different ammunition and still no luck. I told a friend about the rifle and actually got in an argument over it, and he offered to buy it, with even having shot it. He got a heck of a deal. Six months later when I ran into him, I asked him about his 10/22 and he said, he couldn't hit anything with it, neither could his Dad. So, he sold it. No more Ruger 10/22s for me. I do have a Ruger T22 semi auto pistol with a Bull Target Barrel. Fantastic shooting pistol. Never jams, shoots any kind of ammo, just a good gun. But that 10/22 was not a favorite for me. I own a M77 also, and it is very accurate.

I do not want a bolt action rifle. I stopped hunting squirrel basically because no one wants to eat them, and I will not kill for fun. I have a Remington Fieldmaster Pump rifle if I want an ACCURATE rifle. I want a Fun Rifle. Something to play with. I like to shoot swinging targets and gong targets in my woods. That is why the tactical rifle appeals to me.

Being a retired police officer, I have been around semi auto weapons most my adult life. I am well aware that they must be kept clean. And the tactical rifles are easy to clean. So that is not a problem. I was more interested in information reference the function of the different brands I mentioned. I love to shoot. I have my own range I love to shoot that much. And just the thought of shooting those tactical rifles appeal to me.
I had the same exact problem with ruger .22 I have. No matter how much I tweaked it, it was still inaccurate. Since everyone raves about the 10/22, I thought mine might have been a fluke. Looks like other people have the same problems... It was the first rifle I ever took squirrel hunting, and after two outings with it i switched to a marlin .22 bolt. The only thing I use the 10/22 for now is for target fun...
07-09-2012, 10:34 AM
---
I've got a marlin 60, a 10/22 and THREE S&W M&P 15-22's. One for me, and one for each of my sons... Really nice rifles, and great practice for using the "real" AR's... Also, recently added three Sig 1911-22's to the household's zombie protection arsenal...
07-09-2012, 06:39 PM
---
The other day it was so hot out, but I wanted to shoot. I got all my work done in the morning and decided I had a little time before the thunder storm rolled in. So I decided to shoot the Sig Sauer 522 .22 caliber semi automatic rifle. I shoot cheap Wal Mart Winchester 555 36 grain hollow point ammo out of it. I purchased an inexpensive 4x32mm Tactical Scope with a mil dot cross hairs.
From all the shooting I have done with this rifle, I can not tell you how impressed I am with this rifle. So far, well over 3000 rounds have been shot. Never to date a jam. Granted bad ammo caused a fail to fire but not one misfire that I can attribute to the rifle.
Now on to today's shooting. I moved the bench table when mowing the lawn and had no idea how far I was from the small spinner targets. Plus I got some empty plastic 1/2 liter bottles (had the well worked on and have been drinking bottled water for three days) and with an old shoe string, hung them by the neck off my PVC shooting stand. My range finder said the spinner targets were 41 yards away. And the hanging bottles were 43, 44, 43 yards away.
At 40 yards those spinner targets were just as easy as they were at 25 and 35 yards. Set the cross hair, squeeze that excellent trigger, and watch them spin away. The small spinner surface is two inches across. Had that been small game, they'd of never stood a chance. I was shooting off the front grip, using it as a mono pod rest on the table. As fast as I could set that cross hair and squeeze, I could spin. One spinner is broken and does not lock up in the top position, it just spins. So I was seeing how fast I could spin that. Just a great time.
Then on to the hanging bottles. I could make them dance with ease. I was surprised at how if I concentrated on the center of the bottle I could almost cut that plastic bottle in half. Seeing that, I decided to try and cut the shoe string that was around the neck of the bottle. I then proceeded to cut the neck of the bottle off, just under the shoe string. When the first bottle fell I was impressed with myself. By the end of the shoot, three more had fallen to that Sig Sauer 522 rifle. On one bottle, I am sure it was fools luck, I honestly aimed at that shoe lace wrapped around the neck of that bottle. Squeezed the trigger, and cut that shoe string.
That's the way you cut the neck off a bottle and or cut a string.
I guess when I purchased the rifle I purchased it thinking it would be fun to shoot ammo fast, but really never considered it as the kind of accurate rifle this thing really is. I am going small game hunting with it this year. Any critter better be a long way from me. As they would never be safe.
If you ever get the urge to purchase a fun, accurate, and seemingly fool proof rifle, I can not stress that while this rifle was more expensive then a lot of them.. it is one great rifle. I had in the past shot sig sauer hand guns and always was impressed with their triggers and their functioning. Well this rifle is really built well.
Posting Rules
You may not post new threads
You may not post replies
You may not post attachments
You may not edit your posts
---
HTML code is Off
---