New Pistol advice...
04-16-2011, 12:26 PM
Spike
Join Date: Apr 2011
Location: Beaverton/Portland, OR
Posts: 1
New Pistol advice...
---
Whats going on everyone? So I am looking to pick up a new Pistol in the next few months. I recently moved to Oregon from California and have decided its the best move I could have made. I absolutely love the outdoors! I am mainly getting it for Backpacking/Camping/Hiking trips I will be going on and would like to have a great defensive weapon. There are lots of bears around this neck of the woods (and Bigfoot from what my dad tells me, since they only live in the wooded area of Oregon) and other wildlife.

I am looking for:
Power (Enough to stop a bear with a single to few rounds)
Mobility (Small enough to carry on my belt for an entire day of hiking)
Reliability (Id rather not get mauled or eaten)
Quality (Dont want junk)

So far I have been really eyeballing a Ruger Super Redhawk .44. The reason I have been looking at the this is because my Dad and I use a Ruger Super Blackhawk .44 as a sidearm when Bow Hunting Bear and Deer.

Id love to hear what some of you guys have to say. I also really like the Revolver style but isnt a must I guess, its just what I am used to.
04-16-2011, 02:52 PM
---
Taurus Tracker 44mag 5 shot 34oz empty
I've seen some reviews of guys carrying this concealed...
http://www.taurususa.com/product-det...rumbseries=TS2
Lots of other options though, in a revolver 357mag/38, can get this in a real small package.
in a semi auto maybe a compact 45auto?
when not talking griz, I think I'd be pretty comfy with just about anything from 9mm-45auto, I bumped into 1 guy who had a run in with a black bear couple years back and now carried a 9mm with heavy loads.
45acp
357mag
44mag
would be my short list
but I'd rather have a 9mm than nothing at all.
or maybe a .41mag?
---
Last edited by salukipv1; 04-16-2011 at

02:57 PM

.
04-19-2011, 04:35 AM
Fork Horn
Join Date: Dec 2007
Posts: 204
---
The super redhawk is Ruger's flagship revolver and are very nice. However for backpacking I would rather carry something else. I like the Redhawk a little better for that role as it is a little lighter and smaller. If you could find one in a 4" barrel that would be perfect. Also the S&W 629 Mountain gun would be another option. They are a little more money than the Ruger but they are also a nice handgun.
If you are interested in an automatic then I would recommend a Glock 10mm, or a 1911 chambered in the same caliber. Or if you wanted near .44mag performance out of an auto pistol look at buying a 1911 in 45 ACP then buying a .460 Roland conversion kit for it.

I myself carried my 1911 in 10mm when I was working up in WA state and was out hiking the trails. Good heavy loaded bullets from Double Tap work well if you don't reload for it.
04-19-2011, 05:19 AM
---
S&W model 329PD Airlight. 4" barrel 44 mag., it is superlight, and accurate. The perfect gun for backpacking and hiking. I have one I carry as a backup weapon when I am bear hunting with my hounds. When you go in after your dog you never know weather the bear is in a tree or bayed up on the ground so you need a reliable, and accurate pistol that has plenty of power, and doesnt weigh alot, you dont want to be toteing more weight than nessasary when chasing hounds up and down mountain ranges through thick brush. I used to carry a Super Blackhawk, a great gun but a little heavy, esspecially if you ever put your hands on one of these. So far I have found this pistol to be the best choice out there for that, I have two super Redhawks and a Super Blackhawk, but for packing arround go with the Smith. Its a little spendy, I paid about $1000, $950 before taxes, but you get what you pay for. My boss who is also a hound hunter, cheaped out and bought the 4" barrel Taurus Tracker, no comparison between the two, it doesnt shoot like the Smith, the Taurus only holds 5 rounds compared to 6 in the Smith, and is lighter than the Taurus, it weighs 25.1 oz. empty, compared to the Taurus that weighs 35 oz. empty, he is very diappointed with it after holding and shooting this one. Also the Taurus is made in Brazil, the Smith is made in USA, that means alot to me, I try to buy American if possible, our economy needs all the help it can get.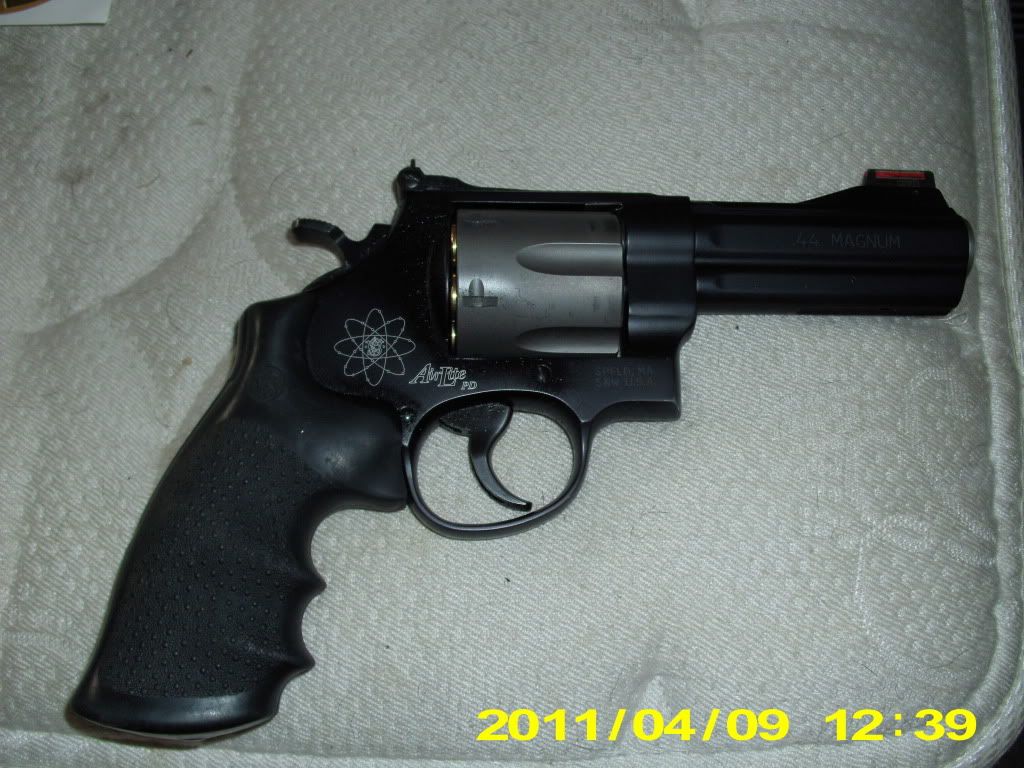 ---
Last edited by fritz1; 04-19-2011 at

05:40 AM

.
04-21-2011, 07:38 AM
---
My advise is to invest in a big can of counter assault bear spray first. Take your time and fire several different handguns and find one that a) doesn't give you the jumps from recoil,b) you can handle and feels good, that way you have confidence in it and your abilities, c) use the handgun as a last resort.
99.9% of people when suddenly confronted by a bear or a mountain lion will have enough adrenaline running through their bodies to fill a bath tub. Pretty hard to rapidly draw a handgun, get a good site picture and get off even 1 good round. The bear spray will give you the time you need to take a breath and calm down a bit.
That being said, i would recommend a pistol with a barrel length of at least 4". the shorter the barrel, the less acurate at longer distances it is. When you add barrel length, you add weight so you need to find the length/weight combo that you can live with. I would also recommend a shoulder rig for doing any hiking or back packing as a waist holster could be a bit cumbersome when you add in a waist strap for the pack, plus the bear spray on your hip.
Posting Rules
You may not post new threads
You may not post replies
You may not post attachments
You may not edit your posts
---
HTML code is Off
---