Which Gun accuracy 400 to 500 yds.
11-24-2010, 05:14 PM
Nontypical Buck
Join Date: Sep 2010
Posts: 1,834
---
With haveing shot over 50K rounds out of the various 6-7 rifles I have owned in .220 Swift, 22-250, 1 Cooper Arms in .223, not too mention what I shoot at work related situations, unless it was with my Accuracy International AWM in .338 Lapua Magnum, then you can put a 1 in front of those distances, I feel that I have a tad of knowledge of what they can and can not do.
With haveing loaded for all of these rifles and various other peoples weapons and have seen what these rounds are capable of, I don't feel it was a calculated shot, just a "HOLYS&*T, I hit it" shot!!! Especially with a 40grn V-Max which is and was intended to be shot at varmint size targets considering its thin jacket and light weight design.
Now if you were talking about a custom barrell with say, a 1-8" twist or 1-7" twist and was shooting 70-80grn projectiles, I could see that w/o question. My Ruger 77 MKII in 22-250 just turned in some .375" C/C 5-shot groups with some Berger 55grn VLD's that I could not see it happen with even in the hands of the right shooter. I have a Burris Signature Series 6x18x40mm on it and on my .220 Savage I have a Nightforce 4.5x20x50mm. I am not calling anyone anything, I just find it hard to see. How far did this deer travel after being hit and where was it hit?
11-25-2010, 08:37 AM
Nontypical Buck
Join Date: Nov 2005
Location: Mn.
Posts: 3,399
---
Was sighting in the deer rifles at 100yrds and had just put a Burris 6.4-20-50 scope on the 22-250 and decide to zero in at 200yrds after 5 50 yrd shots(100 yrd paper target is all i had)but after 6 shots and sun going down my last shot was only 1/4 inch left after only 5 adjustments,2 were touching at 1" high and 2 clicks down got me in.......This was done useing my Leadsled....I did go out the nxt day and its grouping the same 1/4" left at 200 yrds.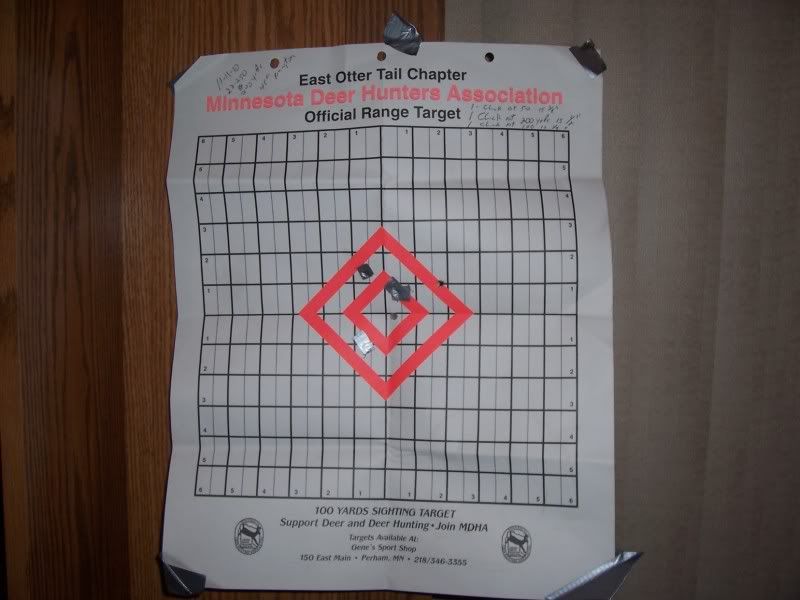 11-27-2010, 11:26 AM
Spike
Join Date: Nov 2010
Posts: 14
---
The deer that was shot at 410 yds.with the Ruger .220 swift ran about 50 yds.I was zero at 300 yds. and put the crosshairs right across his back knowning bullet would drop approx.8" and hit back of right shoulder bullet did not pass thru but insides was a mess.I use a vortex viper 6.5 x 20 x50mm . This bullet is leaving muzzle at 4100 fps, we do this all the time i do not understand why people have a hard time believing this ,if you know your gun and ballistics this is a no brainer.
11-27-2010, 11:56 AM
---
I don't want to get involved in this one, but if you truly don't understand why people are doubting...
Most folks would agree that hitting a deer at this range with a varmit rifle is fairly easy to do, but the choice of a varmit bullet is raising some eyebrows. There have been several wild claims (not saying your story is) recently and it probably makes some guys skeptical. A few young boys have entertained us lately with tales of heroic long distance shots and all around firearms expertise.
My take on your story is that I believe it, but think the use of a varmit bullet on big game is questionable at best.
11-27-2010, 03:02 PM
Nontypical Buck
Join Date: Aug 2005
Location: S.W. Pa.-- Heart in North Central Pa. mountains-
Posts: 2,600
---
Originally Posted by
Ridge Runner
reckon I've sent a few rounds down the long distance range, IMO, nobody has any business shooting at a deer with a factory production rifle, with a slow twist barrel, and a low SD, light for caliber thin jacketed varmint bullet at extended range. they start losing stabilization long before the heavy's do. I've pulled off headshots at over 600 yards on bedded deer, but I'm shooting a super accurate custom built fast twist rifle thats set up to do this. and a vld bullet. the last 3 shot group I shot with my 6.5 Gibbs measured .34" for 3 shots, at a distance of 752 yards.RR
........ Well, now. There it is. In print. It took RR to put it out there.... What most of us were quietly thinking all along....