**SPF** WTS - Ruger M77 Hawkeye 7mm-08 (less than 20 rounds)
04-23-2009, 12:18 PM
**SPF** WTS - Ruger M77 Hawkeye 7mm-08 (less than 20 rounds)
---
I really don't want to get rid of this gun, but I really want a groundhog gun that I can use at my camp in PA. I'd like to unload this Hawkeye to fund it. My AR-15 isn't legal to hunt with down there, and like a knucklehead......I sold my tack driver 10fp a few months ago.
This Ruger is flawless. I bought it for my soon to be wife last August after she passed her hunters safety course, sighted it in for her, and now she says she doesn't want to hunt. [:@]
The gun shoots great, and has the new trigger system. I've put a little less than a box of shells through it. It's only seen the range once. After sighting in, I shot three seperate groups that were 3/4" to 1.25" in size with 140gr Ballistic Silvertips, I'm sure with a better shooter and more glass, that it would do better. It's the only load I've tried in it. It has never seen the woods, as a matter of fact, tonight was the second time I've pulled it out of the case since I bought it. It is flawless, and could easily be passed off as brand new. This gun has a really nice chunk of wood on it as well, nicer in my opinion than the other Hawkeye's I've seen.
Gun will come with the factory rings, in the factory box, and with the factory gun lock. I'll also include the leather sling that has "Ruger" carved into it, along with a box of 140 grain Ballistic Silvertips.
The scope is available as a package with the gun, or you can purchase the gun seperately. Scope is a Leupold VX-I 2-7x33. It was bought brand new when I bought the gun and is flawless. It also has the $80 Leupold aluminum/magnetized scope caps on it.
If I'm selling outright with the scope............all shipped to your FFL for $625.
If I'm selling without the scope, you get the rings, in the original box, with a box of ammo, and the sling..........all shipped to your FFL for $500.
Currently these guns go for $550-$625 on gunbroker.com, and I've got another $350+ into this with the scope/caps/sling/shells. I think this is a great deal for someone on a darn near brand new gun.
Please use PM to establish order of interest........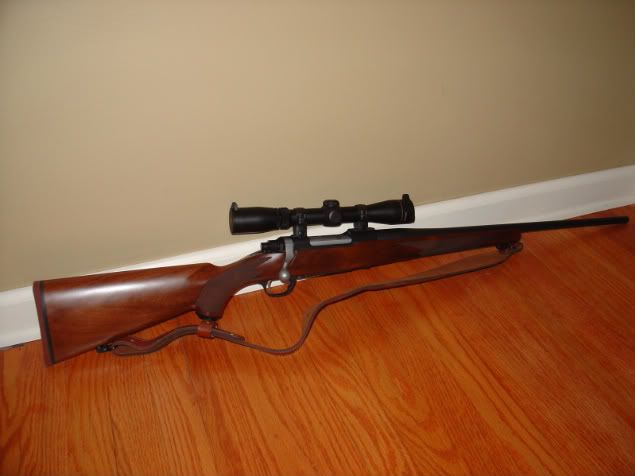 04-23-2009, 01:54 PM
Typical Buck
Join Date: Feb 2004
Location:
Posts: 809
RE: WTS - Ruger M77 Hawkeye 7mm-08 (less than 20 rounds)
---
Posting Rules
You may not post new threads
You may not post replies
You may not post attachments
You may not edit your posts
---
HTML code is Off
---