Marlin XS7 .308 Win Range Report - photo's
09-17-2010, 06:39 PM
Fork Horn
Join Date: Oct 2005
Location: NW Colorado
Posts: 199
Marlin XS7 .308 Win Range Report - photo's
---
So this week I bought a new Marlin XS7 308 Win. Mounted it with a 3-9x40 Ziess Conquest. Weaver Rings, and Base that was supplies with the gun. Took a good selection of ammo to try out. Didnt get as much as I would have liked, but enough to get started. It seemed to like the 150g alot better than the 180g load I had along. Although I only had one box of 180's. will have to try some more at different time.
My main purpose of this rifle is going to be a deer rifle. Have a 338 for elk and other large game so my focus was on the 150g's. I also wanted to find a load that would shoot well that wasn't the premium boxes of ammo. I will eventually get some dies and hand load some Barnes TSX for hunting but right now time and economy of scale was applying to this new gun setup. Time is running short these days, and was a decent selection of lead core bullets available to purchase locally.
Remington Core Lokt's 150g
Federal Power-Shok 150g
Winchester Power Point 150g
Winchester Power Point 180g
Winchester Power Max Bonded 150g
Several of these loads are going to be within or real close to 1MOA. 100 yards they all seemed to group pretty well except the 180g. Ran out of range time today to get it narrowed down to which I will use but all the 150's really showed some potential. I want to try and find a couple boxes of the Federal Fusion's to try out also but they were out of stock at local store.
The rifle handled very well. For 22" barrel I think this gun will carry real nice in the field. Not too heavy, and The trigger was amazing for a rifle this price. I lowered the trigger just a little. Says it come from factory 3-3.5#'s, it felt pretty good out of the box but I lowered it some. I don't have gauge to tell but I would guess it's 2.75-3# now. Very crisp with little travel. Makes me want to have the 338 worked over as a matter of fact. lol. I would not hesitate to recommend this rifle to a good friend or anyone else looking for a nicely price entry bolt action rifle with adjustable trigger. Not available it bunch of the new fashion calibers yet but many of the tried and true calibers that will be around for a long while to come.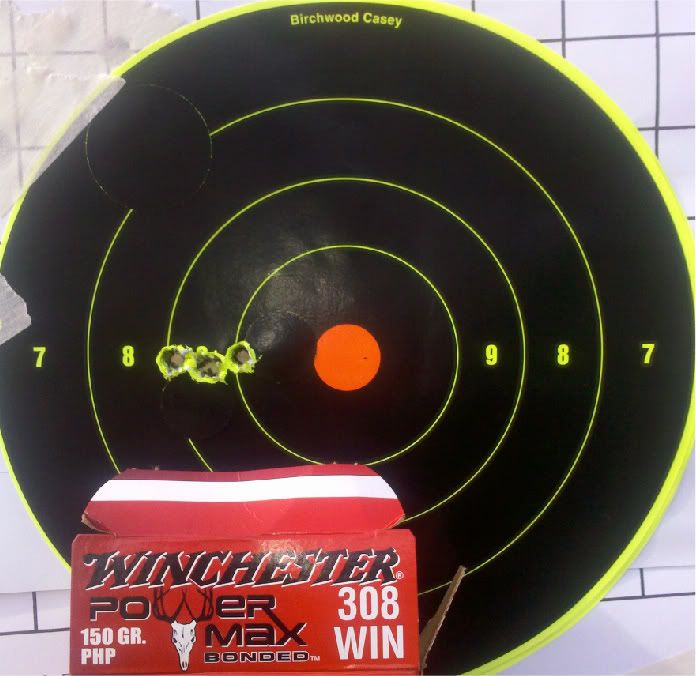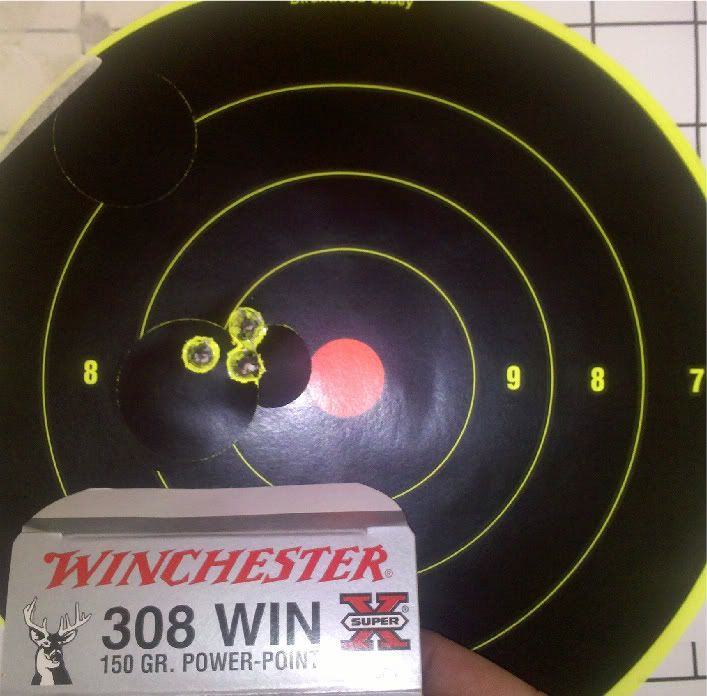 09-18-2010, 05:05 AM
Fork Horn
Join Date: Sep 2010
Location: Westchester County,NY
Posts: 222
---
You're a good shot my friend! Thanks for all the info. I am seriously considering the same rifle in a .308 or 30-06. More so the latter because it would need to serve as my "big critter" gun. I have a 30-30 Winchester 94 that I love to carry in the deer woods. Keep us posted on your further expolits.
09-18-2010, 05:46 AM
---
You cant go wrong with the XS7 in .308 I bought my back in october of last year and It will flat out shoot. Silver Wolf try the 180gr in the federal powershok(blue box or red box from walmart) of all the factory ammo I have shot thru mine it likes the federals the best and they are the cheapest. With the federal 150gr my rifle shot 3/4" at 100 the first day out. I have since put a boyds laminate thumbhole stock on mine and it is awesome. I would not hesitate to buy another one either.
09-21-2010, 08:15 AM
---
The Winchester PowerMax bullets are awesome. I used them last year on three deer and a hog from 16 yards to 200 yards, all the deer hit shoulders, all four bullets exited and all critters where DRT.
09-21-2010, 03:55 PM
Fork Horn
Join Date: Oct 2005
Location: NW Colorado
Posts: 199
09-21-2010, 03:56 PM
Fork Horn
Join Date: Oct 2005
Location: NW Colorado
Posts: 199
---
I liked it. Yes its plastic, but seemed pretty firm. Has checkering cut into it which makes it feel a lot better. The gun felt better in the hands than the others I when I was shopping for this one.
As someone else mentioned I think Boyd's makes a Thumbhole Stock which would be tempting for me, but I wanted this to be a utility rifle. I pay good money for wood stocks and I don't want to take them hunting all of a sudden.
09-21-2010, 08:49 PM
---