Winchester xp3 Bullets
12-10-2009, 09:32 PM
Spike
Join Date: Aug 2008
Posts: 16
Winchester xp3 Bullets
---
What are ya'll opinions on this bullet in 160 gr. for the 7mm rem. mag.? It's only made in 160 gr. I'm trying to find the best all around bullet for short and long range. (25-300 yrds.) Do you think this is too much bullet for whitetail sized game?
12-11-2009, 04:29 AM
Typical Buck
Join Date: Aug 2005
Posts: 679
---
tried the 150 gr. Winchester xp3 Bullets in my 300wsm .got more velocity but accuracy went away ..went back to my WINCHESTER SUPREME ACCUBOND 180 GR. ps . have shot bear,moose,caribou and deer with that bullet [accubond] and have no complaints they all dropped ..
12-11-2009, 05:10 PM
---
The "X" referred to is the Barnes X bullet, or in the current form, the Triple Shock X bullet (TSX for short). It's a wicked all copper bullet that expands fast into four sharp and nasty petals almost 2x the original diameter of the bullet, retains 97%+ of it's weight and penetrates better than just about any expanding bullet out there. They cost a lot, but the performance on game is excellent, and I've always got good to excellent accuracy from the TSX too.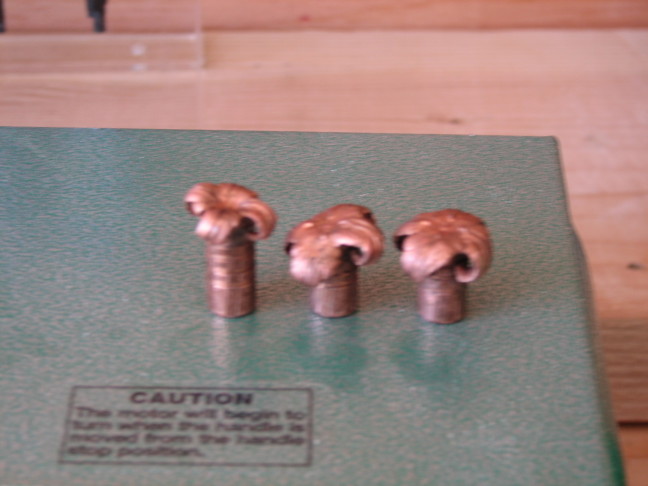 I found this picture of three 270 grain TSX bullets (375 H&H) recovered from an 1800lb eland in Africa. The left bullet was at 200 yards, middle at 40 yards and the right was to guarantee it was down and dead at 8 feet according to the story associated with the pic. All retained greater than 269 grains (98.8% weight retention).
Mike
12-11-2009, 05:40 PM
12-13-2009, 05:46 AM
---
depends if you like putting pencil holes in and out on deer.
For the 7 mag and great big holes.
140 gr hornady BTSP's or SST's
12-13-2009, 05:32 PM
Spike
Join Date: Aug 2008
Posts: 16