Early season harvest
10-05-2012, 12:18 AM
Early season harvest
---
Was out enjoying the weather on Tuesday in SE Ohio: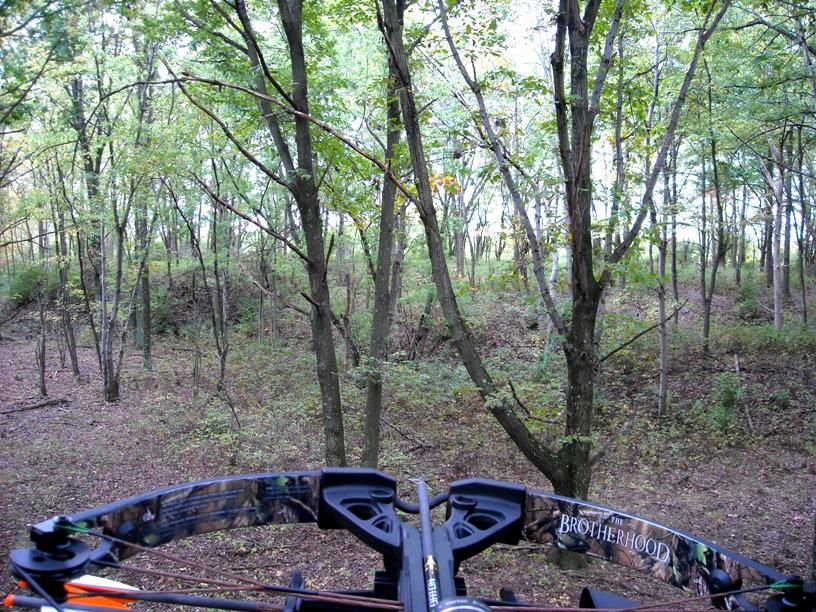 Less than 30 min after I got out this youngster came along:
After closer examination, I decided to pass. Was a pretty young and small deer. (not to mention dumb)
So 45 minutes later a buck appears and happens to come to within 15 yards of my stand. Not a huge buck, but since I only have 4 - 5 days of hunting a year, I decide to go for it:
I knew that I hit it good, it stumbled 50 yards and fell over within sight. That was about the fastest kill I've ever gotten from my x-bow. The deer was down within 10 seconds of the hit. I was using a Horton Brotherhood with 100 grain Slick Trick Magnums. The arrow cut the aorta and exited behind the front shoulder. No blood trail necessary, but there was a blood trail about as big as I've ever seen.
On a side note, this is the first year I've hunted with the Horton Brotherhood. I have an older Horton that I've used for many years, though. The Brotherhood is very accurate, fast and hard-hitting. Only criticism is that it is pretty heavy and fairly loud. But it got the job done!
Posting Rules
You may not post new threads
You may not post replies
You may not post attachments
You may not edit your posts
---
HTML code is Off
---