Rage and crossbows.
09-07-2010, 07:47 PM
Rage and crossbows.
---
This is not a war thread about broad heads.
I have used Rage two blades for 4 years now with no issues and have killed nine archery deer with them.
I still use my compound bow, but last season I bought a 2009 Parker Cyclone crossbow.
I did kill a deer with it last year and I was using a Rage two blade broad head.
With the speed that the Cyclone is hitting ( 350 fps ) I worried about the blades opening in flight.
What I did is take a thin slice of 1/2" heat shrink tubing and put it on the closed blunt end of the blades.
This gave it a little extra tension in the closed position, but still easily opens on impact.
I have shot the broad head this way and it is flying just like my field points, but is opening on impact upon hitting my target bag.
So between the Rages O-ring and the heat shrink tubing, I don't think there is anyway they are going to open in flight, yet it is small and soft enough to pop right off at the target.
Just thought I would share it with you guys.
Here are some pictures.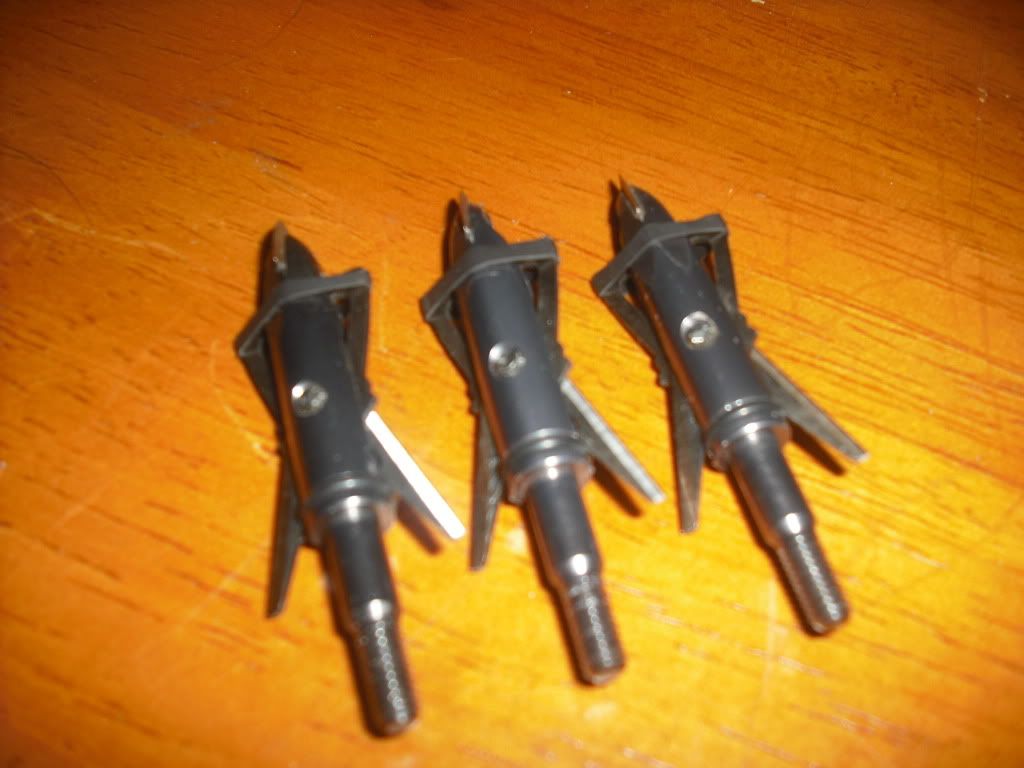 09-15-2010, 06:59 PM
Spike
Join Date: Jun 2008
Location: Near Greenville
Posts: 39
---
I've shot the rage out of 2 crossbows,,the titan,,and my new tac 10,,which shoots 350,,I've killed several deer,,and have shot the rage well over 100 times and have NEVER had one open in flight,,i think its guys either not slidding the tab behind the rubber ring,,or they make a bad shot and need to blame it on something,,or maybe its a rumor started by the competion
09-15-2010, 07:06 PM
---
I started this thread and I never had a Rage open early and I just did the heat shrink just as a security measure.
I took a shot Monday.
Did not open in flight, but did open on impact.
Heat shrink did not affect the broadhead at all.
Here is the entrance shot.
10-06-2010, 04:01 PM
Spike
Join Date: Oct 2010
Location: Belding, MI
Posts: 46
---
I have a Parker Buckbuster 175 and just started using the 2 blade Rage this year. I have killed two does so far and haven't had any problems with the blades opening up in flight (that i know of anyway). The holes they make are just amazing!
Posting Rules
You may not post new threads
You may not post replies
You may not post attachments
You may not edit your posts
---
HTML code is Off
---