Nobody warned me they fight back!!
03-21-2007, 01:33 PM
Typical Buck
Join Date: Dec 2006
Location: Canning, Ontario. Canada
Posts: 974
Nobody warned me they fight back!!
---
Went into the bush today to try out my new howler and squeaker.. Kinda wish I had brought something bigger than a knife now.. Little bastard took a chunk out of me leg..I have a better grasp on the word "predator" now..
I kicked his miserable butt, however, I still need stitches and new camo pants..

03-21-2007, 02:05 PM
RE: Nobody warned me they fight back!!
---
Dang David, the Howler and Squeaker work that good?
Man, thank goodness it didn't go for you know what!
Were you making the sound of a female?
That's like putting on Deer Scent!
Well, how bad is your leg?
03-21-2007, 04:07 PM
Join Date: Jan 2007
Location:
Posts: 246
RE: Nobody warned me they fight back!!
---
well, first off, i hope your alright!!!.....second i guess u found out how make the right sounds come out of your call.....third, dont go in the woods without a side arm.....and a knife>>>o 'hell nahhhhhhhhh
03-21-2007, 05:55 PM
Typical Buck
Join Date: Dec 2006
Location: Canning, Ontario. Canada
Posts: 974
RE: Nobody warned me they fight back!!
---
I put on my best camo, (was my best camo) and headed into the woods where I have been seeing a lot of tracks.. I backed up against a tree and pulled some brush against me, it would have been a useless position if I had my crossbow, but since I left it at home I figured it was a good spot.
I have been reading all the sites you guys sent to me, it seems pretty rare that these guys get animals closer than a hundred yards or so, so I felt pretty safe.. I hunched down and let the howler go for a bit, still think it sounds like a drunk duck but the coyotes seem to think it sounded pretty darn good. I seen the first one come up over the river bank, and my heart went crazy.. it was the closest I have been to one of these things since I decided to hunt them, probably 75 yards or so right in front of me, then gone again.
I was far from stealthy when I stuck the howler in my pocket and popped the squeaker in my mouth, I was concentrating more on what sound I was making than what was happening around me, that's when I seen the nasty looking thing about 10 yards in front of me, head cocked to one side and taking slow steps towards me, he was alone I think. All I could think about is how easy of a shot it would have been if I actually had something to shoot it with, and by the time that thought went through my head it was 5 or 6 feet in front of me, I was sure it was looking me straight in the eye. My excitement turned to concern when I realized it wasn't stopping, just walking right to me.. I of course was still tooting away on my squeaker, almost laughing into it in nervousness. By now I knew it was coming for that sound regardless of what I did, so I decided I would grab it by the scruff if it came closer, and closer it came, lunged at the squeaker that was still making noise as I tried to breath through it.
It was in the air when I grabbed it, Damn thingpounced like a cat, I missed his scruff with both hands, one hand had his cheek and the other the top of it's head by the ear.. He was pretty pissed, and I could smell his rotten breath andall I remember thinking is how whitethe teeth were for an ugly animal.It was mere seconds and I had it pinned down under my knee while holding its head to the ground. I had it in a position where it couldn't do any damage to me and I looked around to see if he had any friends nearby, all I could think is why I hadn't read anything like this, and what else could possibly happen. I mumbled something through my teeth about not being a mouse with lots of colorful words included. I took my hand off it's cheek to grab my knife and that's when he turned and got my leg, just above my ankle. It happened pretty quick, didn't feel a thing. About 10 seconds later, neither did he. I learned a few things today, that is for sure.
So, my buyers remorse for buying the cheapest yote call Bass Pro had to offer is now gone, I am a firm believer now.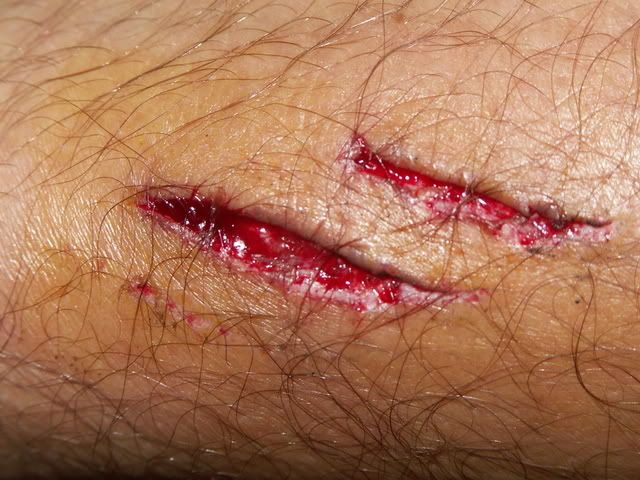 03-21-2007, 06:23 PM
Typical Buck
Join Date: Feb 2003
Location: Ontario Canada
Posts: 604
RE: Nobody warned me they fight back!!
---
First of all .................. Please, anyone, alays remember that these animals are wild and are never to be trusted. They will always do what you least expect them to do, they will always be unpredictable.

Pydpiper, I understand it all happened so fast, but are you saying that a yote bit you, that looks more like a clawing then a bite and I hope that it is. If that is a bite, you better get to a hospital and start your medical treatment, [b] you will need rabies vaccination as well as tetnis shots at the minimum. If it was just the claws, you will still need the tetnis shot.

Please people, never let wild animals get that close to you, you can never trust them.

03-21-2007, 06:32 PM
RE: Nobody warned me they fight back!!
---
That's no claw mark, that is a raking shot from it's canines! LOL! You silly bugger! See what happens when you don't have a gun. You have your FAC now, I'll lend you my Ithaca Feather Light 12 gauge yodie medicine. Fill it with tripple Ts and you got some magic! If you want to make it interesting you can use my SP10. BTW, nice tan!

03-21-2007, 06:35 PM
Nontypical Buck
Join Date: Feb 2006
Location: arkansas
Posts: 3,147
RE: Nobody warned me they fight back!!
---
Holy Cow!! Did I understand you to say you did dispatch the yote? That would be a good thing if those are bite marks as I believe they can run rabies tests if you have the head. Seem to recall that and the fact w/o you have to take a series of shots to be sure.

You do know that when Reb was sticking wild hogs w/ a knife, dogs were holding/distracting the hog, don't you?? lol. You've taken that sport to a new high!! hurry up and heal and get the Ecet out there, a stand would be nice, lol.