Pics of your setup
09-24-2004, 10:15 PM
Pics of your setup
---
This is my PSE Fire-Flite 33 AC bow. It has a 27" draw and is set at 60 lbs.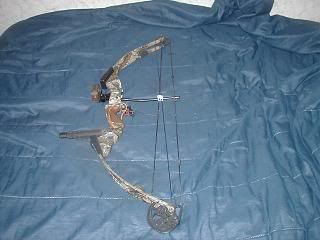 This is a close up. I am using your stabilizer buckeye.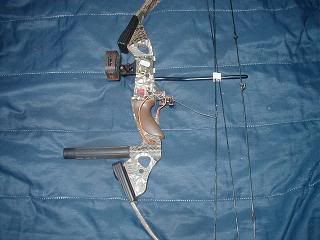 This is my arrow. ACLakey gave them to me. They are sweet shooters. They are the Easton A/C/C 3-39 arrows with 100 grain 3 blade Muzzy's.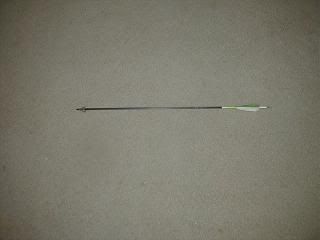 What does your setup look like?
09-24-2004, 11:04 PM
RE: Pics of your setup
---
ORIGINAL: extreme1
Thanx shadow------this pic was taken not long after I bought it.I did move the vibrablocks out and man what a difference.Thank you for noticing,I was waiting for a reply
Hey no problem! Anything to help you Bowtechnecks out!
09-25-2004, 02:09 AM
Typical Buck
Join Date: Feb 2003
Location: Grand Forks BC Canada
Posts: 760
RE: Pics of your setup
---
Okey doke, here's mine. It's hanging on the barn wall but I've posted it horizontal, since it fits better. Hope it's not too big a file.
Hoyt Razortec, 59 lb, Trophy Ridge sight, Simms multi stage stabilizer, Trap Door fallaway rest. Not shown are the arrows I use for hunting - Beman ICS 400 with Muzzy 3 blade 100 gr.
Nice bows up above, guys.
Thanks PAHUNTER21.
09-25-2004, 04:01 AM
Nontypical Buck
Join Date: Jun 2004
Location: A flat lander lost in the mountains of Northern,AZ
Posts: 3,171
RE: Pics of your setup
---
well was gonna post my rig tonite, but the woman left the digi cam at work demmit!!!
I have a 2003 Browning eclipse SL, you all can see it tommorow