Pics of your setup
09-25-2004, 09:33 PM
Nontypical Buck
Join Date: Jun 2004
Location: A flat lander lost in the mountains of Northern,AZ
Posts: 3,171
RE: Pics of your setup
---
Heres my rig:
2003 Browning Eclipse SL
31 inch 60 lbs draw
HHA Spike 3 pin fiber optic sight
NAP Quik tune 800 rest
X-ring Hydraulic stablizer
Limb savers
whisker style string silencers
Rope style D-loop
Saunders kisser button
Shurz-a-peep sight
My Arrows are Browning Ballistic plus Easton XX75 2315 shafts cut at 31 inch, and Rocket Hammerhead broadheads. I got a killer deal on these arrows (10 dozen for 60 dollars) otherwise I would probably be using carbons.
09-27-2004, 07:11 AM
RE: Pics of your setup
---
Here's my setup: '03 Bowtech Ex. VFT 27.5" draw maxed at ~62.5#, Trophy Ridge Drop Zone rest, Tru-Glo Glo-Brite single pin sight, Simms Modular stabilizer, Bohning Lynx 4 arrow quiver, Blackhawk Vapor Pro Series 4000 arrows tipped with 100 grain Muzzy 3-blade broadheads. Not shown, Scott Mongoose release.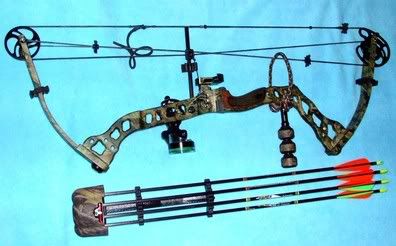 09-27-2004, 03:59 PM
RE: Pics of your setup
---
heres my set up: Mathews LX, shock blocker 500 stabilizer, wrist sling, keller pendulum sight, trophy ridge shakey hunter rest, true peep peepsight, limb savers, string leeches, blackhawk vapor arrows, muzzy broadheads.