Hunting from the ground with no blind!!
01-03-2010, 06:22 AM
---
This is the only way I hunt Turkeys. No pop up anyway!!
Right there with ya, Dink. I started doing this about mid-way through my '09 season. I'm gonna take one that way.....or I'm not gonna take one. I'm fine with that.
I've hunted deer off the ground with a stickbow (using a standing tree and a root ball for cover) and "almost" got a shot. I've hunted using other natural cover, as well.....with nothing to show for it............................................YET.
That's an ongoing goal of mine, though. And I'll continue to mix in ground hunts with my tree jaunts. I hope to make it happen in 2010, also. I can also see an entire season of ground hunting in my future..........no blind.
I've yet to equal the excitement of being 14yds from a whitetail with nothing between me and her.....on her level.
01-03-2010, 06:55 AM
---
When I first started deer hunting in the early 70's I hunted from the ground exclusivly. I've probably killed about 10 deer from the ground. Six of them with a bow. It is VERY exciting! But, I've since learned that hunting from a tree is far more productive because it offers a much better view and you'll have much less chance of being detected.
01-03-2010, 06:58 AM
---
that's the way i usually hunt - the rush is sooo intense at seeing the deer come so close at eye level, even when i get busted i am not disappointed. plus it's alot more comfortable for me and i don't have to worry about my weapon of choice falling from a treestand(which has happened to me twice).
01-03-2010, 07:43 AM
Fork Horn
Join Date: Mar 2009
Posts: 264
I do both
---
Blind hunting is fun and rewarding. Far tougher for deer than turkeys. Never had a monster deer in frnt of my DB Blind. I do think natural could work better.
Few pictures from blind hunting. I just have a ball getting this close to deer regardless the size. I have used cheapy blinds as in first picture. And I use the DB which is so comfortable.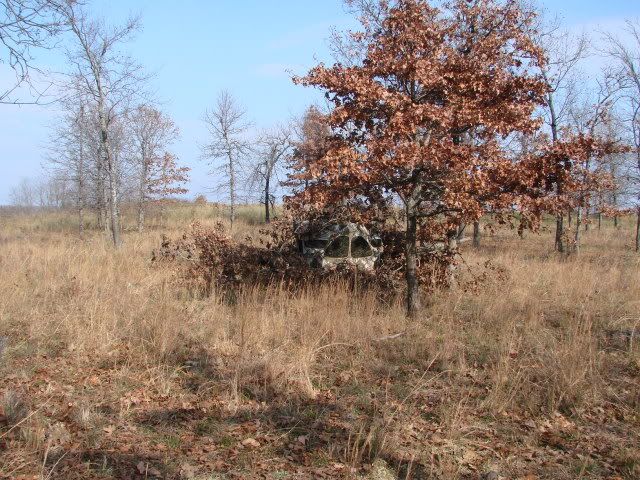 01-03-2010, 07:52 AM
---
early in my bowhunting career, i hunkered down within a blowdown and took a young doe only 11 yards away, eye level...i could hear her breathing...darn right it was intense...you got the rush now...hope to hear a good story from you in the future
01-03-2010, 07:59 AM
Fork Horn
Join Date: Oct 2008
Location: Polk City, FL
Posts: 232
---
Until last Friday (1-1-10) hunting from the ground was all I've done. I have a blind set up in the woods, but I've used natural cover way more. Of course being a newbie, I never had a sighting, much less a shot! I figure it's one more tactic in the arsenal. I've only used a stand twice so far, but I think it will be way more productive for me. However, there is something about stalking and hiding in the bushes that is just fun for me.
01-03-2010, 08:18 AM
Fork Horn
Join Date: Mar 2009
Posts: 264
I can top that
---
Once was lying in prone position on the ground in leafy wear. Had a deer aproach from my backside. I couldnt move. Deer stepped on my leg. Never knew I was there. Buddy was sitting six yards away and witnessed the whole thing. Six point buck with three does. After he left my buddy said I thought he was going to mount you.
I said I was hoping you would let that happen. One of the most amazing days ever in the woods. Amazing how close one can get in leafy wear.
DB
01-03-2010, 09:08 AM
---
DB,
I agree Blind Hunting is Fun and has it's place, although I prefer hunting a Treestand for Deer when feasible.

I have killed Turkeys with a Bow from the ground, but for me tags are too hard to draw and hunting time is too short I like the advantage a Blind gives me. It is strange to me that animals that depend so much on their eyesight seem to disregard a blind, Antelope, Turkeys, Mule Deer.

Whitetails are much, much more wary when it comes to ground blinds.

Dan
01-03-2010, 09:28 AM
Nontypical Buck
Join Date: Aug 2007
Location: York,Pa
Posts: 2,645
---
Yesterday it was like 20 degrees and 35mph winds so rob and I decided to try a ground hunt! This was the begining of something exciting for me! When the 1st two deer walked to us after being on the ground for 15 minutes I was pumped up! It was a totally different feeling then being in a tree! This was real us the deer eye to eye awsome!!! I think I am hooked! Rob probably got the ****s of me whispering to him how awsome it was!