Decoy question
09-26-2009, 08:31 AM
Decoy question
---
I am thinking of buying a decoy for this years hunt and was wondering if anyone has any tips as to what decoy seems to be the most realistic ( I am looking at Scarface) also any tips on the use of a decoy.

I also ponder the question as to what happens if it gets challenged, then knocked down.....does one climb out the the tree and stand it back up?

Thanks.
09-26-2009, 01:42 PM
---
i to have wondered about decoyplacement. i have bedded doe and montana decoy buck. My plan is to place doe about 20 yards way with buck off to side facing her but with spot for other buck to approach from front. that would hopefully place buck approaching in a good position for a shot. any advice in better placement would be appreciated not sure if this set up is good or not have never used both decoys at the same time.
09-26-2009, 05:06 PM
---
I use the flat one in the box ,forget the name but i cut the horns off and used it as a doe and i tell you ill never forget this and a witness there as well. Last dec we went out for our last hunt and put them out 20 yards behind me on a trail that deer use so they see the decoys and not focus on me, well, wanst 15 minutes and i smoked a a little buck with my crossbow at less than 10 yards because all he could do was look at the doe,,,,,,,,,,,,,,,,,,,,,,,,,,,,well he ran 30 yards and expired, then half hour into our hunt here comes 2 more bucks just beating the crap out of each other and well the one lost and takes off towards me and sees my decoy and not me again stops, stomps once and rams it, so im loaded already and try to shoot him because he just beat up my crossbread doe lol and walks off, BUT not far enuff to get an arrow stuck in from him my buddy hunting just 50 yards from me. I believe in these decoys. But i wish i got the feeding decoys instead of the one looking at something. I hope this helps.
09-26-2009, 06:24 PM
---
I bought the Boss. I don't think there's a more realistic one made.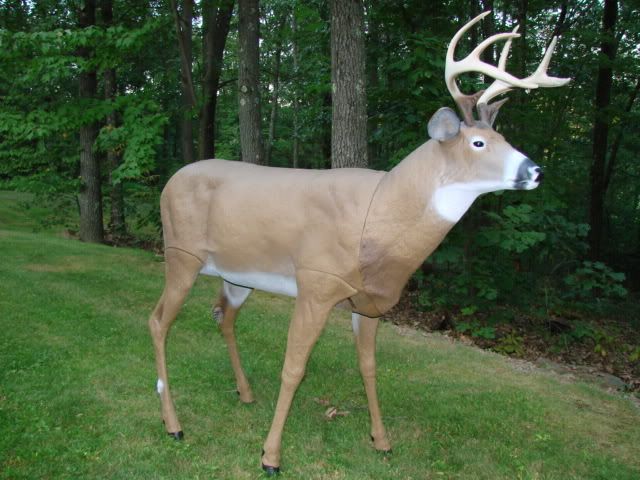 I only used it a couple times. A six point walked by it unalarmed. 3 Coyotes came by, 2 of the 3 bolted. I almost got a shot on the third before he moved off and,
here's a video of buddy the button buck vs Boss.
Video, Click Me!
Posting Rules
You may not post new threads
You may not post replies
You may not post attachments
You may not edit your posts
---
HTML code is Off
---