PARTNER ARROWED LATE SEASON BEAR
06-24-2009, 01:43 PM
PARTNER ARROWED LATE SEASON BEAR
---
LONG TIME HUNTING PARTNER ARROWED HIS 4 TH BLACK BEAR LAST NIGHT, FIRST WITH COMPOUND. GOLDEN EAGLE COMPOUND , MUZZY BROADHEADS
ONE SHOT DEAD IN ABOUT A MINUTE 40 YARDS AWAY . OTHER BEAR TOOK A BITE AT IT BEFORE WE GOT THERE. LOUD LONG ERRIE DEATH MOAN
IN TRAIL CAM SECTION A FEW OF PHOTOS FROM THE BAIT SITE 500+ ON CUDDEBACK IN 3 WEEKS.
06-24-2009, 02:28 PM
RE: PARTNER ARROWED LATE SEASON BEAR
---
thanx
dogboy- partner is getting old and slipping his first bear that was with recurve only went 13 paces.
btw he is 18 years my junior and i don't think i have had under 40 yards.
one of ourfriends beat his 13 paces with 10 if you don't count distance up and down a tree. he thinks that disatnce should count. but it is great when they don't travel far and you hear the death moan quickly. especially with big brown bears in the area.
06-25-2009, 08:13 AM
RE: PARTNER ARROWED LATE SEASON BEAR
---
temp- was 47 when we went out probably mid 50's (near midnight) when pix was taken. chilly during 6 mile jet boat ride. he has hooded sweat shirt under the jacket.
moved bear to lake for pictures and to gut ( get away from mosquitoes and other bears , esp. 9 foot + brown bears, and to get off river before it was too dark.
BETTER PICTURE OF THE BEAR
PICTURE OF THE TWO BEARS BEFORE RAY SHOT THE ONE AT THE BARREL
NOTICE HOW THE OTHER ONE IS RUBBED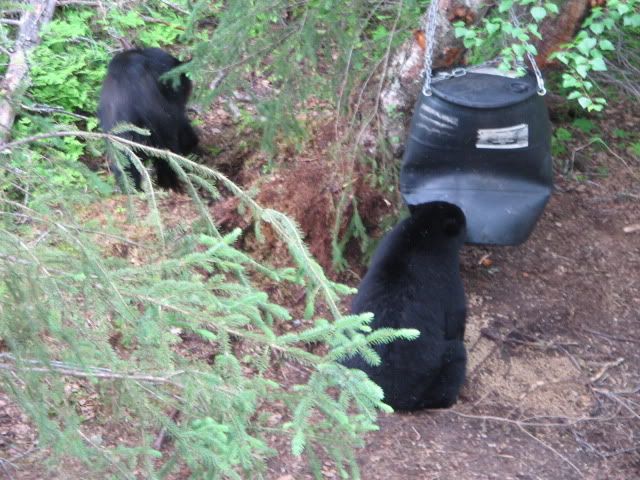 06-25-2009, 06:39 PM
RE: PARTNER ARROWED LATE SEASON BEAR
---
oh yea 50-60 degree weather is great , you can keep the 90's
went in today and dismantled the bait site. had few pictures 2 hrs before i was there there was a very nice boar visiting , maybe i should have planned to hunt this w/e?????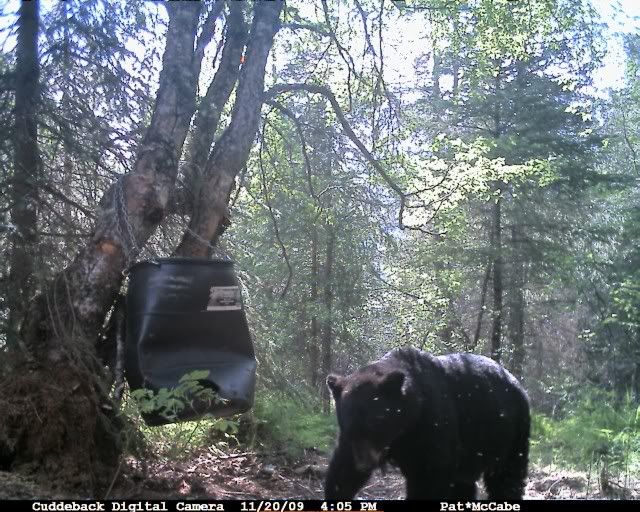 CHECK OUT ALL THE MOSQUITOES