Thinking aboout switching to the RAGE 2 Blade
01-29-2009, 01:25 PM
RE: Thinking aboout switching to the RAGE 2 Blade
---
I am a fan of the Rage 2 head and when I was at the ATA show it seems they fixed the issue of the blades not staying locked in.
I was shaking the arrow pretty good and they did not come out. This past season it seemed to be a big pain in my butt and
had to use a dentists rubberband. I did hear after the fact that one opened up on Randy Ulmer during competition.
Now also this year I am going to be trying out the Trophy Ridge meatseeker (Formally undertaker) 2 blade that has a
2" cutting diameter. When closed this baby is just like bullet practice tip and should fly pretty dang good. I will let you all
know how it does. Just to add that puppy was sharp out of the package.
T
01-29-2009, 03:42 PM
Senior Member
Join Date: Oct 2007
Location: West MI
Posts: 408
RE: Thinking aboout switching to the RAGE 2 Blade
---
ORIGINAL: Big Stubby

Rage get the job done too, but the thing I hear about them is that after 1 kill you have to replace the blades.
Besides the 4 deer I have killed with them, I have witnessed 9 other killed with a Rage 2 blade. The broadheads showed no damage and none of them required the blades to be replaced, only sharpened. I'm not saying the broadheads don't suffer damage sometimes, but I believe it is not the norm to have to replace them.
I also didn't have any problems keeping them closed and I didn't use any extra rubber bands. Maybe myself and friends who use them got lucky and bought Rage heads that aren't experiencing any problems.
I'm not a fan boy, just enjoy trying different things. I may try the slick tricks next season too.
01-30-2009, 08:00 PM
RE: Thinking aboout switching to the RAGE 2 Blade
---
The reason why the blades open is because you are pushing them down into your quiver too hard. You would have the same problem with the ones above. Keep a nice tight oring in good condition and don't force down into your quiver and you won't have a problem. As for the blades, don't shoot them into rocks and you won't have to sharpen them. I have muzzy BHs that are bent and dull, not because of BH but because I shot at some small game and the force pushed them deep into the soil. I'll stop now because I am sounding like i am trying the sell the product, but in reality, I am amazed with such a simple and awesome design. Good luck and hope that you never have any issues with any BHs.
01-30-2009, 08:15 PM
RE: Thinking aboout switching to the RAGE 2 Blade
---
ORIGINAL: MOhunter46
ORIGINAL: sgriffn

if you are not set on rage, go to the grim reaper web site and check out the videos they have on all broadheads. they show the grim reaper shooting through a steel drum and not damaging the head, but the rage gets destroyed as well as many others. Just check it out, I think they are both good heads.
Everytime i see that video it cracks me up. When i start hunting steel drums, ill start using the grim reaper
That's what I thought when I saw that video too. I have had great success with my Rage 3-blades.
01-31-2009, 01:59 AM
Fork Horn
Join Date: Mar 2003
Location: Central, PA
Posts: 251
RE: Thinking aboout switching to the RAGE 2 Blade
---
I switched to the Rage 2 bladers this past season from muzzys and theres no way I would go back. I killed 4 deer with them, 3 with the same head and 1 with another. I did ruin the head I only shot the one deer with because I shot through her but I didn't shoot through the rocks on the other side.
01-31-2009, 02:59 AM
Typical Buck
Join Date: May 2007
Location: South Carolina
Posts: 957
RE: Thinking aboout switching to the RAGE 2 Blade
---
I went 3 for 3 this year with the Rage 2 blade. Only one of the three didn't fall within 50yds. The one that didn't was because of a bad shot resulting from the deer being down hill and deciding to take a step just as I released the arrow so it hit high and too far back. However, I hit the artery and blood gushed 4ft up in the trees as the deer ran off. He bled completely out. The only thing I can compare the blood trails to is taking an oil plug out of a car andthen driving it.It's a steady flow of blood, not a drop here and there. Here are a few pics.
Doe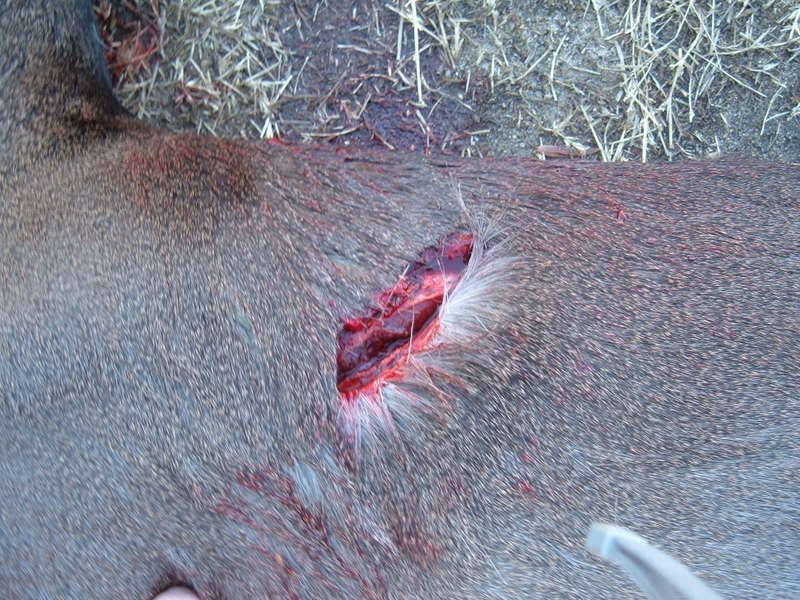 buck 1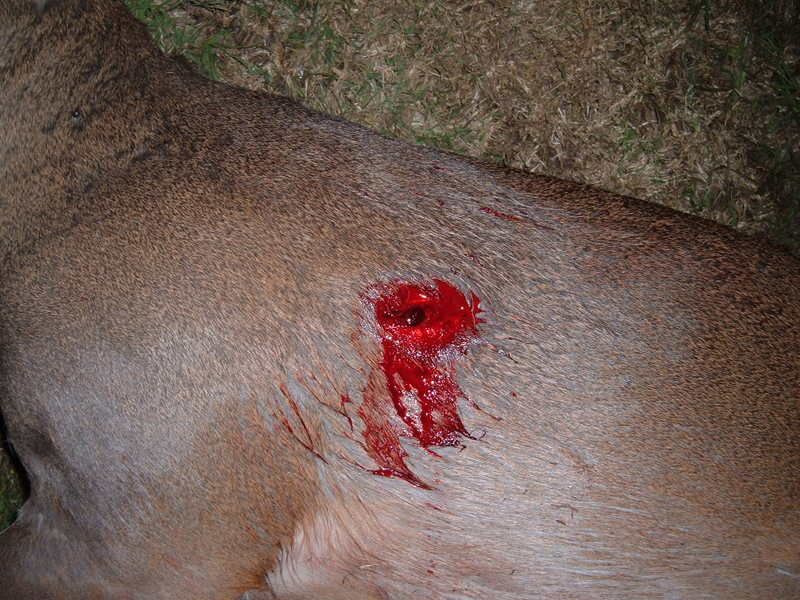 buck 2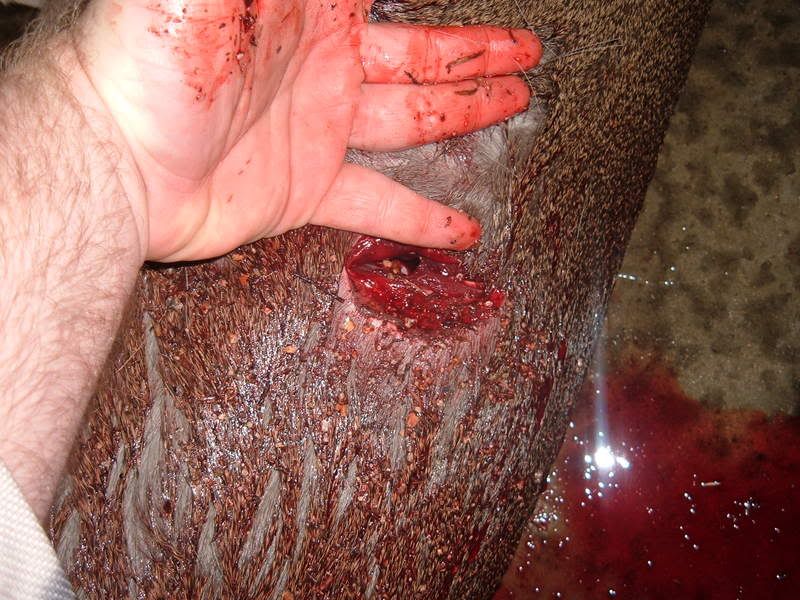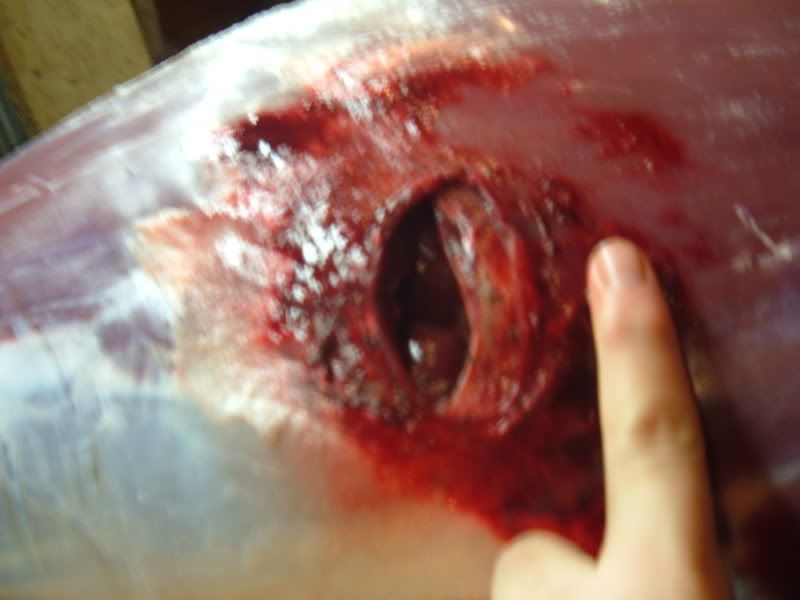 01-31-2009, 08:02 AM
RE: Thinking aboout switching to the RAGE 2 Blade
---
i was considering rages but then i thought: "i havent even gotten a bow deer yet and my broadheads seem to be fine, so do i really need to spend 30 bucks on rages?" my opinion is if your old heads work fine, keep with them. mechanicals just are too unreliable IMO
Thread
Thread Starter
Forum
Replies
Last Post
Posting Rules
You may not post new threads
You may not post replies
You may not post attachments
You may not edit your posts
---
HTML code is Off
---