Pics and Stories of Your First Bowkills
09-28-2007, 06:32 AM
Pics and Stories of Your First Bowkills
---
I thought it would be cool to see everyones first bowkills and hear the stories behind them.
This doe was my first bowkill. After a tough first season of bowhunting I shot a doe on the first day and we couldnt find her after looking for 9 hours. Then later on in the season I shoot at a buck and miss....It was a bad first season. My luck changed this year when I got this nice doe. She came into the field and was following a cat. The cat lead her right under my stand and she stood with her butt facing me for about 15 minutes. She finally turned broadside and I put my pin on her and let the arrow fly. I took out her liver and lungs with a slighty quartering away shot, and she only ran about 50 yards and fell.
09-28-2007, 06:46 AM
RE: Pics and Stories of Your First Bowkills
---
Nice doe!

My first bowkill was on October 17, 1977, a young 8 pointer. I was in a homemade treestand about 8 ft. high on the edge of a cornfield. I was watching a trail leading out to the field and a scrapeline about 15 yards into the woods, when the buck appeared about 8 AM. Shot him with my first compound bow.....a PSE Proficientcy. 60 lbs. using a Satellite broadhead. Man was I excited, but soon realized my season was over. Back then we were only allowed 1 permit per year and the deer population was not as big as it is now.
09-28-2007, 07:00 AM
Join Date: Oct 2006
Location:
Posts: 85
RE: Pics and Stories of Your First Bowkills
---
Very nice!! Mine was last year. After shooting at my 1st deer and missing, it was great to finally get mine about a week later. It was a bad hit (he jumped the shot) on a button buck but, I he only ran about 50 yards. I hit him in the back hip and hit the artary. Got lucky. Anyway nice to hear you connected and may there be many more in your future.
09-28-2007, 07:55 AM
Nontypical Buck
Join Date: Feb 2003
Location: Isle, MN
Posts: 1,469
RE: Pics and Stories of Your First Bowkills
---
Mine was 10 years ago. button buck at about 7 am on a hot morning (mid 70's). I had an interview for the job of my dreams at 10 am. I barely had time to get to the interview. I didn't get the job and to this day blame it on shooting that deer. Gotta pass the blame somewhere.
09-28-2007, 08:12 AM
RE: Pics and Stories of Your First Bowkills
---
My first bowkill was last year on an early November day. It was a decent 4x3. I had a doe decoy positioned about 20yrd from my stand out in a picked field, i was doing some rattling when he came charging out of the timber on the other side of the field. Once he saw my doe decoy he put the brakes on and slowly began to circle around her to get downwind. He went into another grove of trees to my right and I had thought I lost him but then he suddenly appeared 10yd away right below my stand. He gave me the perfect broadside shot. I settled my pin on him and let the arrow fly. He honestly didnt go more than 10ft. It was amazing!! I climbed down and took no more than ten steps and there he was. To this day I am still amazed at how quickly he expired, im not lying whensay he was that close to my stand.
09-28-2007, 08:30 AM
RE: Pics and Stories of Your First Bowkills
---
Mine was in 2005 2nd time ever bowhunting. I had a friend that told me I could hunt his 35 acres until I arrived that morning on Oct 22, 2005. I saw a truck with 4 guys in it with muzzleloaders and my heart sank. It was the first day of Muzz season but no one else was supposed to be on the land. Apparently the land had just sold that led to my friend's land and it was the only access to my spot. I talked to the guys and there were already hunters in position so I told them no problem I just need a ridge or somewhere I can hunt facing west because of the wind. He told me about a trail on the river bottom off a rock cliff in this guys back yard. By now it was just starting to get light and I wasn't in a spot yet. So me and my neighbors boy who was 13 at the time walked to the only opening we could find between the tops of the trees on this ridge and just sat down to be quiet because the sun was coming up and we didn't want to spook anything. When it became light I looked down and saw a small trail by the rock cliff and one small rub. I let things settle down and then about 8:20a I started trying different calls. At 8:25a I tried the doe in estrus call since I knew the pre-rut was just starting. I heard something to my left and saw brown and I thought it was a squirrel in the tree because I had to look through the trees to see the ground. Next thing I know I see antlers. I could believe it. He walked right along the edge of that cliff straight to me. I was sitting in a fold out chair and started to draw as he went behind the tree next to me about to come into the clearing below me. I tried to put my pin on him but it was about 2 inches above him and I couldn't get it down. I looked down and my other arrow was still in the quiver on my bow and it was hitting the rock I was sitting on. I scraped it to get the bow pointing straight down and he heard it and stopped perfectly broadside. I pointed at the shoulder and hit my thumb release. I didn't even think I hit him until I saw the fletching sticking out as he ran off. I was shaking so hard, LOL. It was a miracle. You never know how a hunt is going to come together. He was a 1.5 year old 6 pt. He took 1 final leap off a rock towards the river and broke one side of his rack off. I never found it in the thick brush. I look back now and it was also a miracle that I found him because I shot him straight down into the shoulder muscle. It took and hour and a half of looking and prayer to find him. What a memory!
Here are a couple of pics of me and my neighbor Brian with the buck.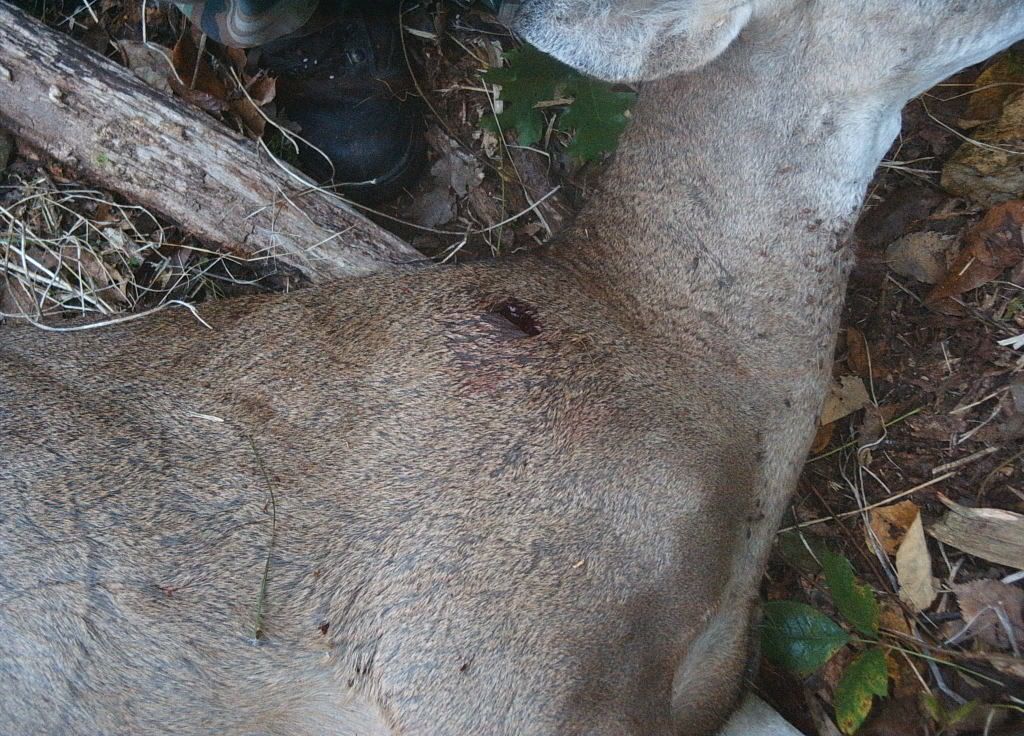 09-28-2007, 09:04 AM
RE: Pics and Stories of Your First Bowkills
---
My was a doe, I was 16, youth hunting in Iowa with my older brother. First night on stand with a bow in my arms and a doe comes in after not 30 minutes---I had to hold at full draw forever as she continued to angle toward us (over two minutes, my brother timed it, he knew I drew too early
)...I waited, finally she turned at 22 yards. My hit was right on, through the upper 1/2 of the lungs. She ran 20 yards stopped, walked about 10 more....then tipped over. I have been hooked ever since....and looking backi wish the whole hunt had been a little more difficult as it sort of ruined me for the next couple years,made me thinkit was really easy. Well that wore off[&:]
sorry, no digital pics of it....